GRE Prep Courses in Salt Lake City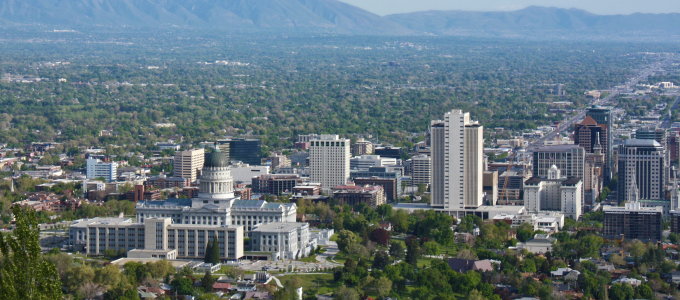 One of the biggest challenges for prospective college students is the Graduate Record Examination, or GRE. Designed to assess verbal reasoning, quantitative reasoning, and analytical writing, the GRE plays a highly critical role in the application process by weeding out the applicants who do not achieve a certain pre-determined score on the GRE. Any prospective graduate student can in fact achieve such a score, however, without the proper preparation, doing so can prove quite difficult. That's where Manhattan Review can help; with our best in class GRE test prep courses.
For over 15 years, Manhattan Review has been at the forefront of the test prep services industry, helping students, like yourself, to reach your GRE testing goals. You may be wondering how we accomplish. Simply put, we offer a state-of-the-art program that is fully customizable; meaning that prospective graduate students are given the opportunity to create their own individualized learning plan that suits their unique learning style among other needs. Their learning plans can then include our interactive online courses or one-on-one private tutoring. Either way, all of our participants are given access to a host of other tools and resources, including GRE practice tests that mimic the real GRE, giving our test prep participants the opportunity to practice before their actual test day. There are other benefits to our program as well.
No other test prep program both adequately prepares graduate school hopefuls for the GRE, with a proven success rate, as well as instills a foundation for future academic and professional success like Manhattan Review. In Salt Lake City, Manhattan is known for developing the best and brightest that the metropolitan area has to offer. As a result, all of the top schools including the University of Utah, Utah State University, Neumont University, and Brigham Young University as well as all of the top employers including Intermountain Healthcare, the University of Utah, Sinclair Oil Corporation, the Salt Lake City International Airport, Alpha, Graphics, Zion's Bancorporation, Questar Corporation, Smith's Food and Drug, MonaVie, Myriad Genetics and Vehix.com have all proudly embraced our past participants by either accepting them into their programs or hiring them to work for their companies. With such validation from Salt Lake City and the surrounding community, Manhattan Review has indeed cemented its position as the leader in GRE test prep in Salt Lake City. Let us impress upon you our top rated GRE test prep services to help you achieve your testing goals.

Bill put in a lot of outside hours preparing for class and answering questions throughout the week. He really tried his hardest to help us reach our goals. I really really appreciated how dedicated he was to helping us.
- Cheng (This student did GRE tutoring)
Salt Lake City
Primary Course Venue:

Manhattan Review GMAT GRE LSAT Prep
Salt Lake City Teaching Center at the Hilton
255 South West Temple
Salt Lake City, UT 84101

Phone: (801) 415-1821

NOTE: We do NOT typically have staff at the venue, so email us before visiting the venue.
Meet a Salt Lake City GRE Tutor: Vincent S.
Before coming to Manhattan Review in Salt Lake City three years ago, Vincent spent nearly 8 years working for the local government, accumulating countless accolades and achievements for his demonstrated leadership abilities and expertise. And though he has worked diligently to earn every single one of his achievements, Vincent often attributes his success on the job to what he refers to as his amazing team as well as his solid educational foundation. Well before he received a full academic scholarship into Utah State University, Vincent graduated at the top of his high school class thanks large in part to his exceptional study habits, which then helped him to achieve scores in the 99th percentile on both the SAT and GRE. Such skills Vincent never forgot and works to impart on his students at Manhattan Review.
Since becoming a member of our elite team of professional tutors, Vincent has been instrumental in providing the top rated GRE test prep services that we are known for all over the world, including right here in Salt Lake City. Specifically, Vincent employs a unique strategy in which he incorporates a role reversal with his students in order to help them learn because it gives them the opportunity to portray the role of the instructor. Vincent then only interjects to ensure that the students remain on track with their learning objectives and, of course, if available for coaching, but he firmly believes in his particular method not only because he has seen great results, but also because he also believes that adults learn best by doing. We couldn't be prouder to have someone like him on our team.