GRE Prep Courses in Rome (Italy)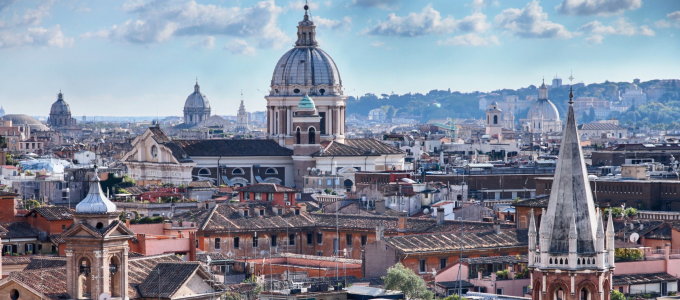 Every year, prospective graduate students take the Graduate Record Examination, or GRE, as part of the application process for thousands of graduate and business programs around the world, including right here in Rome. Implemented as a tool to assess Quantitative Reasoning, Verbal Reasoning, and Analytical Writing skills, the GRE is also used as a gauge to determine potential for success at the graduate level, measuring critical skills that all the top universities in Rome are looking for in graduate applicants. As a result, the GRE can be one of the biggest challenges that applicants must overcome on the path to achieving their academic goals. Manhattan Review has the tools and resources to help you reach your GRE testing goals.
Since 1999, Manhattan Review has been specializing in providing prospective graduate students with the requisite preparation foundation to achieve their highest possible GRE score. All over the world, including in Rome, our state-of-the-art GRE test prep service at Manhattan Review gives graduate school hopefuls the opportunity to custom design their own learning plan. Learning plans can consist of a unique mix of interactive online courses and one-on-one sessions with an elite private tutor, some of the top professionals in Rome who we have handpicked to lead our GRE test prep. Each participant is also given access to a host of online tools and resources, such as our GRE practice tests, which not only gives our students the opportunity to familiarize themselves with the GRE prior to test day, but also to work on any opportunities for improvement that they find. No other GRE test prep service is recognized for helping more prospective graduate students to achieve their academic and professional goals.
In Rome, Manhattan Review has garnered a reputation for working with the best and brightest. As a result, all of the top local graduate programs have come to rely on Manhattan Review while reviewing their applicant pool. Namely, Sapienza University of Rome, Tor Vergata, Roma Tre, LUISS School of Government, ISIA, British School of Rome, Pontifical Gregorian University, The American University of Rome, John Cabot University, St. John's University, and Temple University of Rome are among the consistently proud recipients of our past students. The same is true for the major employers such as Enel, ENI, Telecom Italia, EXOR Group, Assicurazioni Generali, UniCredit Group, Intesa Sanpaolo, Poste Italiane, and Finmeccanica. The top graduate programs and businesses support our students not only because of their academic aptitude, but also because they are confident that they will posses the requisite knowledge and skills to quickly become productive contributors to the universities and businesses that instruct and hire them. Manhattan Review in Rome can do the same for you as well. Don't waste another minute while pursuing your academic and professional goals. Contact Manhattan Review today.

Bill put in a lot of outside hours preparing for class and answering questions throughout the week. He really tried his hardest to help us reach our goals. I really really appreciated how dedicated he was to helping us.
- Cheng (This student did GRE tutoring)
Rome
Phone: +1-212-316-2000

Primary Course Venue:

Fortyseven Hotel Rome
Via Luigi Petroselli 47
00186 Rome
Italy

NOTE: We do NOT typically have staff at the venue, so email us before visiting the venue.
Meet a Rome GRE Tutor: Tanner
Like many of our world-class instructors at Manhattan Review in Rome, Tanner is from the United States. He first came to Rome through a study abroad program through an opportunity through the John Felice Rome Center, a campus of Loyola University Chicago. After both falling in love with Italy's capital and receiving a permanent job offer to work for one of the top information technology companies in the area, it didn't take long for Tanner to become one of the hardest working and most respected experts in his field. With numerous accolades and promotions to his name, Tanner found himself in a position where he was able to affect an influence on up and coming professionals and wanted to continue to do so. He found such an opportunity with Manhattan Review.
As one of our trusted GRE test prep tutors, Tanner plays a critical role in helping us to develop prospective graduate students in Rome. Specifically, Tanner works with our students in an effort to impart on them the necessary knowledge and skills they will need to both achieve their academic goals and succeed in Rome as a professional. Tanner draws from his previous experience as a student striving to earn high scores on the SAT and GRE himself and then later using those same skills to achieve professional success. It is because of elite private tutors, like Tanner, that Manhattan Review is able to maintain its position as the industry leader for GRE test prep services in Rome.