GRE Prep Courses in Raleigh-Durham (North Carolina)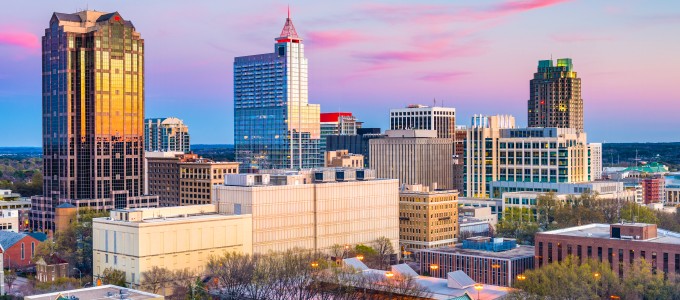 A Master's degree is an academic honor that can open the door to a world of possibilities in your profession by demonstrating a focus in your field of study and an ultimate mastery of your skill set. Whether you want to pursue a Master of Arts or Sciences, Manhattan Review is here to help you start the process that will propel your career to a whole new level. The first step in landing your dream job in any industry – from education and business to marketing or medicine – is earning an advanced degree at a distinguished program.
In order to score well on the GRE, students must formulate a study plan and stick to the strategy. The team at Manhattan Review has analyzed and deconstructed the exam in order to create GRE prep courses with a proven track record for success. The test has evolved over the years, but our education experts have carefully combed the test questions and cultivated our own study syllabus that applies to the current test. We know exactly what to expect from the GRE, and our syllabus will help you prepare efficiently and tactically for the test. We have scoured the Raleigh-Durham area and found the best educated and most experienced instructors and equipped these tutors with our unique test prep method. These instructors will provide you with our GRE courses that meet the learning needs of every student in the Raleigh-Durham area. Just choose the approach that works best for you, and we'll break down the GRE in a personalized and individual manner.
Your exam preparation in Raleigh-Durham will open up opportunities, both close to home and around the U.S. Our past students have graduated from top schools, including Yale, MIT, UCLA and many other first-rate graduate programs. Take your education to the next level, and the Fortune 500 companies in the heart of Raleigh-Durham will be competing for your services.

Bill put in a lot of outside hours preparing for class and answering questions throughout the week. He really tried his hardest to help us reach our goals. I really really appreciated how dedicated he was to helping us.
- Cheng (This student did GRE tutoring)
Raleigh-Durham
Primary Course Venue:

Manhattan Review GMAT GRE LSAT Prep
Raleigh-Durham Teaching Center at the Hilton
4810 Page Creek Lane
Durham, NC 27703

Phone: (919) 436-3748

NOTE: We do NOT typically have staff at the venue, so email us before visiting the venue.
Meet a Raleigh-Durham GRE Tutor: Carson A.
Carson grew up in Austin, TX., the oldest of five children. He always had bounds of energy and spent most of childhood outdoors, participating in any physical activity he could find. However, there was one subject that Carson loved more than any other: art. Even as a child, Carson had a fond appreciation for art, specifically for creating his own. As a kid, that meant drawing and making his own comic books. As he grew older, Carson was drawn more towards the history of art. This deep passion led him to New York University, where he received his BA in Art History. Afterwards, Carson was accepted to Duke University where he earned his MFA. Since graduating, he has worked at several museums and companies throughout North Carolina.
Carson first caught the teaching bug while at Duke, where he worked as a teaching assistant. Since then, he has been tutoring at different test prep companies and joined Manhattan Review in 2010. Carson consistently earns strong reviews for his clarity of instruction, presentation skills, and ability to inspire and relate to his pupils. In the classroom, this instructor helps make the standardized exam seem less intimidating. He offers encouraging words and helps students gain confidence about both the test and the benefits of pursuing an advanced degree. Carson has helped hundreds of students improve their test scores and get accepted into their dream schools.