GRE Prep Courses in Pittsburgh (Pennsylvania)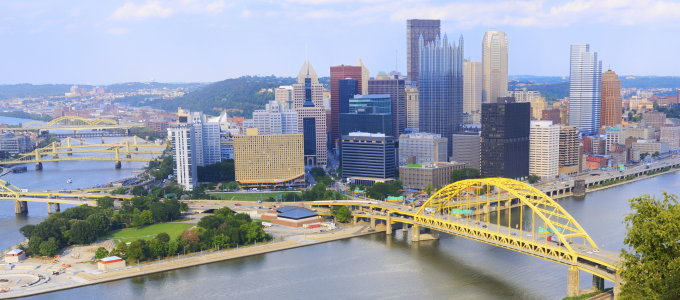 The Graduate Record Examination, or GRE, is one of the most widely administered standardized tests all over the world, including right here in Pittsburgh. As such, the GRE is used a key determining factor in the application process for many of the world's top graduate schools. Prospective graduate students not only have to take the GRE, but also have to perform well above expectations in order to get accepted into their school of choice. This presents a significant amount of pressure to students, but it is nonetheless very achievable, as apparent in our students' successes. At Manhattan Review, we specialize in helping students adequately prepare for the GRE and achieve their desired scores on testing day.
Since 1999, Manhattan Review has been providing prospective graduate students with assistance win GRE test preparation with great success. Our state-of-the-art program not only allows students to custom design their learning experience based on their individual learning styles, but also gives students unprecedented access to elite professional tutors, professionals who represent the most experienced and capable minds in their fields, interactive online courses, specifically designed with a busy schedule in mind, as well as a myriad of other tools and resources, including practice tests to help them sufficiently prepare for the GRE. No other test prep services can and does offer what we do and that's why we're trusted as the industry leader in developing top talent.
All over the world, including Pittsburgh, Manhattan Review has developed a reputation of cultivating the best and brightest. We take pride in the fact that all the top schools including Carnegie Mellon University, the University of Pittsburgh, Duquesne University, Carlow University, Chatham University, Point Park University and the Art Institute of Pittsburgh have all endorsed our program and our efforts by accepting our past participants into their notable programs. The same is true for the top companies in the area as well. Throughout Pittsburgh, the biggest employers including BNY Mellon, GlaxoSmithKline, Thermo Fisher Scientific, Lanxess, Chevron Corporation, Nova Chemicals, Deloitte Touche, Tohmatsu, FedEx Ground, Ariba, RAND Corporation, 84 Lumber, Giant Eagle, Highmark, Rue 21, General Nutrition Center (GNC), CNX Gas (CXG) and Genco Supply Chain Solutions are also recipients of our past students. Companies know that when they hire a student that has participated in our test prep programs, especially those who have worked with our private tutors, they are investing in students who possess the requisite knowledge and skills to get the job done, and more.

I was most impressed with how efficient Vince was with everything, he came prepared and he knew what he was talking about. I liked the efficiency. I already came in with a good idea with what I needed to work on and Vince was great in attacking my weaknesses. I cannot think of anything I disliked or that he could improve about his teaching style.
- Jackson (This student took our GRE Tutoring)
Pittsburgh
Primary Course Venue:

Manhattan Review GMAT GRE LSAT Prep
Pittsburgh Teaching Center at the Marriott
112 Washington Place
Pittsburgh, PA 15219

Phone: (412) 235-1755

NOTE: We do NOT typically have staff at the venue, so email us before visiting the venue.
Meet a Pittsburgh GRE Tutor: Vince D.
Like so many students, Vince initially struggled academically, but it wasn't for a lack of trying. Vince realized that he had a learning disability that was impeding on his ability to retain information for long periods of time. With that diagnosis, he became determined to do whatever it took for him to overcome any learning obstacles and ultimately become the professor that he always dreamed of becoming. Vince's struggles not only helped him to accomplish the many accolades that he has accumulated over the years, but also helped him to become the well respected professor at the University of Pittsburgh and tutor at Manhattan Review that he is today.
Since joining the elite team of professional tutors at Manhattan Review, Vince has played a pivotal role in delivering the top rated GRE test prep services that we have come to be known for. As a professional full-time instructor, Vince is all too familiar with the day-to-day struggles that students face and ultimately have to overcome in an effort to achieve their academic goals and eventually their professional ones as well. As a result, who better than someone like him to help students along their academic journey than someone who is intimately aware of their struggles and has overcome his own share of academic trials and tribulations due his learning disability as well. All of these attributes and more make Vince all the more relatable to the students at Manhattan Review, on top of his down-to-earth personality. We are proud to have him as part of our team, and fully expect him to positively impact the lives our students for many years to come.