GRE Prep Courses in Orlando (Florida)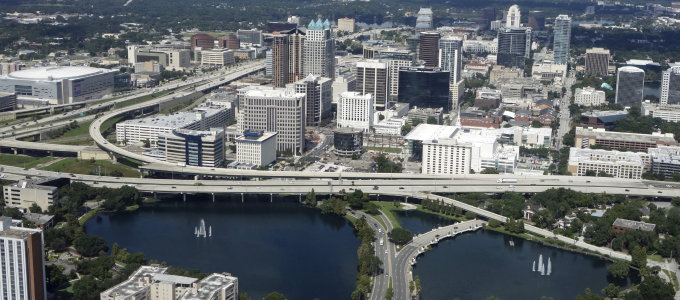 As one of the most widely administered standardized tests in the world, the Graduate Record Examination, or GRE, serves as a lynchpin in the graduate school application process. And while over half a million students take the GRE each year, the primarily computer-based test is designed to do more than merely assess verbal reasoning, quantitative reasoning, and analytical writing abilities. The GRE is essentially a test of readiness for graduate level work and academic competency. As a result, it is imperative that all prospective graduate students take their preparation for the GRE with the utmost seriousness. For some students, this may entail utilizing professional services to ensure their success on test day. Manhattan Review's GRE test prep courses can help you meet your goals.
Since 1999, Manhattan Review has been the industry leader in providing students with GRE test prep services. We have been able to achieve this goal by offering state-of-the-art GRE test prep that consists of interactive online courses or one-on-one private tutoring with world-class tutors, who just so happen to represent the top professionals of their respective fields. Our students will also have access to a myriad of supplemental materials such as GRE practice tests that are designed to help our students get real-world experience before test day. Our unprecedented GRE test prep program is unlike any other in the world, and because of this our students are at a huge advantage over the competition.
Over the years, Manhattan Review has garnered a stellar reputation for developing talent in Orlando. As result, Manhattan Review's students are among the first considered for all the top universities including the University of Central Florida, Belhaven University, DeVry University, Everest University, Keiser University, Nova Southeastern University, Palm Beach Atlantic University, and Strayer University, as well as the top companies including Lockheed Martin, General Dynamics, Harris, Mitsubishi Power Systems, Veritas/Symantec, Naval Air Warfare Center Training Systems Division (NAWCTSD), Delta Connection Academy, Embry-Riddle Aeronautical University, GE, Air Force Agency for Modeling and Simulation (AFAMS), U.S. Army Research, Development and Engineering Command United States Army Simulation and Training Technology Center (STTC), AT&T, Boeing, Hewlett-Packard, and National Center for Simulation. With GRE test prep services from Manhattan Review, we will not only help you reach your testing goals, but also give you the academic foundation to achieve academic and professional success.

I wanted to thank you for teaching my class and being such a dedicated instructor. When I first started studying for the GRE I was doing it from complete scratch as I had not done this type of math in many years. I was scoring in the low 300's, and was having trouble with some of the quick math necessary to do well on the test. Our class helped me figure out how to break down problems into commonly found concepts and to quickly do the computation to answer them (by, for example, factoring). I took the GRE this past Friday and scored a 720 in math -- much higher than I had originally hoped for when I started studying. I know your going the extra mile to help, both in tutoring and in class, really made a difference to my score. Thanks again!
- Puja (This student took out GRE Tutoring)
Orlando
Primary Course Venue:

Manhattan Review GMAT GRE LSAT Prep
Orlando Teaching Center at the Sheraton
400 West Livingston Street
Orlando, FL 32801

Phone: (407) 536-4447

NOTE: We do NOT typically have staff at the venue, so email us before visiting the venue.
Meet an Orlando GRE Tutor: Tyler
Like so many private tutors at Manhattan Review, Tyler was interested in working with us specifically, because he wanted two things: to help make a difference in the lives of up and coming talent in Orlando, and to work for the best. We are honored that he chose to work with us, and we are equally excited to have him join our team for all that he brings to our company and services. Someone like Tyler, with an exceptional background in agricultural technology filled with accolades and numerous professional achievements, is an asset not only to Manhattan Review, but to our students as well.
Before coming to Manhattan Review, Tyler's own path to success was a lengthy one. However, as he often mentions to his GRE test prep students, he attributes a lot of his success to the many decisions that he made early in his academic career. Growing up in a blue collar family, Tyler wanted much more for himself and his family and he felt that education was the answer. As a result, he studied more than his classmates so that he could get into the best schools and land a job in the thriving hi-tech industry in Orlando. It was in college that he became interested in agricultural technology and he hasn't lost interest to this day. Because of his perseverance and subsequent success in his field, our students love to work with Tyler. They feel they have much to learn from him with regards to test prep, as well as leaning how to establish a fruitful career for themselves one day.