GRE Prep Courses in Oklahoma City (Oklahoma)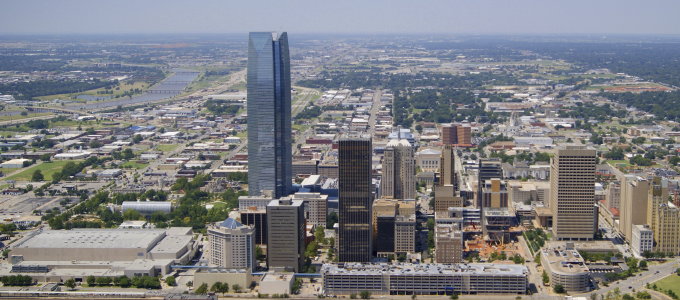 As one of the most widely used standardized tests around the world, the Graduate Record Examination, or GRE, serves as an integral part of the application process for many graduate programs. As such, many prospective graduate students will find that they must perform well on the GRE. In order to do so, graduate school applicants must adequately prepare for the GRE, which often presents a significant challenge unless students have a proper study plan in place. At Manhattan Review, we have comprehensive GRE test prep courses that are guaranteed to help you achieve success on test day and beyond.
For over 15 years, Manhattan Review has been the industry leader in GRE test prep services all over the world, including right here in Oklahoma City. We accomplish this by offering something that no other test prep service does: a fully customizable program. This enables prospective graduate students the opportunity to custom design their own learning plan according to their own individual learning styles. It also makes it easier for them to create a program that fits more readily into their often busy lives. Learning plans can then consist of either a combination of interactive online courses or one-on-one sessions with our elite private tutors, some of the most recognized and accomplished instructors in Oklahoma City. In addition, no matter which option students choose, they all have access to our supplemental online tools such as our GRE practice tests, which are specifically designed to give our participants an advantage on test day over their peers.
Throughout Oklahoma City and the surrounding area, Manhattan Review is respected for developing top talent among prospective graduate students. Specifically, all of the top graduate programs at Oklahoma City University, the University of Oklahoma, and the University of Central Oklahoma, have endorsed our work by accepting our past participants year after year. Top companies in Oklahoma City have done the same. From the State of Oklahoma to the Mike Monroney Aeronautical Center to AT&T to Farmers Insurance Company, our students get top priority during the application process because businesses in Oklahoma City trust that our students are the best and brightest that Oklahoma City has to offer, and that we at Manhattan Review have done our best to ensure that they are ready to give 100 percent on the job. We can help you achieve similar results. Contact Manhattan Review today.

I wanted to thank you for helping me with the GRE prep and let you know that your teaching tactics worked! I took the exam yesterday and got an 800 on the math, 570 on the verbal and who knows about the writing but hopefully it's not below a 4! The verbal is tricky with those silly words but I am happy with my score and ready to walk away from this ETS madness. Thanks again and all the best!
- Sophia (This student took a GRE class)
Oklahoma City
Primary Course Venue:

Manhattan Review GMAT GRE LSAT Prep
Oklahoma City Teaching Center at the Sheraton
One North Broadway
Oklahoma City, OK 73102

Phone: (405) 708-5525

NOTE: We do NOT typically have staff at the venue, so email us before visiting the venue.
Meet an Oklahoma City GRE Tutor: Toby
Working in the highly competitive field of information technology, Toby often spends a great deal of his time cultivating talent. This is particularly true since his promotion to senior level management at one of the top technology firms in Oklahoma City. And though serving as a mentor to his subordinates has been beneficial to his job, it also ignited a passion in the Oklahoma City native which has lead him to a private tutoring role at Manhattan Review. Toby was surprised to find that his tutoring would be so rewarding, but it has grown into an important part of professional satisfaction.
Since becoming a member of our expert team of private tutors, Toby has been playing a pivotal role in helping us to deliver our industry leading GRE test prep services in Oklahoma City. Manhattan Review is known for pairing students with the best instructors around, and Toby helps us to continue in that tradition. Our students love working with Toby because he was recently in their position, but he was able to achieve a high level of success very quickly. Toby reminds his students that it his success stems from hard work and the academic foundation that he laid in school, which he couldn't have attended without above average scores on the SAT and GRE. Toby was able to get accepted into one of the best schools in Oklahoma City, and went on to land an entry level job with his current employer. Toby also reminds his students that although his story may be inspirational, he believes without a doubt that they also can achieve similar levels of success for themselves, by taking head to the benefits of the GRE test prep program at Manhattan Review and learning from his experience.