GRE Prep Courses in New Haven (Connecticut)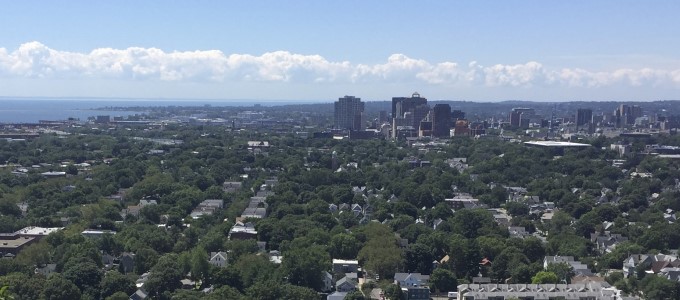 Manhattan Review is New Haven's top resource for Graduate Record Examination (GRE) preparation services. We offer traditional GRE prep courses in on-site format, online GRE instruction, GRE private tutoring, and GRE practice tests that help New Haven students maximize their GRE scores and prospects for graduate school admission. Founded in 1999, Manhattan Review is one of the world's most experienced test prep firms, and we have helped thousands of students in dozens of academic disciplines get accepted to their preferred graduate programs. You will learn how to become an expert on the content of each section of the GRE, how to develop the most effective study plans, and how to use proven test-taking strategies for your best possible GRE scores. Our exceptional GRE classroom instructors and individual tutors use the industry's most engaging and original instructional methodologies to provide an effective learning experience that quite simply gets results. Contact Manhattan Review today by phone, email, or online for full details on our GRE prep services for students in New Haven.
Manhattan Review clients are frequently accepted to graduate programs at highly selective universities. Our students have pursued and completed master's or doctoral degrees at elite schools such as Harvard, Princeton, the University of Pennsylvania, Stanford, Yale, UC Berkeley, the University of Virginia, Johns Hopkins, the Massachusetts Institute of Technology, the University of Chicago, Cornell, Brown, Columbia, Dartmouth, the California Institute of Technology, Carnegie Mellon, and many more. Our past students have been hired by a number of Fortune 500 companies, such as Berkshire Hathaway, Enterprise Products Partners, Dow Chemical, Massachusetts Mutual Life Insurance, and United Technologies. Some of our former GRE clients now work for the top companies in New Haven, including SeeClickFix, Amphenol Corporation, Premier Education Group, and Globe Pequot Press. A graduate degree creates opportunities for success in your career. Invest in your future with Manhattan Review's GRE prep courses or GRE private tutoring for graduate school applicants in New Haven.
University practices with respect to consideration of the GRE can vary considerably. Some graduate programs require minimum GRE scores for applicants. For the graduate degree offerings in occupational therapy at Boston University, for example, students must receive GRE scores of at least 153 verbal, 144 quantitative, and 4.5 analytical writing. Meeting this minimum requirement guarantees only consideration of the applicant, not actual admission. The majority of graduate programs do not stipulate GRE score benchmarks, but the average scores of admitted students indicate their expectations. Harvard Business School will accept the GRE in lieu of the GMAT, and there are officially no minimum scores for applicants. The average GRE score for an admitted Harvard Business School is 164 verbal and 164 quantitative, and students below this level have less than ideal chances of acceptance. Students taking the GRE should begin the learning process by setting target scores that account for the score requirements and/or averages of their preferred graduate programs. Above-average GRE scores lead to optimal chances of admission.

Bill put in a lot of outside hours preparing for class and answering questions throughout the week. He really tried his hardest to help us reach our goals. I really really appreciated how dedicated he was to helping us.
- Cheng (This student did GRE tutoring)
New Haven
Primary Course Venue:

Manhattan Review GMAT GRE LSAT Prep
Yale Teaching Center at the Study
1157 Chapel Street
New Haven, CT 06511

Phone: (203) 672-0680

NOTE: We do NOT typically have staff at the venue, so email us before visiting the venue.
Meet a New Haven GRE Tutor: Rufus A.
Rufus A. was born and raised in Cleveland, Ohio, where he excelled as a high school student and athlete. He earned his bachelor's degree in secondary education from Ohio State University, and then completed a master of arts in teaching at Boston University. Prior to his relocation to New Haven in 2017, Rufus taught history and government for six years at a Cleveland public high school.
Rufus has a total of nine years of GRE teaching experience, and he has taught GRE courses in several different formats (including on-site classroom, online, and individual instruction). He is one of New Haven's most respected GRE educators, and his students describe him as an engaging educator with an effective style of teaching. His hobbies include reading the great works of literature, playing tennis, and rooting for the Cleveland Browns football team.