GRE Prep Courses in Montreal (Canada)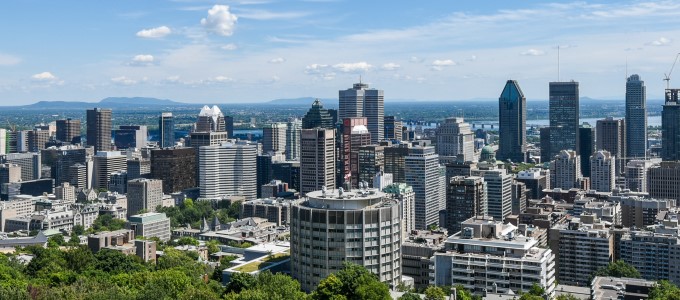 Applicants to most postgraduate degree programs must take the Graduate Record Examination (GRE). The GRE General Test is a standard admissions requirement for numerous academic subjects in the liberal arts and sciences, and it evaluates various verbal and quantitative skills. Manhattan Review is an international educational services company that was founded in 1999, and we are the industry's leading resource for effective, innovative, and practical GRE preparation. We offer a full range of services in Montreal, including tech-savvy online GRE prep courses, traditional brick-and-mortar GRE classes that meet at convenient Montreal locations, and customized private GRE tutoring plans. We also provide Montreal's most effective admissions consulting and GRE practice tests. Manhattan Review's innovative instructional methodologies focus on GRE content in terms of broad thinking skills rather than less effective techniques such as rote drills or memorization. We employ the most qualified GMAT tutors and instructors in Montreal, who are singularly dedicated to the success of their students. Learn more about Manhattan Review in Montreal by giving us a call today, and you can also contact us by email or online.
Student performance on the GRE can be predicted to some degree by undergraduate major. Although this obviously does not determine a given student's scores by itself, this data can be a useful starting point for GRE preparation. According to Educational Testing Service (ETS), the organization that administers the GRE, 36.3% of arts and humanities majors score 160 or above on the verbal section of the GRE (the 85th percentile and above for all test-takers). Just 12.6% of engineering students were at the same level in verbal abilities. For GRE quantitative, a much different picture emerges (53.4% of engineering students and only 10.1% of arts and humanities students were at or above 160). Manhattan Review's GRE learning plans use all relevant data to facilitate targeted instruction, which helps us help our students more effectively and efficiently. Other data points we consider include desired scores, optimal learning style, intended field of graduate study, and personal and cultural assets.
Manhattan Review's GRE prep services in Montreal and other major cities have helped countless students get accepted to master of arts, master of science, doctor of philosophy, or other graduate degree programs at a large number of world-class universities, including Princeton, Stanford, Harvard, Yale, Dartmouth, Cornell, Brown, MIT, the University of Pennsylvania, the University of Chicago, UC Berkeley, the University of Michigan, McGill, and the University of Toronto. Our students graduate with skills that are highly desirable in the job market, and Fortune 500 companies as well as Montreal firms have hired our past GRE clients (including Bank of America, Archer Daniels Midland, Enterprise Products Partners, Express Scripts Holdings, Mad Science, Canada Steamship Lines, CCM, and Liquid Nutrition). Get accepted to graduate school and build the foundation of a successful career with Manhattan Review's GRE prep courses and private tutoring in Montreal.

I would like to let you know that I took the GRE on Monday, December 6th and earned a score of 1200 (600 verbal, 600 quantitative). I think that I did very well on the essay portion of the test as well but won't receive those scores in the mail for a couple weeks or so. I would like to thank my instructor (George S.) and Manhattan Review for helping me to increase my score so much (I got a 1050 the first time I took the GRE in 2002) Thank you very much.
- Tamara (This student took a GRE class)
Montreal
Primary Course Venue:

Manhattan Review GMAT GRE LSAT Prep
Montreal Teaching Center at the Sheraton
1201 Boulevard Rene-Levesque West
Montreal, Quebec H3B 2L7
Canada

Phone: (514) 312-7207

NOTE: We do NOT typically have staff at the venue, so email us before visiting the venue.
Meet a Montreal GRE Tutor: Everett S.
Everett S. has been a GRE tutor for 10 years, and has taught students of almost every background. He holds a bachelor's degree in English literature from Dartmouth College and a master's degree in Eurasian, Russian, and East European studies from Georgetown University. Also a full-time employee of a Montreal academic publisher, he has taught English courses at the secondary level in both the United States and Canada.
Everett's professional and educational background continues to support his GRE teaching. "My training in literary scholarship has an obvious connection to teaching reading comprehension, which is the most important skill on the GRE verbal section," he asserts. "But people don't realize until they're in my classroom that reading comprehension also relates to GRE quantitative problems. My teaching follows this principle, which is about using areas of strength to create more areas of strength."