GRE Prep Courses in Mesa (Arizona)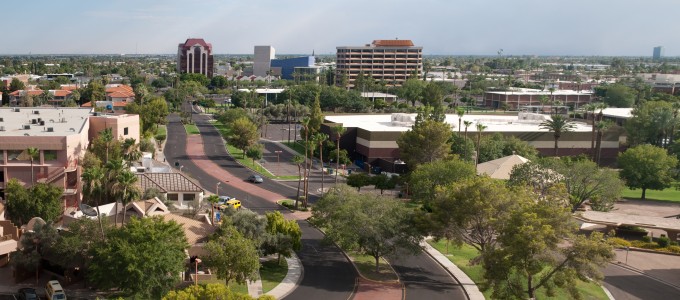 Students who are looking to prepare for the Graduate Record Examination, or the GRE, may find themselves looking to receive guidance in various forms to help them to properly prepare for the day of the exam. Students in the Mesa area looking for assistance with their GRE exam preparations should look to Manhattan Review for the best study options for standardized test preparation in the Mesa area. Manhattan Review has been helping students who are looking for assistance with the GRE since 1999 and offers a wide variety of study options that can be utilized individually or in combination with one another in the form of group courses, private tutoring, and practice exams. Manhattan Review also offers a wide variety of benefits that come with the study options it can provide students for the GRE that allow for students to get the most out of their course of study when working with Manhattan Review.
Manhattan Review's group courses and private tutoring options are available for students in both in-person and online contexts that allow them to work with their instructor in the environment that they feel would be most appropriate for the study process. Manhattan Review's in-person private tutors can also offer their students the ability to work at any mutually convenient location in the Mesa area, allowing for both parties to have an easier commute. Manhattan Review's practice exams and curriculums are updated on an annual basis to ensure an accurate reflection of the exam's formatting and content, and Manhattan Review instructors have many years of experience with helping students in and out of Mesa with the process of studying for standardized tests such as the GRE. Manhattan Review's instructors can also provide their students with flexible scheduling and the ability to customize their lesson plan to ensure proper coverage of their strengths and weaknesses.
Students who have worked with Manhattan Review for the process of helping themselves with their course of study for the GRE have managed to use the guidance they have received from their instructors and study process to help them achieve a higher score on the day of the GRE exam. Students who have worked with Manhattan Review for the process of improving their GRE score have subsequently attended schools in Mesa such as Arizona State University, and schools outside of Mesa such as Harvard, Yale, Stanford, Columbia, University of Chicago, New York University, Rice, Tufts, UCLA, Tucson, Oxford, Cambridge, and many others in a wide variety of locations. Students have also used the guidance that they have received from attending these schools to help them with the process of gaining careers in and out of the Mesa area, such as Boeing, Bank of America, Verizon, Apple, Dell, Microsoft, Google, and many more. Call or email an academic program advisor today to learn more.

I wanted to thank you for helping me with the GRE prep and let you know that your teaching tactics worked! I took the exam yesterday and got an 800 on the math, 570 on the verbal and who knows about the writing but hopefully it's not below a 4! The verbal is tricky with those silly words but I am happy with my score and ready to walk away from this ETS madness. Thanks again and all the best!
- Sophia (This student took a GRE class)
Meet a Mesa GRE Tutor: Ian H.
Ian H. grew up in the Phoenix area and later attended school at UCLA, where he earned a Master's in education. He then moved to the Mesa area and began working as a teacher and tutor for students who were looking for assistance with their standardized test preparation with exams such as the GMAT and the GRE via Manhattan Review.
Ian's teaching methods for helping his students learn the material that is covered on the GRE exam have helped a wide variety of students get into graduate schools across the United States and the world. He has also helped students with various other standardized tests. In his spare time, he likes to go visit the Grand Canyon and other local landmarks.