GRE Prep Courses in Manhattan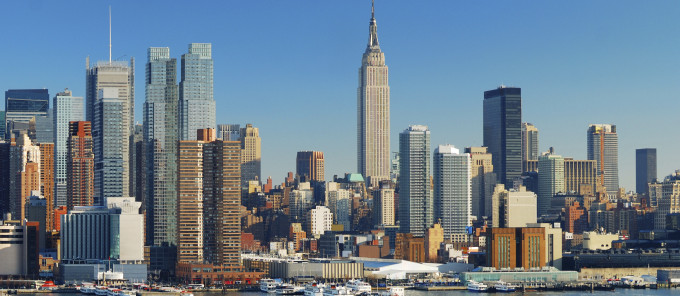 GRE Preparation in Manhattan (New York)
If you want to achieve a high GRE score or give your score a boost, you simply need to understand how the GRE works as a predictable standardized test. It would be impossible to inundate yourself with years of course material in the months leading up to taking the GRE exam. Instead, you need a strategy in place to study for the right questions and remember the right answers. With the test prep services offered by Manhattan Review, no guesswork is necessary.
Study for the GRE with the best resources in Manhattan, available through Manhattan Review. We can teach you exactly what to anticipate as you prepare for the test without any unnecessary anxiety. We've deconstructed this exam for you, creating a syllabus that will break down everything you need to know to get better GRE scores. Just choose the learning style that best suits your needs. We have Interactive Online Courses, full-length classroom courses, private tutoring, and other options designed to give you the most choices.
If you are from New York City, you know that there's no better place to be than Manhattan. Students often travel from around the globe to enroll in the graduate programs offered here. What's more, students obtain their MBAs and have the best of the best in Fortune 500 companies right at their fingertips. The city that never sleeps is buzzing with opportunities that will jumpstart your career.
Our past students have graduated from the most premier grad schools, including Stanford, Yale, MIT, and Harvard. For New Yorkers, NYU is a top-ranking name and attractive option for a wide variety of graduate degrees in a public school program. Liberal arts degrees have gained tremendous momentum, and Parsons The New School For Design in Lower Manhattan has become a well-known name. Cornell, Columbia, Vassar are prestigious in the private sector. From fashion to film, engineering to economics, bring your area of study to new heights with a world-class graduate degree. The first step in this career-shaping process is to study for and succeed on the GRE.

I would like to let you know that I took the GRE on Monday, December 6th and earned a score of 1200 (600 verbal, 600 quantitative). I think that I did very well on the essay portion of the test as well but won't receive those scores in the mail for a couple weeks or so. I would like to thank my instructor (George S.) and Manhattan Review for helping me to increase my score so much (I got a 1050 the first time I took the GRE in 2002) Thank you very much.
- Tamara (This student took a GRE class)
Manhattan
Primary Course Venue:

Manhattan Review GMAT GRE LSAT Prep
275 Madison Avenue, Suite 1429
New York, NY 10016

Phone: (212) 316-2000
Meet a Manhattan GRE Tutor: Spencer F.
Born and raised in Richmond, Virginia, Spencer caught Hokie fever and pursued his undergraduate degree at Virginia Tech, where he played the trumpet in the marching band alongside the champion football team. Partially on a whim but mostly because of nearby relatives, Spencer moved to Brooklyn, New York, after graduating to pursue his career as a writer. The aspiring novelist struggled along in the Great Recession and decided he needed to set himself apart from the throngs of competition for every new job opening. If he wasn't going to immediately pen and publish his first novel, it was time to continue his love affair with English Lit at Cornell University.
Spencer swears up and down that pursuing his degree in higher education has afforded him more opportunities in the long-term and proved crucial to his current career direction. Spencer has teamed up with Manhattan Review to tutor for the GRE, since his own success on the test is still a recent memory. When Spencer isn't taking advantage of the novelty of NYC's public transit system, he's in his little Honda tailgating for a showdown between the Virginia Hokies and Hoos. Since his siblings went to University of Virginia, it's only fitting to keep this spirit of competition alive and well. For those who are wondering, he's just putting the finishing touches on that novel of his.