GRE Prep Courses in Kansas City (Missouri)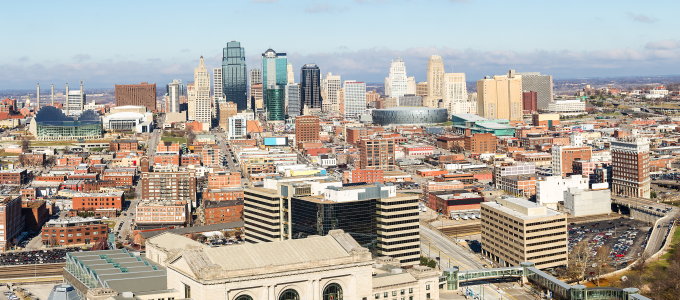 For a growing number of applicants each year, the Graduate Record Examination, or GRE, represents one of the biggest challenges during the application process for graduate school, and students who are applying to all of the top graduate programs in Kansas City must overcome it. Designed to measure necessary skills critical for academic success at the graduate level such as verbal and quantitative reasoning, critical thinking, and analytical writing ability, the GRE plays an integral role in aiding schools in determining potentiality of an applicant. The applicants with the highest GRE scores are considered to have the most potential and as a result are offered acceptance into their graduate schools of choice. Manhattan Review can help you prepare for the GRE so you can achieve a high score and your gain acceptance into your school of choice.
Since 1999, Manhattan Review has been the world leader in GRE test prep consultant services, helping graduate school applicants, just like you, to reach their highest possible GRE score. We accomplish this goal year after year by offering a state-of-the-art program that is 100 percent fully customizable to meet the learning style and needs of our participants. For those students who are more independent learners by nature, we offer a wide range of interactive online courses for them to choose from, allowing them to custom design their own program. On the other end of the spectrum and for the more traditional learner, we offer one-on-one sessions with one of our elite private tutors. Our tutors, some of the best instructors in the business, are not only professionals who represent the most successful in their respective fields, but also possess a demonstrated ability to excel at standardized test-taking, for the benefit of our participants. In addition, each of our participants can also access our library of supplemental online tools such as our GRE practice tests, which have proven to greatly influence the success of our participants on test day.
In Kansas City, Manhattan Review has become the most trusted name in GRE test prep consulting services, developing the best and brightest that the Greater Kansas City area has to offer. As a result, all of the top graduate programs at University of Missouri-Kansas City, Rockhurst University, Kansas City University of Medicine and Bioscience, Avila University, Park University, and Baker University are all dedicated supporters of both Manhattan Review and our GRE test prep participants. Every year, the top universities accept more Manhattan Review GRE test prep students over other applicants because they know and trust that Manhattan Review's GRE test prep program are indeed adequately prepared to embark on a successful academic career and possess the requisite skills to do so. The top employers in the area have demonstrated a similar commitment to both Manhattan Review and our GRE test prep students. Specifically, Smith Electric Vehicles, Sanofi-Aventis, AMC Theatres, Assurant Employee Benefits, Cerner Corporation, Sprint Corporation, University of Kansas Hospital, Hallmark Cards, Inc., H&R Block, Hostess Brands, J.E. Dunn Construction Group, Kansas City Southern Railway, Novastar Financial, Russell Stover Candies, and Blue Cross and Blue Shield of Kansas City have all hired and continue to hire participants of Manhattan Review's GRE test prep program because our students represent the top talent in Kansas City. We will make the commitment to develop you as well. Give Manhattan Review a call today to get started with world-class GRE test prep in Kansas City.

I wanted to thank you for teaching my class and being such a dedicated instructor. When I first started studying for the GRE I was doing it from complete scratch as I had not done this type of math in many years. I was scoring in the low 300's, and was having trouble with some of the quick math necessary to do well on the test. Our class helped me figure out how to break down problems into commonly found concepts and to quickly do the computation to answer them (by, for example, factoring). I took the GRE this past Friday and scored a 720 in math -- much higher than I had originally hoped for when I started studying. I know your going the extra mile to help, both in tutoring and in class, really made a difference to my score. Thanks again!
- Puja (This student took out GRE Tutoring)
Kansas City
Primary Course Venue:

Manhattan Review GMAT GRE LSAT Prep
Kansas City Teaching Center at the Plaza
401 Ward Parkway
Kansas City, MO 64112

NOTE: We do NOT typically have staff at the venue, so email us before visiting the venue.
Meet a Kansas City GRE Tutor: Jarrod S.
After graduating from the College of Biosciences at Kansas City University of Medicine and Biosciences with his Masters of Bioethics, Jarrod immediately went on to acquire gainful employment with an entry level position with one of the top research facilities in all of Kansas City. It didn't take long for Jarrod to begin to achieve great things in his initial role, which then prompted a promotion, leading to other rises. Both his prior academic success, including his notable performances on the SAT and GRE, and his successful career made Jarrod a great candidate for an instruction position at Manhattan Review. Jarrod agreed.
Since becoming a member of our elite team of private tutors, Jarrod has played a significant role in helping us to deliver one-of-a-kind GRE test prep consultant services to prospective graduate students in Kansas City. Down-to-earth, our students love to work with Jarrod because he has a knack for engagement. No matter what his student's learning needs are, Jarrod has an innate ability to understand what each student needs an appropriately address those needs in an effort to them achieve their GRE testing goals. For these reasons and more, the team at Manhattan Review is happy to have a stellar instructor, like Jarrod, on board.