GRE Prep Courses in Irvine (California)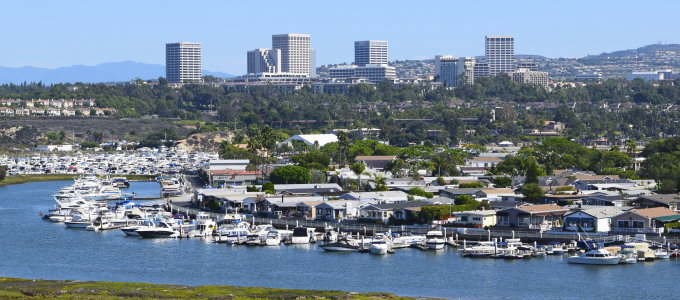 For prospective graduate students, the Graduate Record Examination, or GRE, is one of the biggest obstacles that they face during the application process for graduate school. More than just a tool used to measure verbal reasoning, quantitative reasoning, and analytical writing, the GRE is also used as a gauge to determine academic aptitude and potential in a growing number of graduate programs. Some prospective graduate students will feel confident in their ability to adequately prepare for the GRE on their own, while others stand to benefit significantly from the professional help of the world-class GRE test prep services at Manhattan Review. At Manhattan Review, you are guaranteed to get the knowledge and skills you need to earn your highest possible GRE score and to achieve professional success in Irvine.
Since 1999, Manhattan Review has been the number one provider of top rated GRE test prep services in the world, including right here in Irvine. Prospective graduate students continue to come to us for one reason: our unprecedented, fully customizable program. Unlike other test prep services, at Manhattan Review our participants are afforded the opportunity to custom design their own learning plan according to their own academic needs and availability. Learning plans can consist of any combination of our interactive online courses that our participants choose, or of one-on-one sessions with one of our private tutors. Every student is given access to myriad online tools and resources, such as our GRE practice tests, in an effort to fully challenge them to reach their potential before test day.
Our efforts and our investment in each of our prospective graduate students in Irvine have helped Manhattan Review achieve a stellar reputation in the community. As a result, the top graduate programs in Irvine and the surrounding communities have all accepted our participants, including the University of California, Irvine, California Southern University, Concordia University, Paramount California University, California State University, Fullerton, Champion University, and Soka University of America. Why have they done so? Simply put, based on our students' GRE scores and subsequent academic performance, they know that Manhattan Review cultivates exceptional talent in Irvine. The top employers in Irvine feel the same way, as demonstrated by their continued willingness to hire our past participants over other applicants every year. Our GRE test prep students have gone on to work for major employers such as the Irvine Unified School District, Blizzard Entertainment, Broadcom Corporation, Edwards Lifesciences, Parker Hannifin, Allergan, Verizon Wireless, B. Braun Medical, and Western Digital, as well as international companies headquartered in Irvine including Atlus, BenQ Corporation, Fisher & Paykal Healthcare, Kia Motors, Nikken, Samsung Electronics, and Toshiba Corporation. Let Manhattan Review invest in you to achieve success in Irvine, starting with helping you to achieve your best possible GRE score.

My first class in Manhattan Review was a very good class. George is a very good teacher.
- Hugo (This student took our GRE course.)
Irvine
Primary Course Venue:

Manhattan Review GMAT GRE LSAT Prep
Irvine Teaching Center at the Marriott
18000 Von Karman Avenue
Irvine, CA 92612

Phone: (949) 208-6893

NOTE: We do NOT typically have staff at the venue, so email us before visiting the venue.
Meet an Irvine GRE Tutor: Orlando
Before becoming an elite private tutor for Manhattan Review in Irvine, Orlando spent many years working towards becoming one of the leading software engineers in the country. Originally hailing from the Midwest, Orlando initially struggled academically until he was diagnosed with a learning disability. And while some would have been discouraged by such a diagnosis, Orlando used that information to propel himself to greater heights, at first academically, and then professionally. Orlando is not shy about sharing his personal story of triumph over the early obstacles that he faced, which is one of the many reasons that he wanted to work with prospective graduate students at Manhattan Review.
Nearly five years ago, Orlando joined our elite team of professional GRE test prep instructors at Manhattan Review with the sole intention of helping to develop talent, particularly through the benefit of his experiences as a past student/standardize test-taker and a highly successful software engineer working for one of the biggest names in the technology field. As a revered member of our team, Orlando plays a significant role in helping us to maintain our position of being the number one rated GRE test prep service in the world, including right here in Irvine. His past experiences and ability to overcome the trials and tribulations of his learning disability endear his students to him and help garner a great deal of respect as a tutor and for Manhattan Review as well.