GRE Prep Courses in Hartford (Connecticut)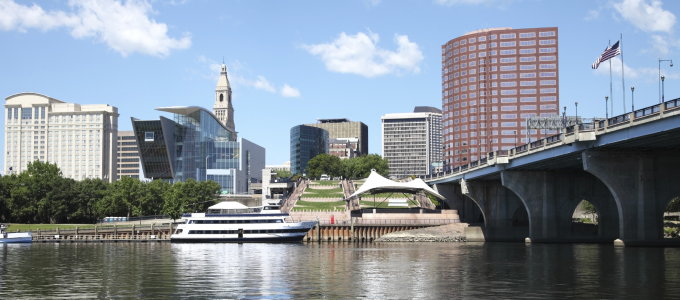 Every year, more than half a million college students take the Graduate Records Examination, or GRE. Designed to test verbal reasoning, quantitative reasoning, and analytical writing, this nearly four hour long examination is one of the most important criteria used to determine eligibility and acceptance into thousands of graduate schools (and increasingly more business schools) all around the world, including in Hartford. As such, graduate school hopefuls should and must do everything they can to earn their best possible score on the GRE because doing so not only means edging out the competition for one of the limited spots into the eligible graduate programs, but it also means being able to have to your pick of the top programs in Hartford and all over the country. At Manhattan Review, we specialize in helping student achieve both goals, by giving them the requisite tools and resources to earn their highest possible score on the GRE.
For over 15 years, Manhattan Review has been consistently providing prospective graduate students with world-class test prep services, and in doing so helping them to achieve both successes on test day as well thereafter. We accomplish these goals by offering a state-of-the-art program that is fully customizable for the students. Specifically, students get to design their own GRE test prep program in consideration of their unique learning style and availability constraints. Our elite tutors and online support staff are available whenever the students need them, which is precisely why we are the leaders in test prep. Our state-of-the-art program is unprecedented, which has generated quite a reputation for Manhattan Review all over the world, particularly wherever we offer test prep services, for example Hartford.
All of the top colleges and universities in Hartford, including Trinity College, Capital Community College, University of Connecticut School of Business, the Hartford Seminary and the University of Hartford, have all been the proud recipients of our past students, where they have gone on to continue to excel academically. But that's not all. Our students also go on to work for all of the top employers in Hartford as well, including but not limited to three Fortune 500 companies, such as Aetna, Hartford Financial Services Group and Northeast Utilities, as well as other top companies in Hartford such as the Phoenix Companies, Sovereign Bank, GlobeOp Financial Services, Hartford Hospital and Connecticut Children's Medical Center.
Year after year, Manhattan Review continues to deliver top talent in Hartford and it shows. Our best in class test prep will not only prepare you to ace the GRE, but also put you on a path to further academic and professional success.

I would like to let you know that I took the GRE on Monday, December 6th and earned a score of 1200 (600 verbal, 600 quantitative). I think that I did very well on the essay portion of the test as well but won't receive those scores in the mail for a couple weeks or so. I would like to thank my instructor (George S.) and Manhattan Review for helping me to increase my score so much (I got a 1050 the first time I took the GRE in 2002) Thank you very much.
- Tamara (This student took a GRE class)
Hartford
Primary Course Venue:

Manhattan Review GMAT GRE LSAT Prep
Hartford Teaching Center at the Marriott
200 Columbus Boulevard
Hartford, CT 06103

Phone: (860) 838-3173

NOTE: We do NOT typically have staff at the venue, so email us before visiting the venue.
Meet a Hartford GRE Tutor: Ted J.
When Ted relocated from Dallas, Texas to work at the Hartford location for his employer, which happens to be one of the biggest insurance companies in the U.S., he didn't realize that he would soon fall in love with the city and eventually make it his permanent home. It didn't take Ted very long to become acclimated with his new home, as there is so much to see and do in Hartford, particularly for a history buff like him. Among the many things that Ted discovered in Hartford is Manhattan Review, where he has been playing an instrumental role in our GRE private tutoring for over five years.
As an elite professional tutor with Manhattan Review, Ted not only teaches students how to successfully prepare for and score high on the GRE, but also teaches the students about the many strategies that he has learned over the years in business that have helped him to be the success that he is today. Our students love to learn about Ted's journey, which confesses is still in action, as well as how they might be able to employ similar tactics in their own lives, both academically and professionally.
Ted is also eager to share with is students that he wasn't always so successful, but he stayed the course and persevered, starting with his own SAT and GRE. A self-professed non-test taker, Ted had to work harder than his peers to eventually earn the high scores that he did to get into Texas A&M University. He hopes that his story will not only inspire his students at Manhattan Review, but also let them know that there is a "light at the end of the tunnel" and that they have to persevere, but they will indeed get there, especially because he will do everything he can to help them along the way.