GRE Tutoring in San Diego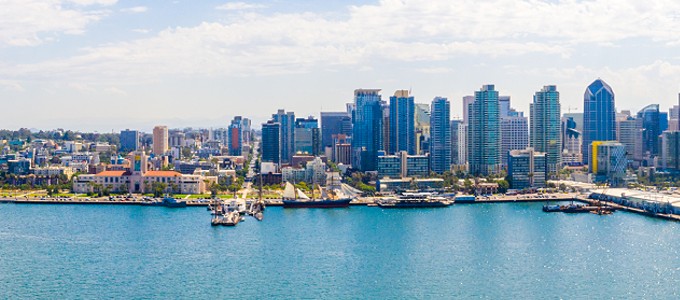 GRE private tutoring in San Diego (California)
Distinguish yourself as a promising candidate for graduate school admissions by acing the aptitude test. The GRE measures your likelihood for future success obtaining a Master's degree. By showcasing your well-rounded skill set in language and mathematics problem sets, you improve your candidacy and increase your chance of acceptance.
Graduate school admission is highly competitive, since MA, MS, MEd, and other postgraduate degrees ultimately make you more hirable. Whether you want to pursue your scholarly endeavors in the sciences, the arts and humanities, or a highly specialized niche, your GRE score is a key gateway to getting in and getting ahead early in your career. Harness your higher education experience to land high-paying positions in your field of focus.
San Diego is nestled near many of California's most prestigious graduate school programs. Whether you want to stay here, travel a few hours away, or attend school out-of-state, bulk up your graduate application with a top-percentile GRE score. Our educational services firm will equip you with the resources to come ahead on this standardized exam. Manhattan Review has been helping students seeking top scores get into exceptional schools since 1999. Over the years, we have created a course syllabus that is both customizable and calculating of yearly trends and test changes. Access these high-quality resources that run circles around the outdated texts you may find for less advanced study tools.
Join our past students whose scores helped open the doors at nationally ranked UC San Diego, San Diego State University, University of San Diego, UC Davis, Stanford University, UC Berkeley, the California Institute of Technology, National University, Point Loma Nazarene University and many other public and private institutions. Enlist the support of a private tutor for concentrated, customized study that will help you achieve a successful score on the GRE. Working with your private tutor in San Diego, you can benefit from our streamlined, successful study program for graduate school admissions.
GRE Private Tutoring
Hours package 12 to 48 hours, Personalized 1-on-1 Tutoring, In Person or Live Online
GRE Private Course
12 hours in total, Personalized 1-on-1 Course, In Person or Live Online

I would like to let you know that I took the GRE on Monday, December 6th and earned a score of 1200 (600 verbal, 600 quantitative). I think that I did very well on the essay portion of the test as well but won't receive those scores in the mail for a couple weeks or so. I would like to thank my instructor (George S.) and Manhattan Review for helping me to increase my score so much (I got a 1050 the first time I took the GRE in 2002) Thank you very much.
- Tamara (This student took a GRE class)
San Diego
Primary Course Venue:

Manhattan Review GMAT GRE LSAT Prep
San Diego Teaching Center at the Sheraton
1380 Harbor Island Drive
San Diego, CA 92101

Phone: (619) 819-0716

NOTE: We do NOT typically have staff at the venue, so email us before visiting the venue.
Meet a San Diego GRE Tutor: Quinn S.
Born and raised in Eugene, Washington, Quinn acquired her undergraduate degree at Northeastern University Seattle. Then she earned her Master's of Education degree at the University of Washington. After her career brought her to vibrant San Diego, Quinn still remembers the rigorous requirements for entering this competitive graduate program. That's why, with her EdD – Curriculum & Instruction – Language, Literacy and Culture degree, Quinn became invaluable as a GRE tutor with Manhattan Review.
Quinn had joined a nonprofit education center in San Diego. Coupled with her work as a GRE tutor, she has perfected the process of presenting course material and using the syllabus to make concepts easy to understand. Working with students in the classroom or in one-on-one settings, Quinn is an experienced educator bringing her advanced degree and dedicated to teaching to the table.
Quinn is involved in a number of volunteer projects throughout the region and sometimes travels to San Francisco for teaching initiatives and trainings. She is married to her partner of 12 years, and they have a son, 7, and daughter, 4 – both of whom adore reading and soak up interactive, fun learning experiences. Aside from education, Quinn's passions include cooking (she specializes in creative vegetarian dishes), escaping to Wine Country for romantic weekend getaways and using her vintage typewriter to tap out that novel she's determined to finish… one of these days.