GRE Tutoring in Barcelona (Spain)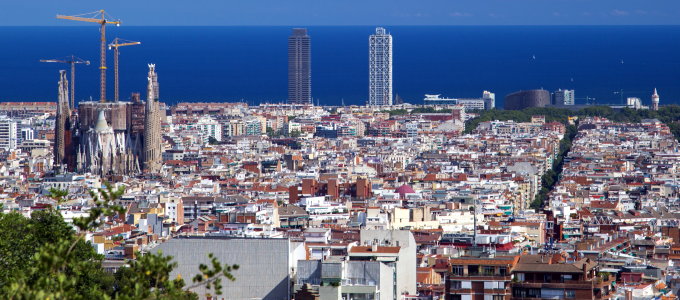 For prospective graduate students, the Graduate Record Examination, or GRE, represents one of the biggest challenges that they must overcome during the application process. This primarily computer-based standardized test is accepted by thousands of graduate programs, including business programs. The GRE is intended to evaluate overall academic aptitude for graduate-level work, and it specifically tests verbal reasoning, quantitative reasoning, and analytical writing. While some students will be able to achieve their testing goals on the first try without professional GRE test prep services, an increasing number of students have found greater success in reaching their goals with the help of private tutor from Manhattan Review.
For over 15 years, Manhattan Review has been at the forefront of the test prep service industry, providing prospective graduate students with the requisite tools and resources to achieve their highest possible score on the GRE, and to continue on to professional success thereafter. We are able to accomplish this because we offer a state-of-the-art GRE test prep program that affords our participants the opportunity to custom design their own learning plan according to their own learning style and needs, including availability constraints. While learning plans can vary depending on individual students and what their needs are, they generally consist of either a mix of our interactive online courses or one-on-one sessions with our elite private tutors. Additionally, our participants are given access to a host of other online tools and resources, such as our GRE practice tests, which are designed to familiarize our students with the GRE prior to test day and to help them monitor their progress during the test prep process.
In Barcelona, no other test prep service goes the extra mile to help prospective graduate students achieve their GRE testing goals like Manhattan Review. This is why all of the top graduate programs and major employers consider our participants among the best and brightest in the area. Specifically, our high scoring GRE students have gone on to attend the University of Barcelona, Polytechnic University of Catalonia, Pompeu Fabra University, EADA Business School, IESE Business School, Ramon Llull University, Autonomous University of Barcelona, the Toulouse Business School, and Open University of Catalonia. In addition, our past participants have gone on to work for the biggest employers in the Barcelona and the surrounding communities as well. Specifically, Borsa de Barcelona, World Trade Center Barcelona, Nissan, Derbi, American Express, Hewlett-Packard, Avis, Barcelona Metropolitan, Galactic Suite Design, Eurostars Hotels, Gas Naturals, Nueroelectrics, and Akamon Entertainment have all hired our past participants over the years and continue to do so because they know that our students are the most prepared and capable hires that Barcelona has to offer. Manhattan Review can give you the tools to succeed in Barcelona, starting with unprecedented GRE test prep. Get started by contacting Manhattan Review today.
GRE Private Tutoring
Hours package 12 to 48 hours, Personalized 1-on-1 Tutoring, In Person or Live Online
GRE Private Course
12 hours in total, Personalized 1-on-1 Course, In Person or Live Online

Bill was wonderful! He was most helpful very thorough and patient. He explained everything multiple ways and answered all our questions. I appreciated the solutions work he did.
- Linnet (This student did GRE tutoring)
Barcelona
Phone: +34-932-201-721

Primary Course Venue:

Hotel 1898
La Rambla, 109
08002 Barcelona
Spain

NOTE: We do NOT typically have staff at the venue, so email us before visiting the venue.
Meet a Barcelona GRE Tutor: Rafael
For Rafael, moving to Barcelona to study abroad was a life changing event, although it wasn't until he did not make the Spanish city his permanent home until after he had completed his engineering program at the prestigious University of California at Los Angeles. With a Master's degree in mechanical engineering and relevant work experience, as well as a list of contacts that he established during his last visit while still in school, Rafael was able to land an opportunity that set him on a path to success in his new home of Barcelona. While working for one of the biggest technology companies in Barcelona, Rafael discovered that he had a gift for developing talent as he coached and mentored his subordinates over the years. Rafael also realized that he had a passion for teaching above and beyond his current position which, as a result of a promotion to a senior level management, gave him less and less time to work with his team members. Rafael found an opportunity to continue developing talent at Manhattan Review.
Since becoming a member of our elite team of private tutors at Manhattan Review in Barcelona, Rafael has played a pivotal role in helping us to develop top talent by helping students acquire the requisite knowledge and skills to score high on the GRE. With exceptional instructors like Rafael, prospective graduate students are confident that when they come to Manhattan Review they are building the foundation they need to accomplish their goals, both academic and professional. Contact Manhattan Review today to meet Rafael and begin your path towards becoming one of Barcelona's best and brightest.