GRE Prep Courses in Frankfurt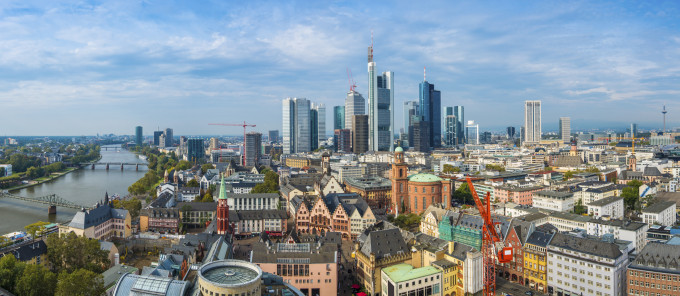 GRE Preparation in Frankfurt (Germany)
To take advantage of every opportunity in your career, it's smart to take your education to its highest level of completion. That's why obtaining a Master's degree has become a strategic choice for ambitious professionals preparing for both job success and financial freedom. If you are studying for the GRE in Frankfurt, Manhattan Review has the right tools to maximize your score.
Instead of worrying about what to study and how long, consider the GRE taken care of for you. We have been helping students get into prestigious and well-known graduate schools since 1999. Today, our own alumni hold degrees from Ivy League schools in the U.S., Oxford and Cambridge in the United Kingdom, and major cities and commerce hubs around the world. In Germany, our test prep presence has helped students get accepted to The Graduate School of Economics, Finance, and Management (GSEFM), which is based in the House of Finance at Goethe University Frankfurt and represents an alliance between Goethe University Frankfurt, Johannes Gutenberg University Mainz, and Technische Universität Darmstadt. Also in Germany, University of Munich is a highly regarded academic leader with coveted graduate programs for course study.
Masters programs are a very hot trend in Germany today. Introduced as part of the Bologna Process, grad school provides more consistency in European course study. The Bologna Process launched the European Higher Education Area in 2010, which further expands the horizons for higher education in European countries.
As a Frankfurt resident, now is the prime time to get in on these exciting changes in the sphere of scholarship. A high GRE score will help you get into cutting-edge, innovative programs that are sought after by students everywhere. Hear yes more often when you submit your graduate school application by attaching top percentile scores on your GRE. You can work with a specialized tutor in a one-on-one setting for a custom-fit approach to our course syllabus. You can opt for the full-length classroom course to collaborative with other aspiring M.A.'s and M.S.'s. Or, if your schedule is already strained, you can opt for Interactive Online Courses to bring our state-of-the-art learning materials to you for remote viewing.
Whatever option works best for you, we're ready to supply you with the resources to maximize your potential. Then you'll be ready to take on graduate school and become the most qualified subject expert in your field. Considering Frankfurt's diverse and enriched center for Global Fortune 500 companies, commerce, and financial growth, this may be just the boost you need to solidify your qualifications.

Bill was wonderful! He was most helpful very thorough and patient. He explained everything multiple ways and answered all our questions. I appreciated the solutions work he did.
- Linnet (This student did GRE tutoring)
Frankfurt
Primary Course Venue:

Sheraton Frankfurt Congress Hotel
Lyoner Strasse 44-48
60528 Frankfurt
Germany

Phone: +49-69-9073-2266

NOTE: We do NOT typically have staff at the venue, so email us before visiting the venue.
Meet a Frankfurt GRE Tutor: Todd P.
Todd has a sprawling resume of past achievements and prominent positions. After studying finance and graduating from Princeton University, the energetic academic joined the team of Wells Fargo Securities in New York City as a Managing Director. He was promoted after this time to Co-Head Foreign Exchange Sales within the Global Rates Group at Wachovia. Racking up more than 15 years of professional experience in the U.S., Todd was able to pursue his Master's degree as part of his company's competitive benefits package. Exploring new opportunities – not to mention yet-unexplored regions of the globe – Todd took the chance to travel to banks in major European financial centers. He traveled to dozens of cities, but his personal favorite had to be Frankfurt.
He and his wife decided to move to Frankfurt once Todd's third child completed college. As part of this "retirement exile", Todd is still active on the financial circuit, but he is now sharing his skills and expertise with today's students. Work with Todd to get the GRE tutoring that could boost your score by hundreds of points. This accomplished Frankfurt tutor will teach you how to approach the GRE with an eye toward strategy, smart problem solving, and cool-headed reasoning skills. Todd will remind you to keep your eye on the prize and may even throw in a few tips about how to add that "wow factor" as you apply for job positions in Frankfurt. In his spare time, Todd loves visiting Heidelberg, a gorgeous university town about an hour outside Frankfurt. He also likes hiking in the nearby Taunus mountain region with his wife. This gives him the perfect excuse to indulge the rich pleasure of Bavarian schnitzels and strudels.