GRE Prep Courses in Durban (South Africa)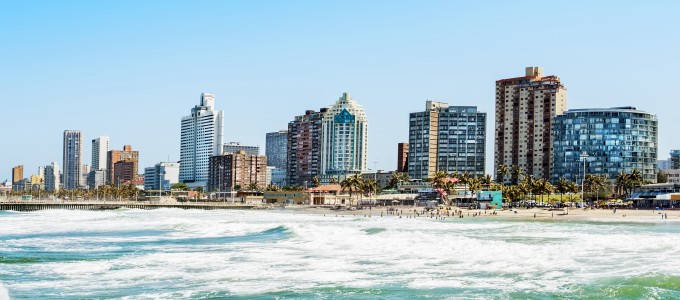 Are you a Durban-based student seeking to obtain the highest score possible on the Graduate Record Examination (GRE)? If you are searching for the most effective and comprehensive GRE prep services, look no further than the standardized test prep experts at Manhattan Review. Our industry-leading instructors are ready to help you master the GRE, developing a study schedule and staying on track while making consistent progress towards your goal. Whether you prefer to learn in classroom-style group courses, interactive online instruction, or private tutoring, at Manhattan Review we're certain to have just the right GRE prep course for you. Whether you have been preparing for the GRE for a while or have only just begun to think about preparing, our world-class instructors will take you wherever your learning has led and show you how to go farther than you ever imagined. When it comes to preparing for a test as important as the GRE, there's no need to waste your valuable time attempting to piece together your own study program, hoping you are covering the most relevant information and working at an appropriate pace. At Manhattan Review, our sought-after instructors have deconstructed the GRE, using our more than twenty years in the standardized test prep industry to analyze every section and every question, all so we can create resources with a proven track record of high score success.
At Manhattan Review, our GRE prep courses are carefully designed to meet the learning needs of students in the Durban area, and we offer courses both in-person and online to ensure there is always a meeting time that works best for your busy schedule. When you partner with Manhattan Review, you can be confident that our unsurpassed syllabus will provide you with everything you need to successfully master the GRE, gaining the score that will allow you to pursue your dreams of higher education. Our experts are ready to teach you the most useful test-taking techniques and strategies, certain to boost your GRE score and open important academic doors regardless of what college or university you plan on attending. We encourage you to reach out today and learn more about our student-friendly GRE prep courses.
If you are a discerning student seeking every possible advantage when it comes to preparing for the GRE, consider working with Manhattan Review to obtain an impressive score certain to make your dreams of an advanced collegiate degree a reality. We consistently work with a varied and diverse group of clients, from students who recently completed their undergraduate degree to executives at Fortune 500 companies seeking to advance their career through a promotion, pay raise, or moving forward in a new and exciting direction. Our instructors will teach you how to quickly identify test questions, as well as how to apply the best problem-solving strategies, all while pacing yourself and expertly managing your time. Working with the professionals at a test prep company can save you valuable time while also ensuring you're focusing on the most important aspects of the test, but only if you're working with a reputable company with an established record of client success and satisfaction. At Manhattan Review, we know what it takes to succeed on the GRE, and our industry-leading instructors are eager to guide you to test-taking success the same way they've helped countless students in the United States, Europe, Asia, and around the world.
The GRE is an important part of the graduate school application process, and this test is used in admissions decisions for graduate, business, and law school programs around the world. The GRE General Test is designed to closely reflect the sort of thinking employees and executives are required to perform in today's fast-paced business environments. The exam assesses verbal reasoning, quantitative reasoning, critical thinking, and analytical writing abilities, intentionally focusing on skills that have been developed and strengthened over a long period of time and can be applied to vastly different jobs and positions. GRE scores range between 130 to 170 in the verbal and quantitative sections of the exam, and the writing portion is scored on a scale ranging from 0 to 6 using half-point increments. In order to be competitive for the highest-ranking graduate programs, it is imperative to do well on the GRE. An average total GRE score is around 300, but for those seeking admission to the world's best graduate, business, or law programs, scores will need to be far above average. A score of 318 at the 75th percentile is considered "good," whereas a score of 329 at the 90th percentile is considered "excellent." At Manhattan Review, we can help you obtain those excellent scores and take the next step in your academic and/or professional life.
When you partner with Manhattan Review, you receive exclusive access to our test prep resources and course materials, as well as the knowledge and first-hand experience of respected test professionals who have guided countless students to their own graduate school success. Here at Manhattan Review, we are pleased to offer a unique GRE prep model, and our services have helped students be accepted into the most prestigious graduate programs, including MIT, CalTech, Johns Hopkins University, the University of North Carolina at Chapel Hill, Duke University, Harvard University, Yale University, the University of Cambridge, the University of Southern California, Cornell University, New York University, Columbia University, the University of Chicago, the University of California at Los Angeles, Stanford University, the University of Washington, Georgetown University, and elsewhere.
Since 1999, Manhattan Review has been offering stellar test prep resources and materials, and we take great pride in pairing our clients with just the right program for their individual test-related needs. Our instructors have impressive academic backgrounds and extensive first-hand experience with a variety of standardized tests, including the GRE, but we do not only hire exceptional test-takers…we hire exceptional educators with strong backgrounds in teaching, learning theory, and applied instruction. Our dedicated instructors are committed to your learning needs and want to help you master the GRE, pairing their experience with your motivation to achieve an impressively high score. We offer the most flexible, results-driven, and student-friendly test prep resources in and around Durban. Courses and private tutoring are available at various times, including daytime, evening, and weekend hours, and we offer in-person and virtual meetings to ensure you can study with an instructor when the timing is best for you. Whatever your test prep needs, there's always an option for you with Manhattan Review.
Those who live in Durban know that the competition to be accepted by leading graduate programs is fierce. If you plan on attending a graduate school program with instant name recognizability, set yourself up for the success you deserve by working with a respected test prep professional. There is no need to prepare by yourself when you can take advantage of the services and resources available through Manhattan Review. In order to be accepted by a top-tier graduate program, you will need very high GRE scores, as this exam is an important measure of your ability to learn and work hard. Where you attend graduate school has extensive implications, both personally and professionally, and you owe it to yourself to succeed to your full potential as you strive to become a leader in your chosen field. Contact the experienced professionals at Manhattan Review today to learn more about why we continue to be the leading standardized test prep resource for those in and around Durban.

Bill put in a lot of outside hours preparing for class and answering questions throughout the week. He really tried his hardest to help us reach our goals. I really really appreciated how dedicated he was to helping us.
- Cheng (This student did GRE tutoring)
Durban
Primary Course Venue:

Hilton
12-14 Walnut Road
Durban 4001
South Africa

NOTE: We do NOT typically have staff at the venue, so email us before visiting the venue.
Meet a Durban GRE Tutor: Ashleigh L.
Ashleigh L. has had a passion for working with children for as long as she can remember. From an early age, she found herself drawn to the field of medicine, liking the process of administering a test, arriving at a diagnosis, and applying a prescription or other form of treatment. "My younger sister was diagnosed with a math-based learning disorder in middle school," shares Ashleigh. "Even though my family was relieved when we had a name for what was going on, I just kept thinking how much easier my sister's life would have been if we'd known how to help her earlier." Ashleigh is certain her experience with her sister contributed to her desire to ease the suffering of others and find ways to make their lives better. A native of Memphis, Tennessee, Ashleigh obtained her undergraduate degree in psychology from Vanderbilt University and knew she wanted to expand her professional options by obtaining a doctorate degree.
Given that she would need to take the GRE, Ashleigh began asking around for recommendations on the best test prep services in her area, and she ultimately enrolled in a classroom-style group course that provided her with a consistent study schedule, as well as the chance to take practice exams and learn about her time management abilities. "I'm not really an anxious person, except when it comes to tests," admits Ashleigh. "I'm always worrying I'm not working fast enough but preparing for the GRE with a professional made me so much more confident in my ability to manage my time." Ashleigh took preparing for the GRE very seriously, and her hard work was rewarded when she scored in the 99th percentile. Combined with her strong undergraduate work and a well-written essay, Ashleigh was accepted to her top three doctorate programs, and she chose to attend The Ohio State University, respected around the world for producing leaders in the field of behavioral medicine.
After graduating, Ashleigh completed internships and fellowships and was ultimately offered a position with a company that specialized in diagnosing childhood learning differences. The company had offices around the world, and Ashleigh was thrilled to have the chance to move to Durban, "even though it was a far cry from Tennessee," she laughs. Ashleigh had done a significant amount of student teaching during her doctorate program and found that she missed working with students and helping them prepare for their own individual successes. She regularly led weekend workshops and taught online courses for continuing education credits, but she missed the energy of working with future professionals and watching them master concepts. When she learned Manhattan Review had recently opened an office in the area, she reached out about possibly helping students prepare for the GRE, and we were thrilled to welcome her to our team. When Ashleigh isn't helping students excel on the GRE, she can be found working towards her scuba diving certification, attending music events with colleagues at Moses Mabhida Stadium, and volunteering at a local animal rescue shelter.