GRE Prep Courses in Dublin (Irland)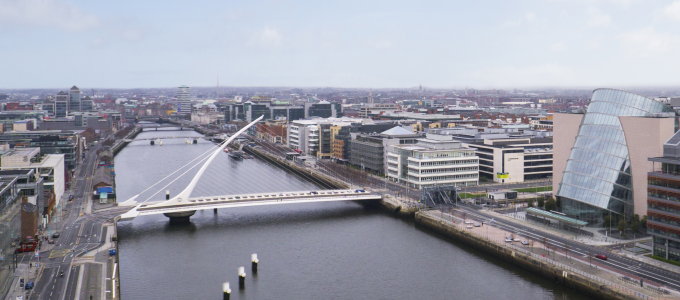 Every prospective college student that we encounter at Manhattan Review is different. Even with the slightest of differences in learning styles can make or break a student's level of confidence and ultimately their ability to do well on any standardized test, particularly the Graduate Record Examination, or GRE. The GRE is of the utmost importance to many prospective graduate students because it is administered by thousands of schools all around the world as part of the initial application criteria for entrance. Only the students with the best GRE scores, in the 99th percentile, are able to gain acceptance into their school of choice. At Manhattan Review we have world-class test prep courses that can help you achieve a high test score on the GRE and gain acceptance into your school of choice.
Since 1999, Manhattan Review has been specializing in the delivery of top rated GRE test prep services to prospective graduate students all over the world, including right here in Dublin. Specifically, we offer students a boutique type program that gives them the opportunity to custom design their own learning program based on their own individual learning style and availability. For starters, graduate school hopefuls have access to elite professional tutors as well as other online tools and resources, readily available for them to access at their leisure. In addition, students can also participate in our state-of-the-art interactive online courses, which then give them the necessary hands-on experience they need to build confidence for the GRE on test day.
As a result of our tremendous investment in prospective graduate students in Dublin, the greater community has come to respect Manhattan Review and the work that we do. This translates directly to more benefits to the students who participate in our programs. Namely, students are able to gain acceptance into all the top schools, including the Dublin Institute of Technology, the University of Dublin, Dublin City University, the Dublin Business School and the Economic and Social Research Institute all have a track record of accepting our past students because they know that we train the best and the brightest and it shows.

I wanted to thank you for teaching my class and being such a dedicated instructor. When I first started studying for the GRE I was doing it from complete scratch as I had not done this type of math in many years. I was scoring in the low 300's, and was having trouble with some of the quick math necessary to do well on the test. Our class helped me figure out how to break down problems into commonly found concepts and to quickly do the computation to answer them (by, for example, factoring). I took the GRE this past Friday and scored a 720 in math -- much higher than I had originally hoped for when I started studying. I know your going the extra mile to help, both in tutoring and in class, really made a difference to my score. Thanks again!
- Puja (This student took out GRE Tutoring)
Dublin
Primary Course Venue:

Hilton Dublin
Charlemont Place
Dublin 2, Ireland

NOTE: We do NOT typically have staff at the venue, so email us before visiting the venue.
Meet a Dublin GRE Tutor: Spencer C.
Growing up as the son of a successful businessman, Spencer spent a lot of time traveling the world well before he graduated from high school. And though he did not want to necessarily pursue a career in business, he did develop a deep passion for seeing the world and wanted to even live abroad. Not long after, he was able to make that dream come dream when he left Texas A&M University to go study abroad in Dublin. Naturally, he fell in love with the Irish capital and decided to stay, when he applied to and was ultimately offered an initial entry-level position in his field with a top international information technology firm located right in the heart of the city.
After working his way up to a senior level position, including earning several accolades for coaching and mentoring, in particular, Spencer decided to branch out and help develop up and coming professionals. It didn't take long for him to happen upon Manhattan Review, and soon after he joined our team of professional tutors. Since that fateful day, four years ago, Spencer has been instrumental in providing up and coming professionals in Dublin with the requisite skills they need to rise to the top of the college and university acceptance lists as well as the top of the consideration list for eligible employers in the area. Our students love working with Spencer because he is so honest and forthcoming about both his own experiences, which are vast considering his worldly travels and being an emigrant from America, but also because he knows the trials and tribulations first hand in trying to thrive professionally in the city of Dublin. And as he always tells his students, it can be done, he is living proof of that.