GRE Prep Courses in Columbus (Ohio)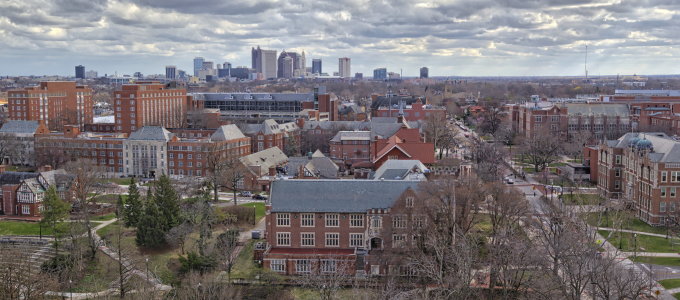 As one of the most widely accepted standardized tests in the world, the Graduate Record Examination, or GRE, plays a significant role in the application process for graduate school. Prospective graduate students are not only challenged to take the GRE, but also must earn a high enough score to gain acceptance into their school of choice. For some students, their prior test taking strategies will prove to be beneficial with such an undertaking, however for many others, if not most students, they will require significant changes to their existing test taking strategies in order to meet their GRE goals. Manhattan is here to help. With our GRE test prep courses, you are guaranteed to get the requisite knowledge and skills you need to reach your testing goals.
For over 15 years, Manhattan Review has been at the forefront of GRE test prep services, providing prospective graduate students with the industry's best GRE test prep around. Our unprecedented a la carte program offers students something that no other program does: it is fully customizable. Whether students decide to participate in our interactive online courses or one-on-one private tutoring sessions with one of our elite professional tutors, everyone has access to our host of online tools and resources such as our GRE practice tests. As a result, every student is given every possible tool and opportunity to achieve their GRE testing goals and go on to achieve academic and professional success thereafter.
All throughout the city of Columbus, Manhattan Review has earned a great deal of respect for what we do. From the top universities, including The Ohio State University, DeVry University, Franklin University and the Ohio Dominican University have all endorsed our program via accepting our past participants. They have done so and continue to do so because of one thing: we are the best around when it comes to preparing prospective graduate students for the GRE as well as their subsequent successful academic and professional careers. The top companies in Columbus, including Battelle Memorial Institute, OCLC, Chemical Abstracts, JP Morgan Chase, Huntington Bancshares, Owens Corning, Wendy's and White Castle to name a few, also feel the same way as indicated by their consistent hiring of our past students to work for them. At Manhattan Review, we don't just teach how to pass the GRE, we help students achieve their highest possible score and build a foundation for success as well.

I wanted to thank you for teaching my class and being such a dedicated instructor. When I first started studying for the GRE I was doing it from complete scratch as I had not done this type of math in many years. I was scoring in the low 300's, and was having trouble with some of the quick math necessary to do well on the test. Our class helped me figure out how to break down problems into commonly found concepts and to quickly do the computation to answer them (by, for example, factoring). I took the GRE this past Friday and scored a 720 in math -- much higher than I had originally hoped for when I started studying. I know your going the extra mile to help, both in tutoring and in class, really made a difference to my score. Thanks again!
- Puja (This student took out GRE Tutoring)
Columbus
Primary Course Venue:

Manhattan Review GMAT GRE LSAT Prep
Columbus Teaching Center at the Hyatt
350 North High Street
Columbus, OH 43215

Phone: (614) 340-9763

NOTE: We do NOT typically have staff at the venue, so email us before visiting the venue.
Meet a Columbus GRE Tutor: Stephanie W.
Like so many of our professional tutors at Manhattan Review, Stephanie came to work for us after enjoying many years of academic and professional success in her field. From a very early age, Stephanie learned from her parents that "nothing worth having in life comes easy." Having demonstrated their beliefs, Stephanie's parents inspired Stephanie to go after what she wanted through hard work and perseverance, and to this day, she tells her students that while she has always managed to be at the right place at the right time, career wise, it was the foundation of her education that made it all possible to begin with. That is why she became a tutor.
As a member of our elite team of professional tutors in Columbus, Stephanie both possesses and demonstrates all of the qualities that we look for in someone to help us deliver our industry leading GRE test prep services. Our students love working with Stephanie not only because she is at the top of her field as an executive in healthcare, therefore having a lot to offer regarding how to achieve success in her particular field, but also because she is incredibly sincere and honest. Stephanie often goes out of her way to make herself available when her students need her help, including meeting with her students to work on their weaknesses on the exam. For these reasons and so many more, Manhattan Review is proud to have Stephanie as part of our team in Columbus.