GRE Prep Courses in Cincinnati (Ohio)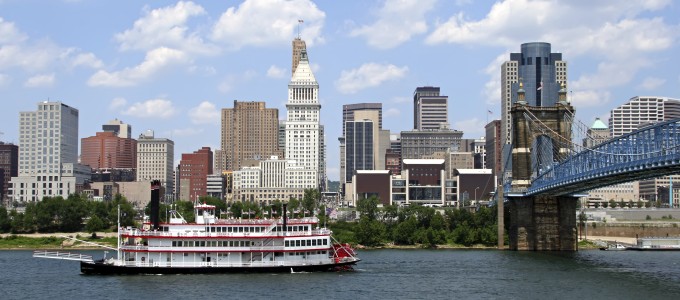 Creating a study plan and adhering to a strategy are sure ways to obtain a top score on the GRE. With Manhattan Review, who has deconstructed and analyzed the test, we have helped thousands succeed on their exam. Cincinnati students will learn how our Graduate Record Examination courses are created individually and specifically for each and every one of our students. We take the time to understand what methods work best for you and create a plan that breaks down the GRE accordingly. Our carefully planned syllabus was created with efficiency in mind.
The finest graduate programs are looking for applicants with a score they cannot deny. At Manhattan Review, our Interactive Online Courses combined with our unsurpassed prep courses and top notch tutors, you will find the door open to distinguished graduate programs located in the 50 states and abroad. From colleges like Princeton, Harvard and Columbia to The University of Ohio and Xavier University, located in the heart of Cincinnati, our students have found that our tutoring in the GRE exam was just what they needed to be accepted into these prestigious universities.
Some of the nation's top employers were founded in Cincinnati such as Macy's, Proctor and Gamble and Kroger's. These giants of retail find many of their executives were successful first on the GRE exam before completing their graduate work at one of the local institutions, like the University of Cincinnati. Other students in Cincinnati choose to study abroad for their graduate work such as the University of Barcelona and University of Cambridge.
Our history of locating and employing the best tutors available goes back to our founding in 1999. Manhattan Review continues to lead the industry in GRE test prep due to the reviews of many of our past students who credit our professional tutors for their success. Some of our tutors have gone on to see their students start businesses, run corporations or cure diseases. Our tutors come from a variety of backgrounds, but one thing they have in common is a strong desire to see their students triumph in life.

I wanted to thank you for teaching my class and being such a dedicated instructor. When I first started studying for the GRE I was doing it from complete scratch as I had not done this type of math in many years. I was scoring in the low 300's, and was having trouble with some of the quick math necessary to do well on the test. Our class helped me figure out how to break down problems into commonly found concepts and to quickly do the computation to answer them (by, for example, factoring). I took the GRE this past Friday and scored a 720 in math -- much higher than I had originally hoped for when I started studying. I know your going the extra mile to help, both in tutoring and in class, really made a difference to my score. Thanks again!
- Puja (This student took out GRE Tutoring)
Cincinnati
Primary Course Venue:

Manhattan Review GMAT GRE LSAT Prep
Cincinnati Teaching Center at the Marriott
151 Goodman Drive
Cincinnati, OH 45219

Phone: (513) 297-1580

NOTE: We do NOT typically have staff at the venue, so email us before visiting the venue.
Meet a Cincinnati GRE Tutor: Claus K.
We are proud to call Claus one of our premier GRE tutors here at Manhattan Review. Being inquisitive at heart, Claus embraced this quality as a student and graduated with his Master's Degree in Philosophy from John Hopkins University. Upon graduation, Claus taught for five straight years as a teaching assistant and associate at John Hopkins University. During this time, he also tutored at various test prep companies, sharing his history in academia with 500 plus students.
Since this time, however, Claus has relocated to the Cincinnati area. Like in Baltimore, Claus continues to receive blazing reviews from faculty and students alike. He is commended for his clear way of teaching, outstanding presentation style and yet is still able to inspire and relate to his students. Claus has a love for reading, beginning at the early age of five, and can often be found reading his favorite local publication, The Cincinnati Herold, at one of the many parks in the city.
Reading and completing the daily crossword puzzle is just one-way Claus keeps his vocabulary skills sharp. When October comes around, Claus will be in line for a Bratwurst and Beer at the annual Oktoberfest Zinzinnati, also known as the second largest Oktoberfest celebration behind Munich. A food aficionado, Claus makes it a point to try something new every year, from Weiner Schniztel, to Curry Wurst to Cordon Bleu, he is truly a food buff. For his Cincinnati students he often makes and shares a pot of his own version of the famous Cincinnati Chili to keep his students fueled and ready for vocabulary games and quizzes.