GRE Prep Courses in Boulder (Colorado)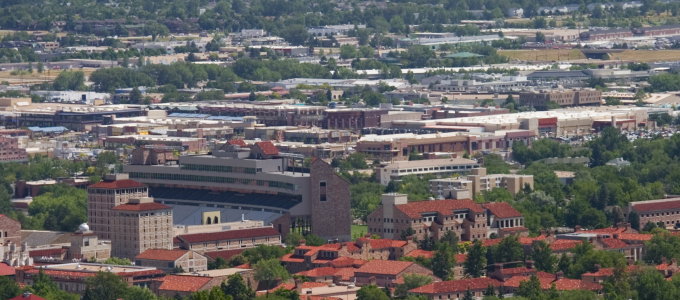 For thousands of prospective graduate students all around the world, the Graduate Record Examination, or GRE, plays a critical role in determining their acceptance into graduate school. This is especially true for the top graduate schools in Boulder. Designed to initially measure verbal and quantitative reasoning, critical thinking, and analytical writing ability, the GRE helps graduate school admissions boards to gauge academic aptitude and potential of applicants. Although some applicants will feel confident in their ability to prepare for the GRE on their own, many prospective graduate students will rely on the professional consultant services of Manhattan Review, the industry leader in GRE test prep. With the help of Manhattan Review's top rated GRE test prep courses, you will be able to achieve your best possible score on the GRE.
For over 15 years, Manhattan Review has been leading the test prep service industry, providing world-class GRE test prep consultant services to prospective graduate students all over including in Boulder. Unlike any other GRE test prep consultant service, Manhattan Review gives participants the unprecedented opportunity to customize their own individual learning plan. Participant learning plans typically involve one of two approaches - traditional and modern - although, we do accommodate a wide variety of learning styles. At Manhattan Review, we understand that when it comes to test preparation, one size does not fit all, which is why we work hard to help every GRE test prep participant in our program to achieve their testing goals regardless of how they learn. In addition, we offer access to our online supplemental tools and resources such as our GRE practice tests, our expertly designed test prep aids that have proven over the years to help boost our participant's GRE scores by giving them the opportunity to find any areas for potential improvement in advance of taking the GRE.
All throughout Boulder and the surrounding communities, Manhattan Review has generated a stellar reputation for developing top talent. Specifically, all of the top graduate programs in Boulder such as the University of Colorado Boulder and Naropa University are among the growing number of graduate programs around the world that not only respect Manhattan Review's GRE test prep consultant services, but also are confident that our GRE test prep participants represent the best and the brightest. The top employers in Boulder including IBM, Covidien PLC, Emerson Process Management, Whole Foods Market Inc., Qualcomm Inc., Ricoh Company LLC, Markit, GE, The Hain Celestial Group Inc., Elevations Credit Union, Spectra Logic Corp., Wells Fargo, CP+B, Zayo Group, Google Inc., Rally Software Development Corp., Research Electro-Optics Inc., LogRhythm Inc., Boulder Brands, Inc., Corden Pharma Colorado, McGuckin Hardware, Leanin' Tree Inc., Active Interest Media, and SolidFire Inc. are also huge fans of both Manhattan Review and our GRE test prep participants. As a result, Manhattan Review is the best choice for your GRE test prep needs and the best choice to help set you on the path to achieving success in Boulder. Choose success. Choose Manhattan Review today.

I would like to let you know that I took the GRE on Monday, December 6th and earned a score of 1200 (600 verbal, 600 quantitative). I think that I did very well on the essay portion of the test as well but won't receive those scores in the mail for a couple weeks or so. I would like to thank my instructor (George S.) and Manhattan Review for helping me to increase my score so much (I got a 1050 the first time I took the GRE in 2002) Thank you very much.
- Tamara (This student took a GRE class)
Boulder
Primary Course Venue:

Manhattan Review GMAT GRE LSAT Prep
Boulder Teaching Center at the Marriott
2660 Canyon Boulevard
Boulder, CO 80302

Phone: (303) 468-0655

NOTE: We do NOT typically have staff at the venue, so email us before visiting the venue.
Meet a Boulder GRE Tutor: Quinn S.
Three years ago, before becoming an elite private tutor at Manhattan Review, Quinn never thought that he would one day pursue a career in instruction. With a background in aerodynamics research, working for one of the most respected research facilities in the state of Colorado as one of the experts in his field, Quinn is often given opportunities to lecture and help develop up and coming talent. As a result, he has come to appreciate the immense opportunity it is to influence others in such a positive way, one that he is privileged to have been given considering his own relationship with his mentor. At Manhattan Review, Quinn appreciates the opportunity to work to develop more professionals in Boulder.
Since joining our team of instructors in Boulder, Quinn has played a significant role in helping us to provide unprecedented GRE test prep consultant services to aspiring graduate students. Our participants love to work with Quinn because he has a sense of humor and is passionate about what he does. Quinn uses humor, often, to get his GRE test prep students to understand concepts or why certain areas of their test-taking strategy may need improvement. With elite private tutors, like Quinn, on our Manhattan Review team in Boulder, prospective graduate students are guaranteed first-rate GRE test prep that will help them achieve academic and professional success, starting with reaching their GRE testing goals.