GRE Prep Courses in Berlin (Germany)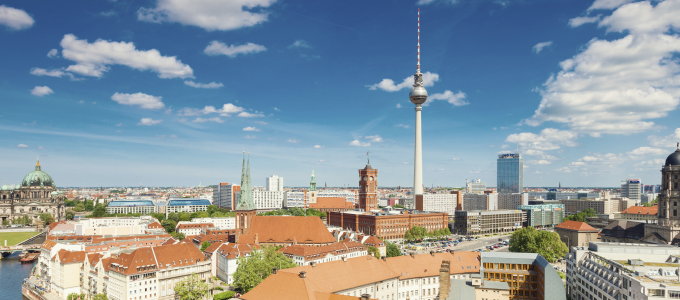 Manhattan Review offers the most effective available preparation services for the Graduate Record Examination (GRE). We provide a full range of GRE prep options for prospective graduate students in Berlin, including on-site and online GRE prep courses, private GRE tutoring, and GRE practice tests. Manhattan Review is a test prep company that has been helping students around the world achieve their academic goals since 1999. With operations in major European, Asian, North American, and Australian cities and a large international clientele, we are the best choice for Berlin applicants to universities in the English-speaking world. Contact us right away for more information on our reliable and convenient GRE prep services in Berlin.
The first step for students taking the GRE should be an assessment of how the test is considered in the admissions process at their chosen schools. There is no universal standard for how the GRE is used to evaluate applicants. The Master of Science in Foreign Service program at Georgetown University, for example, allows students to submit scores from multiple GRE test attempts, and it then considers the highest score on each section. Georgetown's School of Foreign Service (SFS) also reports that it does not weigh any GRE section more strongly than any other, and that there are no required minimum scores. However, the average GRE scores of graduate students accepted to SFS are 163 verbal, 158 quantitative, and 4.5 analytical writing. Students who wish to gain a realistic chance at acceptance to this program should at least meet these levels, if not exceed them.
Manhattan Review's GRE prep courses and private tutoring have taught thousands of students how to reach their target GRE scores and get accepted to graduate programs at the most highly ranked institutions. Our GRE students have been admitted to top schools such as Harvard, Yale, Princeton, UC Berkeley, Columbia, Dartmouth, the University of Virginia, the London School of Economics, London Business School, and several others. We've successfully taught GRE prep to students from every relevant academic background, from the liberal arts and sciences to business. Many of our students have told us that our GRE instruction provides a useful framework for learning that they have applied to their graduate studies.
Graduate education has been shown to have a positive effect on income in the vast majority of fields. For example, a recent survey conducted by the National Association of Colleges and Employers (NACE) showed that holders of a master's degree in computer science earned an average of $71,140 per year, which is significantly higher than the average annual salary of $62,187 earned by those with a computer science bachelor's degree only. Manhattan Review's past GRE students have consistently shown that graduate school is a wise investment. They've been hired by Fortune 500 companies, including Proctor & Gamble, Dow Chemical, Liberty Mutual Insurance, Goldman Sachs, and Morgan Stanley. Some of our former GRE clients have returned home to Berlin in the wake of job offers from prominent local companies such as John Thompson Productions, Active Space Technologies, and Delivery Hero. Get started on improving your career today with Manhattan Review's Berlin GRE prep services.

Bill was wonderful! He was most helpful very thorough and patient. He explained everything multiple ways and answered all our questions. I appreciated the solutions work he did.
- Linnet (This student did GRE tutoring)
Berlin
Phone: +49-30-9173-4902

Primary Course Venue:

Strausberger Platz 9
10243 Berlin
Germany

NOTE: We do NOT typically have staff at the venue, so email us before visiting the venue.
Meet a Berlin GRE Tutor: Gerard Y.
Gerard Y., a native of Lyon, France, is a graduate of the University of Maryland and the University of Pennsylvania, with bachelor's and master's degrees in history. He wrote his master's thesis on contemporary media coverage of the French Revolution. He has been a history teacher at the secondary level since 2012 and a GRE tutor since 2011.
Gerard excels in teaching all areas of the GRE, which has surprised some of his students given his background. "I expected Gerard to know the verbal areas of the GRE, but I was astonished at how good he also is at teaching quantitative skills," wrote one recent student. "He an outstanding all-around GRE educator." Gerard spends his free time listening to European hip-hop, playing soccer, and travelling around Europe with his wife.