GRE Prep Courses in Barcelona (Spain)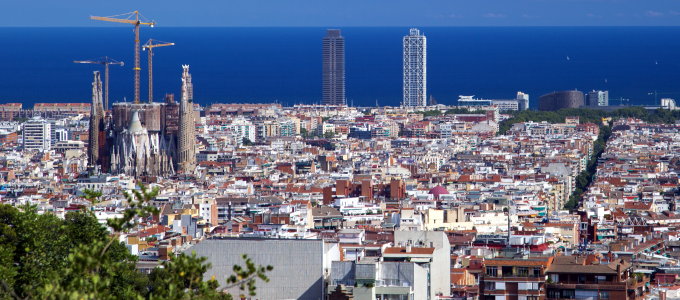 The Graduate Record Examination, or GRE, plays a critical role in the application process for thousands of graduate programs all over the world, including in Barcelona. As a result, prospective graduate students must work hard to achieve a competitive score to help them gain acceptance into their schools of choice. However, doing so often proves to be a challenge, particularly for those individuals who have never prepared for a standardized test before or don't feel confident in their ability to adequately prepare for the GRE on their own. Manhattan Review can help. With our state-of-the-art GRE test prep program, you will receive the foundation needed to reach your testing goals and so much more. Since 1999, Manhattan Review has been the industry leader in GRE test prep services in Barcelona, giving prospective graduate students, like you, the knowledge and skills necessary to earn their highest possible GRE score. Our a la carte system works in two easy ways. Participants can either enroll in a unique mix of interactive online courses as part of their custom designed learning plan, or choose to work one-on-one with an elite private tutor, some of the top professionals in Barcelona whom we have handpicked to help our students adequately prepare for the GRE. In addition, our participants are given access to a myriad of other tools and resources, such as GRE practice tests, which are specifically designed to help our students gauge their readiness for the GRE as well as help familiarize them with the test prior to test day. No other GRE test prep services helps prospective graduate students prepare for the GRE like Manhattan Review.
All throughout Barcelona and the surrounding communities, Manhattan Review is known for working with the best and brightest that the area has to offer. Specifically, all of the top graduate programs and business schools in Barcelona have a track record of accepting our past participants, including the University of Barcelona, Polytechnic University of Catalonia, Pompeu Fabra University, EADA Business School, IESE Business School, Ramon Llull University, The Autonomous University of Barcelona, Toulouse Business School, and Open University of Catalonia. Similarly, the top companies in Barcelona across the many thriving industries in Barcelona have come to rely on Manhattan Review as a prime source for their applicant pool, including companies in manufacturing, textiles, chemical, pharmaceutical, motor, electronic, printing, logistics, publishing, telecommunications, and information technology. Much like the top universities, the top employers prefer our students because they are confident that they indeed have the requisite skills set to perform well on the job. Come join the growing number of individuals in Barcelona that have chosen Manhattan Review for their path to academic and professional success, starting with achieving their GRE testing goals.

Bill was wonderful! He was most helpful very thorough and patient. He explained everything multiple ways and answered all our questions. I appreciated the solutions work he did.
- Linnet (This student did GRE tutoring)
Barcelona
Phone: +34-932-201-721

Primary Course Venue:

Hotel 1898
La Rambla, 109
08002 Barcelona
Spain

NOTE: We do NOT typically have staff at the venue, so email us before visiting the venue.
Meet a Barcelona GRE Tutor: Evangeline
Like most of our elite private tutors at Manhattan Review in Barcelona, Evangeline came to our GRE test prep program after establishing herself as one of the top professionals in the information technology field. Having worked her way up initially from an entry level position at one of the top technology companies in Barcelona, Evangeline has become one of the leading experts in her field. Such professional progression has given way to her mentoring subordinates and other coworkers as well, which helped Evangeline to discover that she has a passion for helping to develop up and coming talent. Evangeline saw the opportunity to accomplish this goal when she happened upon Manhattan Review's GRE private tutoring service.
As a member of our team of private tutors at Manhattan Review in Barcelona, Evangeline works diligently to help us provide the world-class GRE test prep services that we are known for. Our students love to work with Evangeline not only because she is so down-to-earth, but also because she is passionate about helping them to achieve their individual goals. Evangeline also stresses the importance of creating a learning plan that caters to each student's unique learning style and needs. Individual focus is instrumental to her curricular design process, and to the affecting the outcomes of the program. With the help of exceptional instructors like Evangeline Manhattan Review continues to give prospective graduate students the best possible foundation to achieve success in Barcelona.