GRE Prep Courses in Bangkok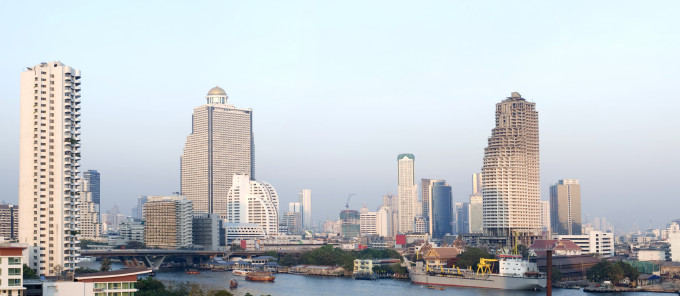 GRE Preparation in Bangkok (Thailand)
The GRE® revised General Test is known as the only admissions test where you can skip questions, change your answers, and take control of your test-taking for graduate or business admissions. This means that the material covered is only part of the study process. In addition, test takers must master the skills and strategies to maximize their test-taking potential. Get ahead of the curve and skip the ineffective study methods with the help of Manhattan Review's expert test prep professionals.
Instead of worrying about the GRE, you can take proactive steps to secure your very best results. Skip the do-it-yourself flashcards and textbooks that cover an overwhelming amount of curriculum you'll quickly forget. You can choose from Manhattan Review's full-length classroom courses, Interactive Online Courses, or private tutoring services to get all the information you need in a manageable format that makes sense. Drilling fact after fact is ultimately an ineffective method to approaching test prep.
Since 1999, our boutique test prep company has spread to major cities around the globe. We work with ambitious academics ready to jumpstart their career and future job prospects. In Bangkok alone, we have helped students get accepted to top-ranked graduate school programs across Asia, Europe, and North America. Regardless of your industry, we can help you cultivate your career candidacy through higher education.
In Southeast Asia, we have mentored alumni of Asian University, Bangkok University, Assumption University, Chulabhorn Graduate Institute, Dhurakij Pundit University's International College, Mahidol University International College, Webster University, and many more. Where will your top GRE score take you?

I wanted to thank you for helping me with the GRE prep and let you know that your teaching tactics worked! I took the exam yesterday and got an 800 on the math, 570 on the verbal and who knows about the writing but hopefully it's not below a 4! The verbal is tricky with those silly words but I am happy with my score and ready to walk away from this ETS madness. Thanks again and all the best!
- Sophia (This student took a GRE class)
Bangkok
Primary Course Venue:

Sheraton Grande Sukhumvit
250 Sukhumvit Road
Bangkok 10110, Thailand

Phone: +66-6-0003-5529

NOTE: We do NOT typically have staff at the venue, so email us before visiting the venue.
Meet a Bangkok GRE Tutor: Cheng W.
Cheng attended the University of Houston for his undergraduate degree in Engineering. As a Texas native, he first ventured away from home after his acceptance at Yale's graduate level Engineering program. His excellent networking skills and top scores helped propel him to the top of his class, and he was hired by Chevron upon graduation. Chevron Thailand brought Cheng to Southeast Asia, a decision based on seeing more of the world and putting his bilingual skills to good use. As a Senior Drilling Engineer, Cheng spent more than a decade doing his work at the Gulf of Thailand.
Cheng retired from his post and began teaching basic courses at a local university. It was here that he came into contact with Manhattan Review in 2009. Since then, the accomplished professional has been drawing from his skill set and his personal success for his test prep services. He has stood in front of classrooms for full-length courses and worked with students on a one-on-one basis to help test-takers achieve their own goals.
Patient and soft-spoken, Cheng is an approachable instructor with an expert understanding of the GRE Exam. He can work with you and give you tips, tools and tactics to achieve top-percentile results in Bangkok. In his spare time, Cheng enjoys the opera, a fine glass of wine, and spending time with his three young grandchildren.