GRE Prep Courses in Baltimore (Maryland)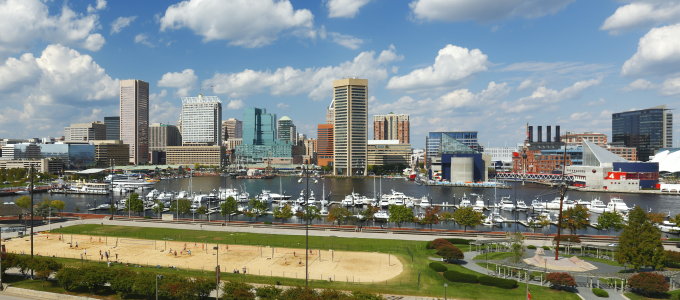 The Graduate Record Examination, or GRE, is accepted by thousands of graduate schools around the world, including right here in Baltimore. As a result, the GRE represents a pivotal part of the application process for many graduate programs, particularly for the top schools, as it is used as a critical gauge to determine academic preparedness for graduate level education programs as well as verbal reasoning, quantitative reasoning, and analytical writing skills. While some prospective college students have been able to adequately prepare for the GRE on their own, the truth is that most students will find that professional test prep services are the best bet. At Manhattan Review, we have developed a world-class GRE test prep program that is guaranteed to help you achieve your highest possible score.
For over 15 years, Manhattan Review has been the industry leader in GRE test prep services all over, Baltimore included. Specifically, we provide prospective graduate students with an unprecedented service that allows them to custom design their own learning plan. No other test prep service gives the students control over their own learning process. For us at Manhattan Review, there is no better way to encourage and motivate our participants than to get them involved from day one. Our participants can create a learning plan that consists of any unique combination of our interactive online courses or choose to engage one-on-one with one of our elite private tutors, individuals who have proved to master the GRE in addition to being considered experts in their respective fields. Our state-of-the-art GRE test prep program is unlike any other, helping to create the reputation that Manhattan Review has maintained over the years.
In Baltimore, Manhattan Review has generated a reputation for developing top talent. As a result, all of the top institutions of higher learning including Johns Hopkins University, Baltimore International College, Loyola University Maryland, Maryland Institute College of Art, St. Mary's Seminary and University, Notre Dame of Maryland University, Coppin State University, Morgan State University, Towson University, University of Baltimore, and University of Maryland choose our past students over all other applicants, year after year. The same is true for all the major employers in the Baltimore such as Johns Hopkins Hospital, Under Armour, Cordish Company, Legg Mason, McCormick & Company, T. Rowe Price, Royal Farms, and The Port of Baltimore. At Manhattan Review, we invest in every student that comes to our program, not only giving them the necessary tools and resources to reach their testing goals, but also helping them to establish a foundation that will enable them to achieve their academic and professional goals as well. Let us invest in you.

I wanted to thank you for teaching my class and being such a dedicated instructor. When I first started studying for the GRE I was doing it from complete scratch as I had not done this type of math in many years. I was scoring in the low 300's, and was having trouble with some of the quick math necessary to do well on the test. Our class helped me figure out how to break down problems into commonly found concepts and to quickly do the computation to answer them (by, for example, factoring). I took the GRE this past Friday and scored a 720 in math -- much higher than I had originally hoped for when I started studying. I know your going the extra mile to help, both in tutoring and in class, really made a difference to my score. Thanks again!
- Puja (This student took out GRE Tutoring)
Baltimore
Primary Course Venue:

Manhattan Review GMAT GRE LSAT Prep
Baltimore Teaching Center at the Hilton
401 West Pratt Street
Baltimore, MD 21201

Phone: (410) 999-6300

NOTE: We do NOT typically have staff at the venue, so email us before visiting the venue.
Meet a Baltimore GRE Tutor: Logan M.
While growing up in the New England area, Logan spent a great deal of time around airports with his father, a pilot for a major commercial airline. Although Logan loved being around planes, he ultimately chose a different path than his father and became a success in his own right. As an mechanical engineer, Logan realized early on that he would be able to pursue the kind of career that he always dreamed of all while being able to indulge in a surrounding that would allow him to be around his passion since his childhood: working with airplanes. Logan was able to achieve that goal when he was hired immediately out of graduate school to work for one of the busiest airports in the world, which just so happens to be located right in his hometown of Baltimore: Baltimore-Washington International Thurgood Marshall Airport.
Nearly ten years into his successful career, Logan received an opportunity that he just couldn't pass up. One that would ultimately afford him the chance to give back to a community that he feels gave so much to him. Logan became a private GRE tutor at Manhattan Review. As an elite member of our team of GRE tutors at Manhattan Review, Logan has played a significant role in helping us to deliver the best GRE test prep services that Baltimore has to offer. Logan not only exemplifies excellent leadership skills, which helps him in the classroom, but also has an excellent rapport with our students given he identifies with their current trials and tribulations as they prepare to take a critical test such as the GRE. Being an unnatural test-taker himself, Logan has no problem candidly sharing with his students his own personal story and how he ultimately overcame his struggles. As a result, Logan fits right in with our program goals at Manhattan Review, which is why we are proud to have him on our team.