LSAT Prep Courses in Tampa (Florida)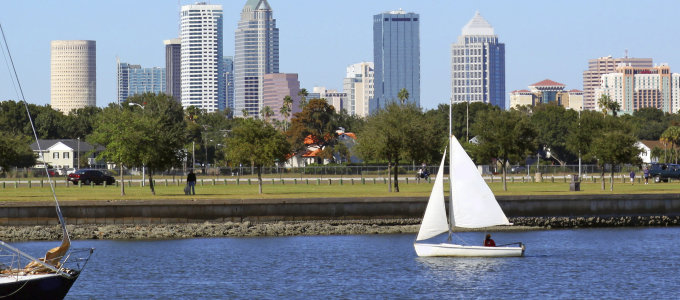 For prospective law students, the Law School Admission Test, or LSAT, is one of the biggest challenges that they face during the application process for law school. Administered by the Law School Admission Council, or LSAC, the LSAT plays a critical role in the assessment of a growing number of potential law students and aspiring law students in the United States, Canada, and an increasing number of other countries around the world. Designed to assess law school readiness through the assessment of verbal and analytical skills, the LSAT is a necessary obstacle that only adequate preparation can and will help prospective law students to overcome on the path to their academic goals. Our LSAT test prep courses at Manhattan Review can indeed help you reach your testing goals.
Since 1999, prospective law students have come to Manhattan Review for industry leading LSAT test prep services unlike any other in the world, including right here in Tampa. Our boutique program not only affords prospective law students with the chance to custom design their own learning program, but also gives them the opportunity to build a foundation that will enable them to succeed both academically and professionally upon completion of their work with us. Although learning programs can in fact consist of one-on-one private tutoring sessions with some of Tampa's top professionals, many students often find it beneficial to participate in our interactive online courses, which are accompanied by a host of online tools and resources, including our LSAT practice tests.
At Manhattan Review, we specialize in developing the best and brightest that Tampa has to offer, and in doing so, we spare no effort to ensure that every student that comes to our LSAT test prep program indeed reaches his/her goals. Initially, these goals consist of achieving their highest possible score on the LSAT, but then evolve to include having the necessary knowledge and skills to achieve success both academically and professionally in Tampa. As a result, we work diligently with our students to continue the longstanding history of our past participants of being accepted into the top law programs in the Greater Tampa Area, from the Stetson University College of Law to the University of Tampa Law School. The same is true for the top companies in the Greater Tampa Area also. Our students go on to not only work for the some of the biggest law firms in Tampa, but also some of the biggest companies as well across a variety of industries including finance, retail, healthcare, insurance, shipping by air and sea, national defense, professional sports, tourism, and real estate. By choosing Manhattan Review you are choosing success.

Hello, I just wanted to let you know that the current class that i am taking is really helping my studies. George has been a great help and I thank you for fitting the class into my busy schedule.
- Simone (This student prepared for the LSAT with us)
Tampa
Primary Course Venue:

Manhattan Review GMAT GRE LSAT Prep
Tampa Teaching Center at the Sheraton
200 North Ashley Drive
Tampa, FL 33602

Phone: (813) 830-9623

NOTE: We do NOT typically have staff at the venue, so email us before visiting the venue.
Meet a Tampa LSAT Tutor: Violet
Growing up in the suburbs of Tampa, Violet worked hard to overcome her learning disability, which presented many challenges for her academically. However, it was the diagnosis of her learning disability that ultimately helped Violet and put her on the path to academic success. With a confirmation of and newfound direction, Violet was able to tailor her study habits in a way that would prove advantageous, and subsequently help her to conquer her learning disability. These valuable lessons and so many more, Violet shares on a daily basis with her LSAT test prep students at Manhattan Review with the hopes of her story serving as a motivation to aid them in their own journey.
Before coming to Manhattan Review to join our elite team of private LSAT tutors, Violet spent seven years working in corporate law for some of the biggest companies in the Greater Tampa Area. Her reputation as one of the best that Tampa has to offer precedes her, as she has worked some of the most high profile cases over the past five years. Such experience she happily brings with her to instruction position at Manhattan Review. Since joining our team, Violet has been instrumental in helping us to deliver the best LSAT test prep services that Tampa has to offer. And while our students love to work with Violet because she is so talented and obviously has a lot to offer with respect to academic perseverance and professional success stories and lessons, she is also one of the most encouraging and positive instructors around. Every student that Violet works with is treated to compassion and relentless optimism in their ability to reach their testing goals which is why every single one is successful on test day as a result of having worked with her at Manhattan Review.