What's a Good LSAT Score?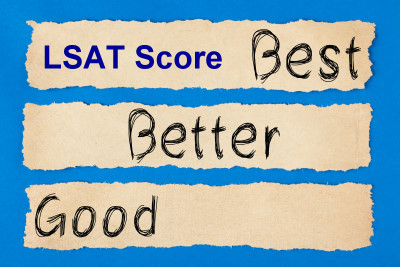 January 22, 2019
If you're studying for the LSAT, more than likely you are asking yourself the same question time and time again: What's a good LSAT score? This is only natural, as you want to perform your very best for this important exam so you can gain admittance to the law school of your dreams. With all the studying you're doing, you don't want to focus obsessively on gaining that magic number; however, it's vital to keep abreast of what goes into a stellar LSAT score and what makes a good one—well, good!

While there is no magic number or answer regarding this topic, there are some factors contributing to your LSAT score that we can dissect, such as how scoring works, LSAT test taker percentiles as well as school percentiles, in addition to the overall role of the test in the application process.

You're pursuing a rigorous LSAT course of study, so you deserve to know all you can about what makes a good score. Read on and take note—you just may learn something new about this crucial law school exam!
LSAT Scoring at Glance
It's important to understand the basics of LSAT scoring before delving into specifics around what makes a "good" LSAT score. Below are some basic numbers about the exam's scoring process you need to keep in mind:

120: lowest possible LSAT score
180: highest possible LSAT score
150: average LSAT score

Your raw score is turned into a scaled score, which is where you find your final result. Your raw score indicates the minimum number of correct questions to produce a corresponding scaled score.
LSAT Percentiles
In order to understand how acceptances to schools work, it's imperative to understand fully the concept of percentiles. These percentages help a school administrator determine where you line up with your score in regards to your competition. Percentiles can be great ways of determining what type of score you need for which institution. Below is a percentile table for the LSAT for 2014-2017, which reveal to you firsthand where your score would match up:
| Scaled Score | Percentile |
| --- | --- |
| 180 | 99.9% |
| 179 | 99.9% |
| 178 | 99.9% |
| 177 | 99.8% |
| 176 | 99.7% |
| 175 | 99.6% |
| 174 | 99.4% |
| 173 | 99.1% |
| 172 | 98.7% |
| 171 | 98.2% |
| 170 | 97.5% |
| 169 | 96.6% |
| 168 | 95.6% |
| 167 | 94.4% |
| 166 | 93.0% |
| 165 | 91.7% |
| 164 | 89.6% |
Each law school has their own percentile, which ranges in the 25th-75th range. Below is a table detailing the top law schools in the country, their percentile range, as well as their overall acceptance rate based on these scores. If your score is in the 75th percentile that means that you performed as well or better than 75% of the school's soon-to-be admitted class; if you scored in the 25th percentile, that means you scored the same or better than 25% of the school's incoming class.

(Note: If your law school is not listed here, visit the website of your selected school; typically, percentile ranges are for acceptance are published openly for all prospective students.)
Law School Name
LSAT Score 25th-75th
Percentile Range
Acceptance Rate
Yale
170-175
8.4%
Stanford
168-173
9.9%
Harvard
170-175
15.8%
University of Chicago
166-172
21.5%
Columbia
169-173
20.3%
NYU
166-170
27.2%
University of Pennsylvania
163-170
17.6%
Berkeley
164-168
22.7%
Duke
166-170
22.8%
Northwestern
163-170
23.7%
The Takeaway
Determining what makes an LSAT score good depends on your own ambitions regarding an optimal score and institutional preferences. Kellye Testy, president and CEO of LSAC, claims, "As far as an LSAT score to aim for in order to be competitive for admission to law school, it really does depend on the particular school and how competitive it is. In general, anyone who scores in the high 160s and 170s are usually considered very competitive."
Also, you want to remember that your LSAT score is only part of the overall package you are presenting to law schools, as there are letters of recommendation, admission essays, GPA and school transcripts that also come into play. Regardless of your school goals, you want to devise a course of study that leaves you ample amount of time to fully comprehend all the vital LSAT exam strategies so you can perform your very best.