LSAT Prep Courses in St. Louis (Missouri)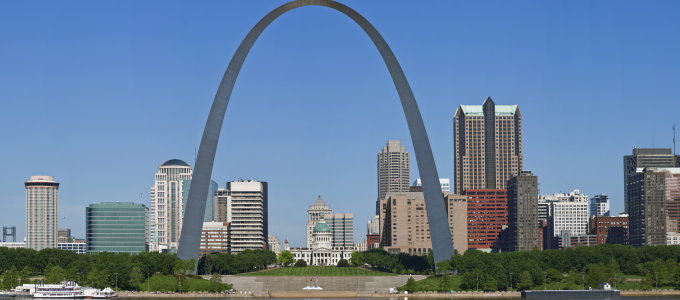 At Manhattan Review, we have created LSAT prep courses for students desiring top scores on the exam. Would you like to get your foot in the door of the nation's top law schools? Each year the most well known law schools receive massive amounts of applications and its imperative you differentiate yourself. Manhattan Review can help you. We have deconstructed the LSAT exam and created a thorough study guide with the main objective being a high percentile score. Move your application to top of the pile with an undeniable LSAT score. Past students of ours have gained admittance to finest law schools around the country like Yale, Columbia, Harvard, Georgetown and Stanford. St. Louis is also home to the prestigious St. Louis University School of Law and Washington University School.
Having a top score on the LSAT will open the door to these law schools and more. Perhaps you are looking to improve your score; if so, our exam prep methods are unmatched in the industry. We have helped thousands to improve their score and get into their first chioce for law school. Between our one-on-one private tutoring in St. Louis, weekend exam prep courses and our Interactive Online Courses busy students have benefited from our flexible program. Every student is different and that is why we carefully place you with a tutor who bests suits your learning style. From there, our tutors craft an individual learning plan around your core subject areas that need improved upon. We have scoured St. Louis for the best educated and most passionate teachers who have year after year helped their pupils place in the top tier of the LSAT exam.
The best law schools will be lining up to admit you once you ace the exam. Let our expert instructors guide you through the doors on test day with confidence in the core subject areas found on the exam. Aspiring lawyers have benefited from courses and now enjoy successful careers around the globe. The key is our time tested curriculum, which has assuredly been the difference in many students' LSAT scores. We encourage you to view the profiles for our top notch tutors in St. Louis and see why we are the industry leader in standardized exam prep.

Hello, I just wanted to let you know that the current class that i am taking is really helping my studies. George has been a great help and I thank you for fitting the class into my busy schedule.
- Simone (This student prepared for the LSAT with us)
St. Louis
Primary Course Venue:

Manhattan Review GMAT GRE LSAT Prep
St. Louis Teaching Center at the Sheraton
7730 Bonhomme Avenue
Clayton, MO 63105

Phone: (314) 558-6282

NOTE: We do NOT typically have staff at the venue, so email us before visiting the venue.
Meet a St. Louis LSAT Tutor: Claudia K.
When Claudia scored a 155 on her LSAT the first time she knew she could do better. So, before she became a Georgetown University Law School graduate, she studied over the course of a summer and was able to boost her score 20 points to an impressive 178. So whether you are looking to boost your score like Claudia, or are taking the test for the first time, Claudia has the first hand experience to help you reach your goal. Since graduation, Claudia has gained experience teaching both in a larger classroom setting as well as one-on-one private tutoring in St. Louis.
Described as an approachable and down-to-earth LSTAT tutor, Claudia always has time to explain concepts or answer questions in creative ways. Claudia has seen it all in the form of LSAT questions as she has been teaching test prep for the exam for nearly six years. Using her breadth of knowledge and experience, she creates a schedule and study strategy that works best for you. Her years of helping students make their way to the top law schools around the country and from making her own decision from the multitude of schools hoping to admit her, Claudia is a great resource about law school admissions.
Claudia is zealous when it comes to the kitchen as well. She can bake the best batch of chocolate cookies this side of the Mississippi. The good news is that she often brings a batch of steaming fresh ones with her to study sessions.