LSAT Prep Courses in Scottsdale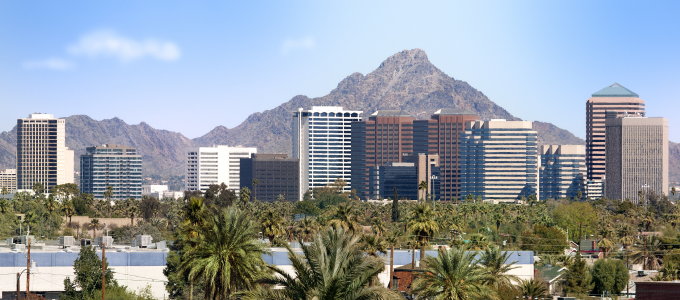 Every year since it was first implemented back in 1948, as prospective law students prepare to apply for law school, they are tasked with the responsibility of fulfilling the application requirements. Specifically, prospective law students are required to take the Law School Admission Test, or LSAT. Designed as a test to measure verbal and analytical reasoning skills, the LSAT plays an integral role in determining if potential law students, like yourself, will ultimately get admitted into your schools of choice. And because a high score on the LSAT is so critical, it ends up hindering the performance of many well-prepared, intelligent students. So, how can potential law students overcome the anxiety of the LSAT, yet adequately prepare so that they can reach their testing goals? The answer is simple. With the help of Manhattan Review's LSAT test prep services, you can and will get the necessary knowledge and skills that are guaranteed to help you achieve your goals.
For over 15 years, Manhattan Review has been at the forefront of delivering top-notch LSAT test prep services to prospective law students all over the world, including right here in Scottsdale. We have been able to achieve such a reputation because we take our responsibility to help student achieve their testing goals very seriously. We accomplish this task by giving our participants access to our elite professional tutors, who then provide one-on-one private sessions with our students. Our fully customizable program also gives students the opportunity to design their own learning plan to include interactive online courses. This state-of-the-art approach to LSAT test prep is one of the biggest, if not the biggest, reasons that Manhattan Review is number one around the world.
In Scottsdale and the surrounding communities, Manhattan Review has developed a reputation for working with the best and brightest in the area and all of the top law schools agree. The top employers in the area also agree as our past students have gone on to work for the likes of APL, Dial, Discount Tire, Fender, Go Daddy, JDA Software, Kahala, Kona Grill, Magellan Health, Medicis, Paradise Bakery & Café', P.F. Chang's China Bistro, Taser, United Blood Services, General Dynamics C4 Systems, The Vanguard Group, Mayo Clinic and Scottsdale Insurance Company. At Manhattan Review, we know what it takes to succeed in Scottsdale and we work hard to make sure that every prospective law student that comes to us leaves with the requisite knowledge and skills to confidently and successfully achieve their LSAT testing goals and their academic and professional goals as well. You'll find that no other LSAT test prep does what we do at Manhattan Review or cares about our students more.

Hello, I just wanted to let you know that the current class that i am taking is really helping my studies. George has been a great help and I thank you for fitting the class into my busy schedule.
- Simone (This student prepared for the LSAT with us)
Scottsdale
Primary Course Venue:

Manhattan Review GMAT GRE LSAT Prep
Scottsdale Teaching Center at the Garden Inn
7324 East Indian School Road
Scottsdale, AZ 85251

Phone: (480) 478-1309

NOTE: We do NOT typically have staff at the venue, so email us before visiting the venue.
Meet a Scottsdale LSAT Tutor: Corinne H.
Corinne has it all and she wouldn't have it any other way. She has a great family, with her husband Ryan and their two children, Kaci and Reese. She also has a highly successful career as a corporate lawyer, specializing in the tourism industry, which has proven quite advantageous for her given the fact that tourism is one of the top industries in Scottsdale. And while, years of hard work have without a doubt contributed to her success on the job, in particular, Corinne is quick to acknowledge the important role that her education played in her receiving the many opportunities that she has been given. As a result, Corinne is determined to help make a difference in the lives of future lawyers in Scottsdale, by giving them the requisite knowledge and skills that she learned years ago at the start of her own career.
Since becoming a member of our elite private tutoring team at Manhattan Review in Scottsdale, Corinne has been instrumental in providing our prospective law students with the necessary foundation so that they can achieve both academic and professional success after taking the LSAT. Given Corinne's accomplished background as a corporate lawyer, we felt that she would make a great fit for our program and as it turns out our students think the same. Our students love working with Corinne, not only because she is one of the nicest and most interesting people, having travelled the world as an avid sports enthusiast, but also because she brings a riveting perspective to the field of law that is refreshing for up and coming lawyers to bear witness to. Corinne not only inspires but is inspiring and she leaves an indelible imprint on every single student who she tutors at Manhattan Review.