LSAT Prep Courses in San Jose (California)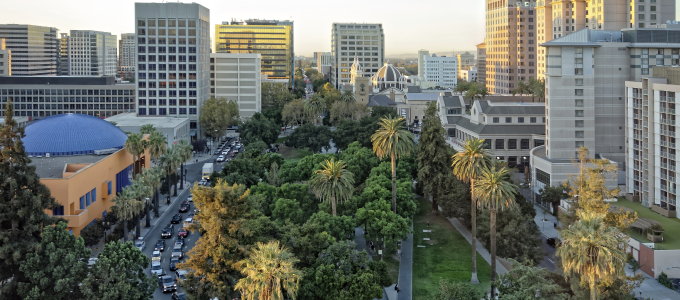 Every year, prospective law students prepare for and take the Law School Admission Test, or LSAT, as part of the application process for law school. And while the LSAT is designed to assess readiness for law school, specifically through verbal and analytical reasoning skills, it is also used a primary determining factor to locate potential academic superstars. After all, all law programs want the best and brightest to represent their programs and schools. As a result, applicants will find that taking on the LSAT is unlike any standardized test that they have previously prepared for and taken, many will find comfort in utilizing the professional services of Manhattan Review, specifically the LSAT courses, in order to adequately meet their LSAT testing goals.
Since 1999, Manhattan Review has been delivering top rated LSAT test preparation services to prospective law students, like yourself, in the United States, Canada, and an increasing number of other countries. With our state-of-the-art LSAT test pre program, law school hopefuls are given the opportunity to create their own learning plan based on their unique learning style along with any other constraints or factors that may ultimately otherwise impact their ability to adequately prepare for the LSAT. Their learning plans usually consist of our interactive online courses, which are accompanied with a host of other tools and resources such as practice tests; although they can also include one-on-one private tutoring sessions with our elite professional tutors, which many have found to be quite beneficial to their test prep experience as well.
Throughout the City of San Jose, no other test prep services company has garnered more respect than Manhattan Review. Our students not only score the highest on the LSAT, but also go on to accomplish great things, both academically and professionally. That's why all of the top law schools in San Jose, including Lincoln Law School of San Jose and University of Silicon Valley Law School, have and continue to embrace our past participants. After law school, our continue to thrive in San Jose as they are also embraced by the top employers, including high-technology, engineering, computer, microprocessor, and law firms alike, further giving our students the opportunity to achieve professional success simply because they are associated with Manhattan Review.

Hello, I just wanted to let you know that the current class that i am taking is really helping my studies. George has been a great help and I thank you for fitting the class into my busy schedule.
- Simone (This student prepared for the LSAT with us)
San Jose
Primary Course Venue:

Manhattan Review GMAT GRE LSAT Prep
San Jose Teaching Center at the Hilton
300 Almaden Boulevard
San Jose, CA 95110

Phone: (408) 624-1241

NOTE: We do NOT typically have staff at the venue, so email us before visiting the venue.
Meet a San Jose LSAT Tutor: Liza H.
Like most of our elite professional tutors at Manhattan Review, Liza came to us after years of working in her chosen field, corporate law. She accumulated many professional accolades and promotions with her long time employer, one of the top law firms in San Jose, over the course of her ten-year along career. And while working with some of the biggest and most successful companies has certainly been rewarding for Liza, she has also found immense fulfillment while working with the interns at her firm, helping them to gain the necessary on-the-job experience that would one day help them to achieve their goals of becoming a lawyer in San Jose. The latter is precisely what led Liza to Manhattan Review.
Since joining our elite team of professional tutors at Manhattan Review, Liza has been instrumental in helping us to achieve a similar goal: helping individuals adequately prepare for and achieve their highest possible score on the LSAT. Given her professional background, countless achievements in her field, and natural rapport with her students, Liza has become a hit among our LSAT test prep students at Manhattan Review in San Jose. When she isn't working tirelessly to ensure that companies are treated fairly in the eyes of the law or developing up and coming lawyers, Liza and her husband, Taylor, are avid nature lovers, often partaking in many of the outdoor activities that San Jose has to offer including the famous network of trails.