LSAT Prep Courses in San Diego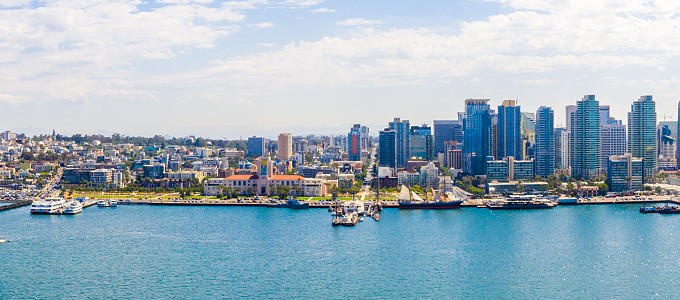 LSAT Preparation in San Diego (California)
Manhattan Review created LSAT prep courses for students seeking top scores on this critical law school admission exam. Want to get your foot in the door of the country's best programs? First you will need to showcase your preliminary aptitude to set yourself apart from the other applicants. With the support of Manhattan Review, you can effortlessly launch yourself ahead of the competitive curve. We have immersed ourselves in the logic, format, and content of the LSAT exam, making sure we're up-to-date on test trends year after year.
Our study guide demonstrates our disciplined approach to deconstructing this standardized exam. With our unparalleled resources, accomplished LSAT tutors and myriad practice tests, you can achieve the results that will get you on the right track. Students in San Diego have harnessed our materials to make major strides forward in their higher education pursuits. With several platforms for test prep support, we will guide you along as you work toward your goals.
Choose a full-length classroom course in San Diego to study along with your peers. A lively test prep tutor will lead the discussion and help you master all the material in our customizable course syllabus. Sign up for several sessions, and skip the hours spent alone memorizing the wrong content or missing out on key insights and test-taking strategies. We'll help you learn the method behind the logic, so you're more comfortable and confident with the exam's most standard characteristics.
At Manhattan Review, we also understand the hectic demands and limited schedules of students applying to law school. Whether you are working full-time, completing an internship, or already balancing a full course load, you may not be able to sit in a San Diego classroom. If this is the case, you still don't have to compromise on the integrity of your test prep study sessions. Access the course syllabus, the learning materials and the impeccable support of your LSAT tutor through Interactive Online Courses. You can register online to connect with you wherever you want to set up your laptop computer with Wi-Fi.
Some students thrive with the personalized attention available exclusively in a one-on-one learning environment. If you'd rather get the full focus of your dedicated LSAT tutor, sign up for private tutoring sessions. Your tutor will guide you through our course syllabus, spending more time on areas where you may miss out on points scoring. By fortifying these weak areas, you can master the core content and overcome any obstacles to your law school admission.
San Diego is brimming with prestigious law school programs, and our LSAT test prep services will help you gain admission. Let us help you secure your seat in classrooms at the School of Law – University of San Diego, California Western School of Law – San Diego, San Diego State University, Thomas Jefferson School of Law, San Diego School of Law – Alliant International University, and others. According to the U.S. News and World Report, the University of Southern California Gould School of Law was ranked one of the best law schools in the country.
The top score on the LSAT is a 180, which means every question counts when it comes to your percentile ranking and candidacy at top schools. Let's catapult your law career, starting with entry into the best-of-the-best programs in your field of study.

Hello, I just wanted to let you know that the current class that i am taking is really helping my studies. George has been a great help and I thank you for fitting the class into my busy schedule.
- Simone (This student prepared for the LSAT with us)
San Diego
Primary Course Venue:

Manhattan Review GMAT GRE LSAT Prep
San Diego Teaching Center at the Sheraton
1380 Harbor Island Drive
San Diego, CA 92101

Phone: (619) 819-0716

NOTE: We do NOT typically have staff at the venue, so email us before visiting the venue.
Meet a San Diego LSAT Tutor: Ross W.
Ross scored a 169 on his LSAT and then graduated from the University of California-Berkeley, a Top 10 law school according to the U.S. News and World Report. Ross wanted to attend this program from a young age, a tradition that has been in his family for the past three generations. Intent on continuing this legacy, Ross was initially worried with a score of 146. Admitted applicants typically have the range of 167-170, a percentile where he had unfortunately missed the mark.
Ross also knew that he could take the LSAT another time, but his chances were limited. Not wanting to risk his entry to law school, he enlisted the support of a private tutor to help him recover in the rankings. He realized that his approach to the logic was initially off base, but his tutor quickly helped him steer the course. Ross considers his private tutoring sessions one of the best investments in his career. As Berkeley's website says, "The LSAT score is a very important admission factor. When combined with the undergraduate GPA, it provides the best indication of academic achievement and potential."
And that's how Ross dramatically boosted his score and claimed his diploma from the school's prestigious law program. Once graduated, he found his place in the prosecutor's office, where he has since enjoyed a promotion. Recruited by Manhattan Review three years ago, Ross was happy to bring his education, skill set, and unique story to work for aspiring law school students in San Diego. Drawing on his experience with a private tutor who helped him truly embrace this standardized exam, he helps his students overcome hurdles. For repeat test-takers, he has a reputation for guiding students toward a dramatically improved LSAT score.