LSAT Prep Courses in Salt Lake City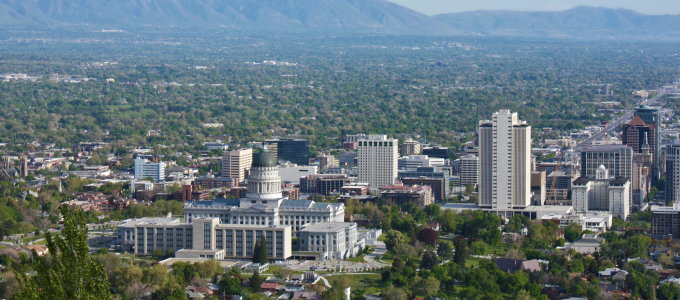 For prospective law students, the Law School Admission Test, or LSAT, is one of the biggest obstacles that they must overcome during the application process. This popular admission assessment tool, administered by the Law School Admission Council, not only determines whether law school hopefuls are accepted into law school at all, but certainly whether or not they are accepted into the best programs in the U.S., Canada, and a increasing number of countries around the world. Traditional test prep can only go so far. In Salt Lake City, Manhattan Review is the industry leader in LSAT test prep services and our top rated courses are guaranteed to help you increase your LSAT score.
For over 15 years, Manhattan Review has been specializing in the delivery of the number one rated LSAT test prep services in the world, including right here in Salt Lake City. We accomplish this by offering an a la carte program that is fully customizable by the individual students. Specifically, each prospective law student is able to create a learning plan in which they either select from a host of interactive online courses or one-on-one private tutoring with our elite professional tutors. Our participants can also partake in the additional available tools and resources, including our LSAT practice tests, which not only give our students a competitive advantage over other students, but also give them the opportunity to get accustomed to the LSAT before test day, which also helps boosts their confidence.
At Manhattan Review, we are proud to invest in each and every student and every year we receive confirmation from the local Salt Lake City community when they continuously embrace our past participants. Namely, all of the top law schools in Salt Lake City, including the J. Reuben Clark Law School at Brigham Young University and the S.J. Quinney College of Law at the University of Utah are huge fans of our students because they have the highest LSAT scores and are consequently equipped to handle the rigors of a highly respected law program. Even further, the major employers in the area also have shown a preference for our participants over the competition. Specifically, companies such as Alpha Graphics, Sinclair Oil Corporation, Smith's Food and Drug, MonaVie, Myriad Genetics, and Vehix.com, among the top law firms in the city have all hired our past participants as well. In Salt Lake City, Manhattan represents the best and the brightest. Let us help you become the future of Salt Lake City.

Hello, I just wanted to let you know that the current class that i am taking is really helping my studies. George has been a great help and I thank you for fitting the class into my busy schedule.
- Simone (This student prepared for the LSAT with us)
Salt Lake City
Primary Course Venue:

Manhattan Review GMAT GRE LSAT Prep
Salt Lake City Teaching Center at the Hilton
255 South West Temple
Salt Lake City, UT 84101

Phone: (801) 415-1821

NOTE: We do NOT typically have staff at the venue, so email us before visiting the venue.
Meet a Salt Lake City LSAT Tutor: Maureen N.
Maureen is definitely a product of her environment. Growing up in a home with two lawyers, it was pretty much pre-determined that she would one day become a lawyer. Her father practiced corporate law while her mother practiced family law, but spending with both of them at work, made a lasting impression on her and not just from a legal perspective. In addition to developing a love for the law, thanks to her parents, Maureen also learned the importance of a good education. As a result, she spent a great deal of time studying and reading up on the law in preparation for her future career. With a nearly perfect grade point average coming out of high school and an SAT score in the 99th percentile she was well on her way to achieving her goals.
After graduating from the J. Reuben Clark Law School at Brigham Young University, Maureen was poised to take the legal field by storm, having had prior experience working in law firms since she was in grade school. As a result, it didn't take long for her to land an entry level position at one of the top firms in Salt Lake City. And though she practices business law during the day and volunteers her expertise to small businesses in need of legal advice, Maureen still had the urge to give back to her local community. At Manhattan Review, Maureen has the opportunity to do just that: give back. By working with prospective law students, Maureen has the chance to help develop up and coming talent that will one day provide legal council to and mentorship to others, which is one of the main reasons she takes her role at Manhattan Review so seriously.