LSAT Prep Courses in Raleigh-Durham (North Carolina)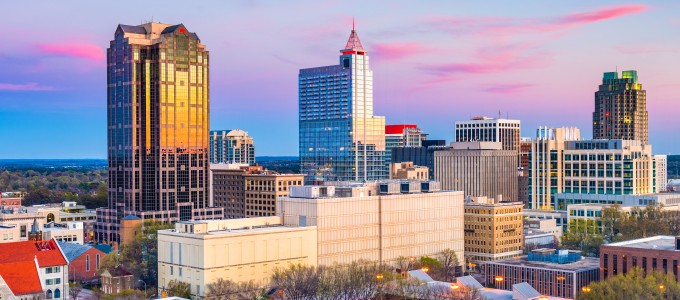 With the massive amounts of students seeking admission to law school today, it is imperative that you differentiate your application from the long line of candidates. Whether you want to someday be a District Attorney, a judge, a leading criminal defense attorney, or even a prestigious politician, the LSAT is your entry into a world of opportunities. That's where Manhattan Review comes in! We can help you get your foot in the door of the country's top law schools.
A showcase of critical thinking, logic and strategy, the LSAT is based on a predictable formula that our test prep covers completely. We have created LSAT prep courses that will effectively guide you through the exam. The experts at Manhattan Review have analyzed and deconstructed the LSAT exam in order to create study guides that are unparalleled in the industry, and we've brought these tools to Raleigh-Durham. We offer a wide range of LSAT courses, from private tutoring in Raleigh-Durham to Interactive Online Courses you can take from the privacy of your own home.
We invite you to check out the profiles about our dynamic and experienced Raleigh-Durham LSAT tutors. They have seen past students go on to many of the law schools that cultivate the nation's most successful attorneys including Harvard, Yale, Stanford, Northwestern, and NYU. Acing the LSAT Exam provides you the opportunity to pick from the droves of law schools both in North Carolina and around the globe.

Hello, I just wanted to let you know that the current class that i am taking is really helping my studies. George has been a great help and I thank you for fitting the class into my busy schedule.
- Simone (This student prepared for the LSAT with us)
Raleigh-Durham
Primary Course Venue:

Manhattan Review GMAT GRE LSAT Prep
Raleigh-Durham Teaching Center at the Hilton
4810 Page Creek Lane
Durham, NC 27703

Phone: (919) 436-3748

NOTE: We do NOT typically have staff at the venue, so email us before visiting the venue.
Meet a Raleigh-Durham LSAT Tutor: Jackie N. Claudia K.
Born and raised in northern New Jersey, Jackie headed south for her college education. After obtaining her degree from Florida State University, Jackie returned to the Northeast to attend law school. She graduated from the prestigious Columbia Law School in New York City. Following her education, Jackie was able to land a coveted position at one of the city's top law firms. But none of this would have been possible, if she hadn't performed well on her LSAT exam.
What's most impressive is that Jackie taught herself to improve her score from a 150 to 174 in just a few short months. So, whether you are taking the test for the first time or looking to boost your results, Jackie has the firsthand experience to help you succeed.
After meeting her husband, Jackie relocated to the Raleigh-Durham area, where she has worked as a LSAT tutor for more than eight years. Jackie has experience in both one-on-one private tutoring in Raleigh-Durham, as well as teaching in a larger classroom setting. A down-to-earth and approachable LSAT tutor, Jackie is always willing to answer questions or explain concepts in new and creative ways. She uses her experience and breadth of knowledge to create a study strategy and schedule that works best for each individual student. Jackie is also a great resource when it comes to law school admissions, as she herself chose Columbia over a handful of other law schools eager to have her enroll. Jackie has successfully guided many students through the difficult admissions process and can do the same for you.