LSAT Prep Courses in Phoenix (Arizona)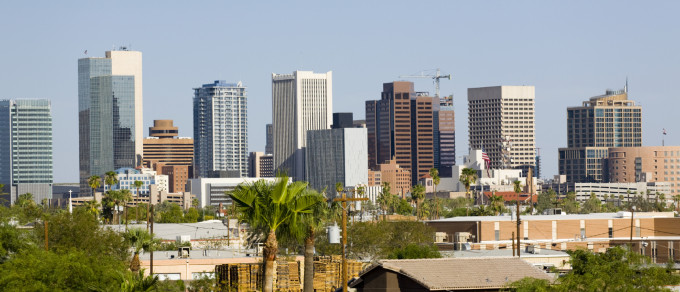 For prospective law students, the Law School Admission Test, or LSAT, is perhaps one of the biggest challenges that they must tackle during the application process for law school. Originally designed to assess verbal and analytical reasoning skills, skills necessary for both academic success in the top law programs in Phoenix as well as for a future lawyers, the LSAT also serves as a necessary gauge to determine applicant acceptance into law school. With so much pressure to take and achieve a high score on the LSAT in order to gain acceptance into their school of choice, many prospective law students have found more success on test day after taking the professional test prep courses at Manhattan Review.
Since 1999, Manhattan Review has been at the forefront of the test prep service industry, being instrumental in helping prospective law students, just like you, to reach their LSAT testing goals and so much more. We are able to accomplish this goal by offering a state-of-the-art program that gives the control over the learning process to the individual students, which is precisely what gives them both the confidence and tools to adequately prepare for the LSAT. Specifically, each participant can create a learning plan that is custom designed to their own individual learning style and needs, including availability constraints, which often has a significant impact on test scores. Learning plans are either traditional in nature, where participants get to work one-on-one with a private tutor, or can be more modern in nature, where participants can select a unique mix of interactive online courses, chosen by the students. Additionally, all of our participants in the LSAT test prep program are also given access to a myriad of supplemental materials such as our LSAT practice tests, which are specifically designed to aid our test prep students in identifying and overcoming any challenges that they face with the LSAT prior to test day.
All of our efforts, to aid prospective law students in reaching their highest possible LSAT score, as well as their academic and professional goals, have garnered much respect for Manhattan Review throughout the Phoenix Metropolitan Area. Specifically, all of the top law schools in Phoenix including Arizona Summit Law School, Phoenix School of Law, and the Sandra Day O'Connor College of Law at Arizona State University have all proudly accepted our past LSAT test prep students over the years. They have done so and continue to do so for two reasons: Manhattan Review's past LSAT test prep students are among the highest scorers on the LSAT and have continued to demonstrate consistently high academic aptitude, the results of which has helped the success rate of their respective law programs. Similarly, the top law firms and employers such as Avnet, Freeport-McMoRan, PetSmart, Republic Services, Honeywell Aerospace, Intel, Best Western, Apollo Group, US Air/American Airlines, and Mesa Group in Phoenix have also showed continuous support to Manhattan Review and our LSAT test prep students, helping to boost the name and reputation of the Manhattan Review brand and our associated clientele. We offer the same top rated LSAT test prep service to you. Contact Manhattan Review today to get started on the path to achieving success in Phoenix.

Hello, I just wanted to let you know that the current class that i am taking is really helping my studies. George has been a great help and I thank you for fitting the class into my busy schedule.
- Simone (This student prepared for the LSAT with us)
Phoenix
Primary Course Venue:

Manhattan Review GMAT GRE LSAT Prep
Phoenix Teaching Center at the Sheraton
340 North 3rd Street
Phoenix, AZ 85004

Phone: (602) 412-5892

NOTE: We do NOT typically have staff at the venue, so email us before visiting the venue.
Meet a Phoenix LSAT Tutor: Harper L.
Before graduating from the prestigious Sandra Day O'Connor College of Law at Arizona State University, Harper was fielding job offers to work for several of the top law firms in the Phoenix Metropolitan Area. Although he ultimately chose wisely, going with a highly successful law firm where he was confident he could practice corporate law and achieve his professional goals. However, after accomplishing his professional goal, what Harper did not realize is that he would also come to be in the educational service field, helping up and coming professionals reach their own goals. Harper found an opportunity to reach out to talent as an instructor for Manhattan Review in Phoenix.
Since becoming an elite private tutor for Manhattan Review, Harper has played an integral role in helping us to provide prospective law students with the requisite knowledge and skills to help them reach their testing goals. At Manhattan Review, working with top professionals, like Harper, also helps our LSAT test prep students to achieve their subsequent academic and professional goals as well. Specifically, our exceptional tutors, like Harper, not only help to build confidence in our participants, but they also give them the tools and resources to reach their personal goals, starting with achieving their highest possible LSAT score. Harper, in particular, has won favor with his LSAT test prep students at Manhattan Review because he both possesses the experience that helps him to command respect in his field and in the classroom as well as demonstrates a due diligence that is unparalleled when it comes to ensuring the success of everyone he works with.