LSAT Prep Courses in Mesa (Arizona)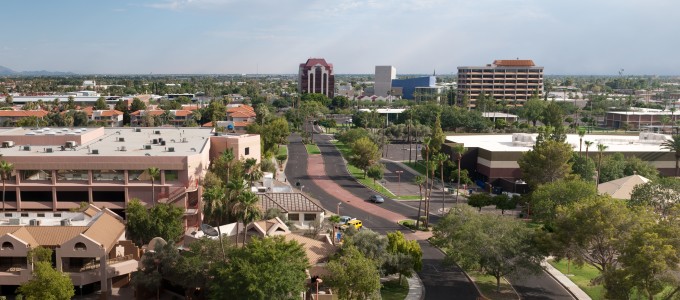 The Law School Admission Test, or LSAT, is a very important exam for students who are looking to get into law school, especially since it is generally the most heavily weighted subject matter for admissions committees in their decision-making process for which students will be accepted to the school in question. Students in the Mesa area looking for the best possible preparation for the LSAT exam should look to Manhattan Review for the best test preparation methods in the area. Manhattan Review has been providing standardized test prep for the LSAT and other exams since 1999 and offers guidance to students both in and out of Mesa in a variety of different study methods. Students who work with Manhattan Review can utilize group courses, private tutoring, and practice exams either individually or as part of convenient combination packages to ensure that they are able to get the most out of the study process for the LSAT.
Manhattan Review's variety of study options for the LSAT exam also come with unique benefits that allow for students to get the most out of the methods that they are using for their LSAT preparation. Manhattan Review's private tutors can offer their students the ability to customize their lesson plans as they feel necessary to ensure that they are able to get the highest score on the exam, along with being able to provide their students with the many years of experience they have with helping aspiring law school students to prepare for the LSAT. Manhattan Review's group courses and private tutoring options are potentially able to be used either in-person or online depending on what the student feels would be most beneficial for them. Students who work with Manhattan Review will also be working with curriculums and practice tests that are designed to be updated on an annual basis to ensure an accurate reflection of the LSAT exam's formatting and content.
Students who have worked with Manhattan Review for the process of preparing themselves for the LSAT exam have managed to translate the guidance that they have been provided by their instructors to ensure that they are able to deliver a stronger score on the day of the LSAT. As a result of their improved LSAT exam scores, they have been able to translate their work with Manhattan Review to help them with the process of getting into a wide variety of law schools, including Harvard, Texas A&M, Penn State, University of Minnesota, Monterey, Quinnipiac, and many others in and out of the Mesa area. Students have also used their academic backgrounds at these educational institutions to help them with the process of gaining a career after they have finished their academic work, including at Mesa-based companies such as Boeing. Call or email one of Manhattan Review's academic program advisors today to learn more.

Hello, I just wanted to let you know that the current class that i am taking is really helping my studies. George has been a great help and I thank you for fitting the class into my busy schedule.
- Simone (This student prepared for the LSAT with us)
Meet a Mesa LSAT Tutor: Lindsey C.
Lindsey C. grew up in the Salt Lake City area before moving to Mesa after finishing his education at Penn State. He took up tutoring with Manhattan Review and now helps a wide variety of students in and out of the Mesa area with the process of preparing for their standardized tests, such as the LSAT exam, and other academic ventures.
Lindsey began helping students in and out of the Mesa area with their LSAT exam preparations during his own time at Penn State for law school, adapting his teaching methods to suit each aspiring law school student and subsequently taking up students in law school to help them with their coursework. In his spare time away from helping his students, he likes to travel.