LSAT Tutoring in Portland (Oregon)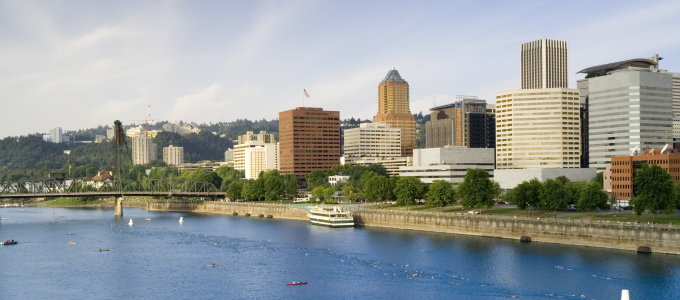 Studies have found that many students can only learn from direct engagement and dialogue like that found in a one-on-one conversation. This sort of personalized attention is exactly what you will find from Manhattan Review who offers one-on-one private tutoring right here in Portland. Our world-class tutors know each student has different levels of understandings in the core subject areas as well as learning styles. They carefully carve out an individual study plan for each student based off their strengths and weaknesses. The Manhattan Review curriculum was produced from dissected the intricate LSAT and analyzing the findings. In the hands of our distinguished tutors, we have seen a trend of high percentile scores and thousands of acceptance letters from the country's most well known law schools.
Have a top tier score on the LSAT will open the door to a number of prestigious law schools. It's imperative you separate yourself from the pile of applicants with an undeniable score. As the only exam prep company founded by a professor, we understand the importance of seeking out and retaining the best-educated and inspirational instructors. Our administrative staff is often thanked for their personal care and attention to detail. Have a busy schedule to work around? No problem, our staff will first carefully place you with a tutor who best suits your learning style and schedule. Plus with our Interactive Online Courses, private tutoring and weekend courses, we can help you reach your goal in a variety of ways. Past students of ours have been handed diplomas from Georgetown, Yale, Harvard, Stanford and Columbia. Those looking to take advantage of in state tuition have enrolled at Willamette University College of Law, Lewis & Clark Law School and The University of Oregon School of Law.
Aspiring lawyers seeking to boost their school will discover our knowledgeable staff invaluable at reaching their goal. From having taking the test themselves to helping hundreds of past students improve their score, our tutors know just how to prepare for the exam. Having creating what is considered the benchmark series on test prep called Turbocharge your Prep books, we know exam prep like no one else in the industry. Since 1999 we have been coaching aspiring lawyers to high percentile scores and helping them walk the halls of their first choice school. From there, we have witnessed them become well-known and sought after attorneys at large firms, worked for non-profits, large businesses or even opened their own practices. Although they may have taken different paths, each student can point to the one difference maker in their law career with certainty: a top-tier LSAT score.
LSAT Private Tutoring
Hours package 12 to 48 hours, Personalized 1-on-1 Tutoring, In Person or Live Online
LSAT Private Course
12 hours in total, Personalized 1-on-1 Course, In Person or Live Online

Hello, I just wanted to let you know that the current class that i am taking is really helping my studies. George has been a great help and I thank you for fitting the class into my busy schedule.
- Simone (This student prepared for the LSAT with us)
Portland
Primary Course Venue:

Manhattan Review GMAT GRE LSAT Prep
Portland Teaching Center at the Marriott
1401 SW Naito Parkway
Portland, OR 97201

Phone: (503) 575-1803

NOTE: We do NOT typically have staff at the venue, so email us before visiting the venue.
Meet a Portland LSAT Tutor: Kevin D.
Once Kevin graduated with his B.A. and M.A. from John Hopkins University, he pushed on to earn his J.D. from Cornell University. He placed in the 99th percentile which gave him the upper hand in choosing the best program for himself. Prior to taking the LSAT, Kevin had enrolled in private tutoring to prepare and was able to boost his score by over 20 points with the assistance of his enthusiastic and experienced teacher.
Kevin has decided to pay it forward and coaches aspiring lawyers utilizing his own experience and 'borrowing' some techniques from his mentor, who he keeps in touch with today. Kevin is convinced that his mentor paid off ten fold and is the reason he achieved a high percentile score. Now, he brings his own insights to private tutoring sessions on how the LSAT works and helps his students have invaluable confidence on test day.
He uses casual exercises and well as for formal drills along with our time-tested curriculum. Kevin believes in channeling common sense and is often commended for helping students 'set the right attitude' for taking the exam. Outside of the classroom, Kevin is an avid runner. He takes a different course every day around the many walking trails in Portland to remind him that everyone takes a different path towards preparing for the LSAT yet they always end up at the same place- with an undeniable score.