LSAT Tutoring in Phoenix (Arizona)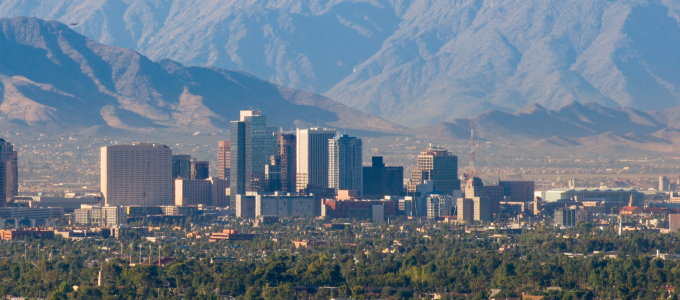 The Law School Admission Test, or LSAT, plays an integral role in the application process for many of the world's top law programs, including those in Phoenix. Originally designed to measure verbal and analytical skills, two skills necessary for both academic success and success as a future practicing lawyer, the LSAT helps law schools to determine the potentiality for the best and the brightest. As a result, prospective law students are challenged to not only take the LSAT, but also perform well by obtaining a high enough score to gain acceptance into their law program of choice; a difficult task even for the most successful standardized test-taker. With the help of a private tutor at Manhattan Review, however, you can indeed achieve your highest possible score on the LSAT and so much more.
For over 15 years, Manhattan Review has been leading the test prep service industry, helping aspiring lawyers to reach their academic goals, starting with achieving a desirable LSAT score. Specifically, our unprecedented program affords prospective law students the opportunity to custom design their own learning plan. Typically, learning plans are either modern in nature, consisting of any unique blend of interactive courses that the participants may choose, or can be more traditional, consisting of one-on-one sessions with one of our elite private tutors, some of the top professionals in Phoenix who have been handpicked to lead our LSAT test prep. Additionally, what separates our state-of-the-art LSAT test prep from others are our supplemental learning tools such as our LSAT practice tests, which are intentionally designed to give our test prep students an advantage over the competition by giving them the opportunity to familiarize themselves with the LSAT prior to test day. As our past participants have discovered, no one prepares you for the LSAT like Manhattan Review.
In Phoenix, Manhattan Review has developed a reputation for working with top talent. The reason being, all our students have gone on to achieve great things as a result of working with us. Specifically, our LSAT test prep students have gone on to attend all the top law schools in Phoenix such as Arizona Summit Law School, Phoenix School of Law, and the Sandra Day O'Connor College of Law at Arizona State University, after completing our LSAT test prep program. The top companies in Phoenix have expressed a similar sentiment as indicated by their continued support of both our LSAT test prep program at Manhattan Review and the students we have worked with over the years. As a result, it is not uncommon for our past participants to receive coveted opportunities to work for Avnet, Freeport-McMoRan, PetSmart, Republic Services, Honeywell Aerospace, Intel, U-HAUL International, Best Western, Apollo Group, US Air/American Airlines, and Mesa Air Group among many others in the Phoenix Metropolitan Area. At Manhattan Review, our goal is to develop each student to so that they can achieve their personal best, starting with reaching their LSAT testing goals.
LSAT Private Tutoring
Hours package 12 to 48 hours, Personalized 1-on-1 Tutoring, In Person or Live Online
LSAT Private Course
12 hours in total, Personalized 1-on-1 Course, In Person or Live Online

Hello, I just wanted to let you know that the current class that i am taking is really helping my studies. George has been a great help and I thank you for fitting the class into my busy schedule.
- Simone (This student prepared for the LSAT with us)
Phoenix
Primary Course Venue:

Manhattan Review GMAT GRE LSAT Prep
Phoenix Teaching Center at the Sheraton
340 North 3rd Street
Phoenix, AZ 85004

Phone: (602) 412-5892

NOTE: We do NOT typically have staff at the venue, so email us before visiting the venue.
Meet a Phoenix LSAT Tutor: Jonathan S.
Like so many of our esteemed private tutors, Jonathan is a highly successful and seasoned professional with a resume that certainly deems him an expert in his field. As the owner of a thriving law firm with offices throughout the Phoenix Metropolitan Area and growing, Jonathan, who initially struggled academically until he worked with a mentoring program, feels he has a lot to offer up and coming professionals in Phoenix as a result of his own unique experiences as a student and as a practicing law professional. Naturally, Jonathan discovered that he could accomplish such a goal by working with students at Manhattan Review.
Since joining our team of private tutors at Manhattan Review in Phoenix, Jonathan has played a pivotal role in helping us to deliver the top rated LSAT test prep services that we are known for in the Phoenix Metropolitan Area. Prospective law students love working with Jonathan not only because of his success as a practicing lawyer with firms in Phoenix and prior experience overcoming obstacles as a student, but also because he is committed to helping students create the most efficient and effective learning plan that will help them accomplish their LSAT testing goals. At Manhattan Review, our instructors, like Jonathan, are not only experts in their field, but also have a passion for giving back to their community through working to cultivate up and coming professionals in Phoenix.