LSAT Prep Courses in Louisville (Kentucky)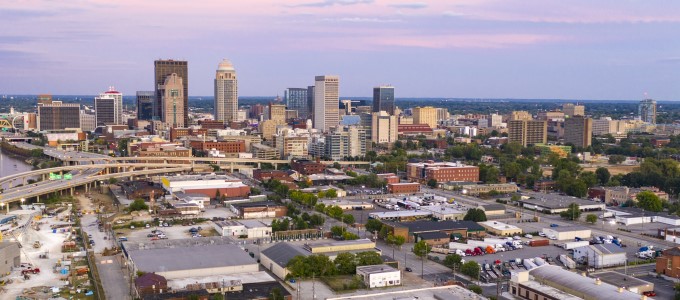 Every year, the Law School Admission Test, or LSAT, is administered to prospective law students as a requirement of the application process for law schools. For the top law programs in the country including the Louis D. Brandeis School of Law at the University of Louisville, the LSAT is used to determine academic aptitude and potentiality for success in law school as well as a future practicing lawyer. Designed to test for verbal and analytical reasoning skills, two skills necessary for success in law, preparing the LSAT requires a great deal of know-how and strategy in order to achieve a desirable score on test day. That's why a growing number of prospective law students are turning to Manhattan Review for help in reaching their testing goals.
For over 15 years, Manhattan Review has been aiding aspiring lawyers in their LSAT test preparation with industry-leading LSAT consultant services. Specifically, Manhattan Review has created LSAT prep courses for students seeking top scores on the GRE. Want to get your foot in the door of the country's top law schools? It's imperative that you differentiate your application from the massive stack of applicants. That's where Manhattan Review can help you. Our team of experts and top-tier professionals have analyzed and deconstructed the LSAT exam to create a study guide that is unparalleled in the industry, and we've brought these tools to Louisville. We offer several types of interactive online LSAT courses, for those individuals who prefer a more independent learning experience and private tutoring with one of Louisville's top professionals, for those individuals who are more responsive to or prefer one-on-one interaction within a traditional classroom setting, to help prospective law students meet their testing goals. In addition to our interactive online courses and private tutoring, we also give each of our participants access to a host of supplemental learning tools and resources such as our LSAT practice tests, which have proven to boost confidence before test day and give our participants the opportunity to improve their score by identifying any weaknesses in their preparation strategy.
In Louisville, no other LSAT test prep consultant service offers aspiring law professionals the opportunity to work with experienced test-takers and top professionals in their fields like Manhattan Review. In fact, to facilitate the instructor-student relationship, we encourage our LSAT test prep students to check out the profiles of our dynamic and experienced Louisville LSAT tutors before enrolling in our program. Harvard, Yale, Stanford, Northwestern, and NYU top the list of law schools around the country that have proudly embraced Manhattan Review's past LSAT test prep students in addition to the locally respected John Marshall Law School on West Peachtree Street in the heart of Louisville. The top local employers and law firms have also shown a similar support for Manhattan Review and our LSAT test prep students, opting to hire any applicant with an association with Manhattan Review over applicants with no affiliation with Manhattan Review. Align yourself with the best LSAT test prep in Louisville and achieve your best LSAT score yet. Call Manhattan Review today to learn more about how to get into the top law schools in the country.

Hello, I just wanted to let you know that the current class that i am taking is really helping my studies. George has been a great help and I thank you for fitting the class into my busy schedule.
- Simone (This student prepared for the LSAT with us)
Louisville
Primary Course Venue:

Manhattan Review GMAT GRE LSAT Prep
Louisville Teaching Center at the Hyatt
320 West Jefferson
Louisville, KY 40202

Phone: (502) 515-7429

NOTE: We do NOT typically have staff at the venue, so email us before visiting the venue.
Meet a Louisville LSAT Tutor: Jenna D.
Before joining our elite team of private tutors at Manhattan Review, Jenna spent the majority of her law career working for the district attorney's office in her hometown of Dearborn, Michigan. But when her husband received a once-in-a-lifetime opportunity to head up a major project for General Electric, Jenna and her family relocated to Louisville where she made a transition in her law career and discovered a new passion. In Louisville, Jenna saw an opportunity to work with and positively influence up and coming law professionals much like a mentor. She joined the staff at the John Marshall Law School and quickly became a hit among the aspiring law students. Our recruiters at Manhattan Review knew Jenna would be a perfect fit for our LSAT test prep program as well.
As a trusted member of our LSAT test prep consultant service in Louisville, Jenna plays an instrumental role in helping us to continue to develop the best and brightest of prospective law professionals. Aspiring law students in Louisville love working with Jenna not only because she possesses an in depth knowledge about the law, but also because she is incredibly dedicated to helping them achieve their goals. Jenna always stresses to any student she works with, whether they are in her classroom at the John Marshall Law School or at Manhattan Review, the importance of a developing and sticking to a study plan that is both customized to their individual learning style and needs as well as constantly evolving to allow for improvement so that they can achieve their goals. With the help of world-class instructors like Jenna, Manhattan remains the number one LSAT test prep consultant service in the Louisville area.