LSAT Prep Courses in Kansas City (Missouri)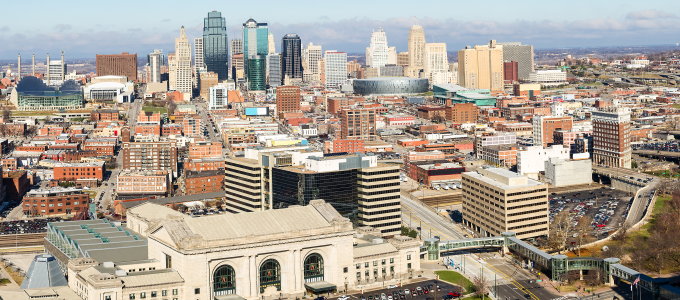 For many law school applicants, the Law School Admission Test, or LSAT, is one of the most critical parts of the application process. Implemented as part of the application process to not only assess verbal and analytical reasoning skills, the LSAT is used to help law schools to gauge both academic aptitude as well as potentiality as a future practicing lawyer. And while previous academic records are important, ultimately it is the LSAT that will determine whether or not an applicant will get into law school, in many cases. Armed with the right tools and resources, however, it is possible to reach your desired testing goals. Manhattan Review's top rated LSAT test prep courses can help.
Since 1999, Manhattan Review has been leading more prospective law students to achieving their highest scores on the LSAT around the world than any other LSAT test prep consultant service. In Kansas City, the knowledgeable staff and instructors at Manhattan Review are able to provide a service unlike any other. Specifically, our boutique service gives participants the opportunity to custom design their own learning plan according their individual learning style and needs. Learning plans typically consist of one of two approaches: traditional, which includes working one-on-one with one of our handpicked elite private tutors, or modern, which includes working through a number of personally selected interactive online courses. In addition, each participant can access a myriad of supplemental learning tools and resources including our LSAT practice tests, which are proven to help our LSAT test prep students dramatically increase their score on test day.
Over the years, Manhattan Review has earned the respect of both the institutions of higher learning and the local employers for working to develop top talent in Kansas City. As a result, students that complete the LSAT test prep program at Manhattan Review have known no limitations to their academic and professional goals. Specifically, the University of Missouri-Kansas City has endorsed Manhattan Review and our LSAT test prep students as demonstrated by their continuous commitment to accepting our participants into their highly respected law program. The same is true of both the top law firms such as Lanthrop & Gage; Stinson, Leonard, Street, and Shook; and Hardy & Bacon as well as the top employers including Smith Electric Vehicles, Sanofi-Aventis, Kansas City Federal Reserve Board, AMC Theatres, Applebees, Assurant Employee Benefits, Cerner Corporation, Saint Luke's Health System, Sprint Corporation, Hallmark Cards, Inc., H&R Block, Hostess Brands, J.E. Dunn Construction Group, Novastar Financial, Russell Stover Candies, Boulevard Brewing, and Blue Cross and Blue Shield of Kansas City who have also maintained an allegiance to Manhattan Review and our LSAT test prep students year after year. Manhattan Review works to ensure that each of our participants receives the necessary foundation they need to achieve their academic and professional goals after they take the LSAT, starting with reaching their LSAT testing goals. Sign up today to get started.

Hello, I just wanted to let you know that the current class that i am taking is really helping my studies. George has been a great help and I thank you for fitting the class into my busy schedule.
- Simone (This student prepared for the LSAT with us)
Kansas City
Primary Course Venue:

Manhattan Review GMAT GRE LSAT Prep
Kansas City Teaching Center at the Plaza
401 Ward Parkway
Kansas City, MO 64112

NOTE: We do NOT typically have staff at the venue, so email us before visiting the venue.
Meet a Kansas City LSAT Tutor: Priscilla L.
After graduating at the top of her class from the University of Missouri-Kansas City, Priscilla went on to accept employment with the same law firm that she interned with before graduating. Seven years later, Priscilla is still with the same law firm that she started out with, having been promoted several times to her current role as junior partner. As someone who has struggled academically, Priscilla is living proof that one can overcome academic adversity. She then went on to achieve great success as a practicing lawyer including helping to shape future professional lawyers. As a result of her experience as a coach, Priscilla has discovered a passion for working with up and coming lawyers. She found such an opportunity at Manhattan Review.
Since joining our team of exceptional instructors at Manhattan Review in Kansas City, Priscilla has been instrumental in helping us to deliver the world-class LSAT test prep consultant services that we are known for all over. Classy and soft-spoken, Priscilla is every bit the tough lawyer you would expect from someone with her credentials, yet possesses a sweet side that makes her students not only comfortable working her with her, but confident in her many abilities as well. Priscilla also works as resource for her students, helping to write letters of recommendation, when needed, and giving leads for potential employment opportunities as well to help them achieve their academic and professional goals. We couldn't be happier to have someone like Priscilla on our team at Manhattan Review.