LSAT Prep Courses in Dublin (Irland)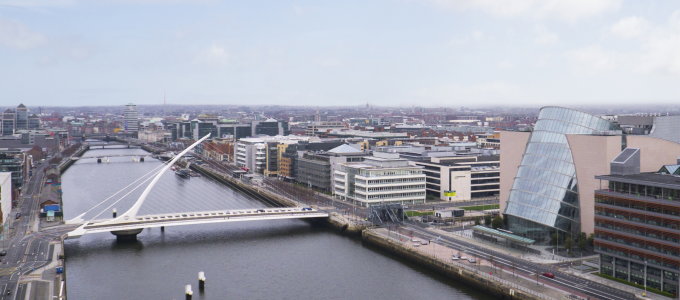 Every year, prospective law students prepare to take the Law School Admission Test, or LSAT, with the hope of earning a high enough score to impress their law school of choice. However, as many students often find out, relying on old study habits and outdated test prep techniques aren't sufficient enough to help you achieve the score you desire on the LSAT nor rise to the academic challenge that is the rigor of law school test taking. At Manhattan Review, not only can we help you achieve your desired test score on the LSAT, but we also have the tools and resources to set you on a successful path towards a successful academic and professional career as well.
Since 1999, Manhattan Review has been specializing in the development of prospective law students by especially preparing them to ace the LSAT. Our state-of-the-art program is effective because of two vital components. The first component being our fully customizable interactive online courses, and the accompanying tools and resources, such as LSAT practice tests that have proven effective in helping students to adequately prepare for test day. The second component and perhaps the most sought after aspect of our services is the private one-on-one tutoring sessions with our worldly and highly respected team of professionals across a variety of professions. As a result, our LSAT test prep services have garnered a great deal of respect around the world and right here in Dublin.
All of the top law schools in Dublin, including the Sutherland School of Law at the University College of Dublin and the Trinity College's Dublin Law School, have all been the proud recipients of our past students because they know that we take pride in developing future lawyers, which is evident in their test scores and future academic success. Throughout the Greater Dublin Area, Manhattan Review is synonymous with the best and brightest as far as prospective law students are concerned, which is precisely why year after year, students continue to seek us out for help preparing for the LSAT and the academic and and business community in Dublin continues to trust that our diligent and persistent work with students is in fact to help get them ready to contribute as well.

Hello, I just wanted to let you know that the current class that i am taking is really helping my studies. George has been a great help and I thank you for fitting the class into my busy schedule.
- Simone (This student prepared for the LSAT with us)
Dublin
Primary Course Venue:

Hilton Dublin
Charlemont Place
Dublin 2, Ireland

NOTE: We do NOT typically have staff at the venue, so email us before visiting the venue.
Meet a Dublin LSAT Tutor: Jayne Y.
A dedicated servant to the greater good, Jayne is the consummate lawyer. Although she grew up and spent most of her life in the United States, a professional opportunity of a lifetime was presented to her husband, Mark, and she found herself relocating to the Irish capital. It also turned out to be the perfect career move for her as well as Jayne was able to join a well known and thriving practice in Dublin, that ended up giving her more opportunities for professional growth and development. It also helped expedite her acclimation to the city, which included her discovering Manhattan Review.
As a valued member of our elite team of professional tutors, Jayne has played a pivotal role in translating our company values into real life application. Some times people don't know a good thing until it is no longer around; that certainly is not the case with our students and their appreciation for working with Jayne. They both enjoy and realize that they stand to benefit from her knowledge and experience, coupled with her passion for the law and helping students to rise to their potential in Dublin. In her downtown, Jayne enjoys site seeing all the wonderful landmarks with her husband in Dublin, including the famous Dublin Castle, the Spire of Dublin, Trinity College, and the Ha' penny Bridge, which also helps enhance her connection to the city as well as her connection to her native Irish students. For those reasons and so much more, Manhattan Review is thrilled to have her as one of our professional tutors.