LSAT Prep Courses in Detroit (Michigan)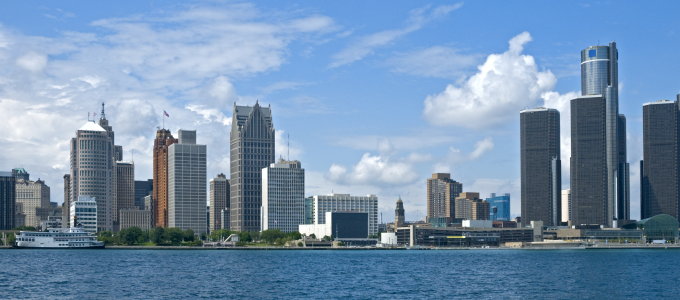 Having a top LSAT score is a sure way to get your foot in the door into the nation's top law schools. Manhattan Review has created LSAT prep courses not for the masses, but for those truly seeking out a top score. We have deconstructed the complicated exam and analyzed our findings to craft the most customizable exam prep available with staggering results. Detroit students thrive with one-on-one private tutoring from our distinguished tutors. Being the only test prep company founded by a professor, we seek out and retain the most sought after professors and hand them our world-class syllabus. Past students of ours have been handed diplomas from Yale, Harvard, Stanford, Georgetown, NYU and Cornell. Those wanted to stay near Detroit gain acceptance into Wayne State University Law School, the University of Michigan and Michigan State University.
Have a specific school you'd like to attend? It is important to separate yourself from the pack and one way to move your application to the top of the pile is an undeniable LSAT score. Since 1999, Manhattan Review has been the top resource for LSAT pre, offering full-length courses, weekend courses, one-on-one private tutoring and even our state of the art Interactive Online Courses. Working around a busy schedule and various learning styles is not a problem for our outgoing and friendly administrative staff. One call and they will listen to your needs and carefully match you with the Detroit tutor who best suits your learning style while working around your schedule. Investing in your future pays off ten fold as our past students successes demonstrate by achieving top scores year after year.
Aspiring lawyers know their future is largely determined by what college they attend. It affects the type of firm they work at, how much income they will acquire, their lifestyle and more. Having a top score will open the door to the most well known law schools around the globe who will all be vying to admit you. We are experts at helping those boost their score or those taking it for the first time. Our distinguished professors are also knowledgeable on the various law school programs around the country and will gladly help you make the all-important decision of which one to choose. And that is the case with our help, all you will have to do after acing the LSAT is take your pick from the most prestigious law schools in the country.

Hello, I just wanted to let you know that the current class that i am taking is really helping my studies. George has been a great help and I thank you for fitting the class into my busy schedule.
- Simone (This student prepared for the LSAT with us)
Detroit
Primary Course Venue:

Manhattan Review GMAT GRE LSAT Prep
Detroit Teaching Center at the Marriott
400 Renaissance Drive
Detroit, MI 48243

Phone: (313) 499-0750

NOTE: We do NOT typically have staff at the venue, so email us before visiting the venue.
Meet a Detroit LSAT Tutor: Claudia K.
Claudia comes to Manhattan Review by way of Georgetown University Law Center after scoring a 178 on her LSAT. What is most impressive about Claudia was her dedication to boost her score from a 155 to over 170, which she did over the course of a summer. This most certainly helped her gain acceptance into one of the most distinguished law schools in the nation.
No matter if you are taking the test for the first time, or like Claudia, are looking to boost your numbers, she has the firsthand experience to help you succeed. In Detroit, Claudia has experience both teaching in a large classroom as well as in one-on-one settings. Students studying for the LSAT appreciate her down-to-earth manner of teaching and her willingness to answer questions or explain concepts in new and creative ways.
Students often rave about her classroom etiquette and attribute their success on the LSAT to her calm demeanor and knowledge nuggets of information she shared. Having her own handful of well-known law schools to choose from after acing the LSAT, Claudia is an excellent resource for determining what program is right for you. Also, it isn't out of the norm for her to also bring in her out-of-this-world chocolate chip cookies to a study session.