LSAT Prep Courses in Dallas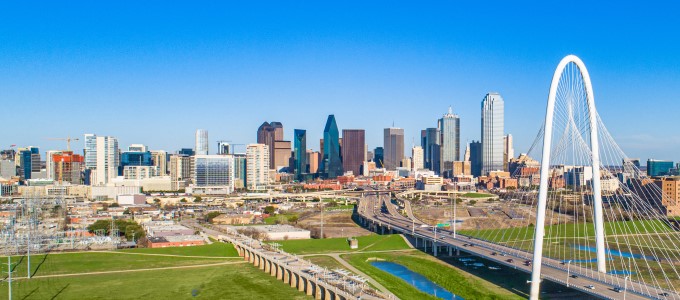 LSAT Preparation in Dallas (Texas)
If you are preparing for the LSAT exam in Dallas, you'll have access to a plethora of world-class programs. Manhattan Review can guide you toward your highest test results, whether you are taking the exam for the first time or want to boost a previous score. Cultivate your points-scoring potential to get your career in Law up and running. We have the resources and tutor talent to make your test prep a speedy and strategic process.
Headquartered in New York City, Manhattan Review has been helping students to achieve top scores since 1999. Since then, our business has expanded to major cities all over the globe. We have helped thousands of aspiring attorneys and legal professionals get started with an impressive law school education. We understand that your time is valuable and limited. Rather than doing a broad sweep to prepare for the exam, we have analyzed and deconstructed the LSAT, a test that is largely based in logic. When you know what to expect when you walk into the testing room, you'll have the tactics, tips and knowledge base to bring up your score.
Make your law school application stand out by ranking in the top percentiles on the LSAT here in Dallas. Many students are deterred from pursuing a career in law simply because the perquisites for law programs are so rigorous. Rather than this discouraging you, consider this an opportunity to surpass your competition early in the game. Manhattan Review has kept up with all the trends and nuances of this standardized exam, so you don't have to. Instead of studying large textbooks and the full dictionary of vocabulary words, we'll give you access to what you'll actually see on testing day.
Our course syllabus breaks down the LSAT in a format that'll help you answer the most questions correctly. Many of our Dallas LSAT instructors have racked up accomplishments as prestigious attorneys and other legal professionals. We offer several learning platforms for you to reach toward your J.D. You can sign up for several weeks of full-length classroom courses to make your test prep effortless. An energetic LSAT tutor will lead the course with our customizable syllabus to help you study. If you prefer one-on-one attention, register online for one of our private tutoring services. A talented private tutor will help you diagnose and improve upon any areas of weakness. Or, plug in with our Interactive Online Course options to tap into our unrivaled study materials anywhere with a laptop and working Wi-Fi connection.
Not sure how to solve logic problems? Worried that you've forgotten course material learned in years past? Whatever level you are in your learning, we can work together to bolster your candidacy at top law school programs near Dallas and beyond the borders of Texas. As most students are well aware, test prep is not just strategic when it comes to the LSAT. The test requires the investment of time and focus in order to yield successful results. Through practice exams and test-taking tips, you can ensure that your percentile will accurately reflect your academic potential.
Let us help you start your law career at preeminent places like University of Texas, Southern Methodist University, Baylor University, University of Houston, Texas Tech University, St. Mary's School of Law, and South Texas College of Law. Or join the ranks of our past students who have launched world-class law careers following graduation from Harvard, Yale, Princeton, Georgetown, University of Virginia, Stanford, Columbia and Brown.

Hello, I just wanted to let you know that the current class that i am taking is really helping my studies. George has been a great help and I thank you for fitting the class into my busy schedule.
- Simone (This student prepared for the LSAT with us)
Dallas
Primary Course Venue:

Manhattan Review GMAT GRE LSAT Prep
Dallas Teaching Center at the Sheraton
400 North Olive Street
Dallas, TX 75201

Phone: (214) 254-3620

NOTE: We do NOT typically have staff at the venue, so email us before visiting the venue.
Meet a Dallas LSAT Tutor: Randy B.
Randy scored 177 on his LSAT, a high-percentile score that helped gain his admission to the top-ranked program at University of Chicago. Coupled with his Summa Cum Laude undergraduate diploma from University of Michigan – Ann Arbor, Randy quickly rose to the top of his class. During law school, he was awarded a premier internship opportunity for a local Chicago law firm comprised of defense attorneys. His rapport with the partners helped him land a role here once he received his J.D. Randy remained in this role for seven years, and then he pursued an opportunity to become partner at a Dallas firm. He took the state's Bar Exam to land this position, moving with his partner in the spring of 2008.
For nearly four years, Randy has been helping students attain top LSAT scores with Manhattan Review. This tutor has been able to relegate his office duties to other associates, including an internship program that's been mentioned in several publications. He stays quite busy keeping the firm running, writing articles for law journals, and teaching a full-length classroom course for LSAT test prep. Randy is also a human rights political activist, philanthropist, an avid reader of historical fictions, and a creative mixologist who can shake up the perfect Manhattan martini.