LSAT Prep Courses in Columbus (Ohio)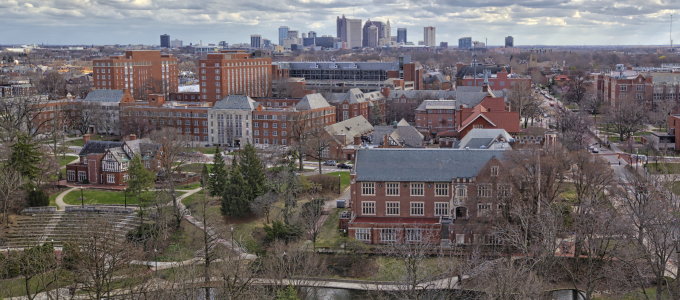 For prospective law students, the Law School Admission Test, or LSAT, plays a significant role in their application process to get into law school. This is particularly true for those applicants in the United States, Canada, and an increasing number of law schools around the world. Designed to assess verbal and analytical reasoning skills, law schools use the LSAT to help them determine the academic potential for prospective students, starting with requesting a high LSAT score. Attempting to achieve such a goal can be an overwhelming feat for those individuals who are lacking in confidence in their test taking abilities, particularly since the stakes are so high. However, with the help of a professional test LSAT prep courses at Manhattan Review, you can and will be able to reach your testing goals.
For over 15 years, Manhattan Review has been the industry leader in LSAT test prep services all over the world, including in Columbus. Our state-of-the-art program gives prospective law students so much more than the typical LSAT test prep services around. For starters, prospective law students are able to custom design their own learning plan based on their individual learning needs and other criteria such as availability constraints. This learning plan can then consist of either our interactive online courses or one-on-one private tutoring with our elite professional tutors. Regardless of which option the students choose, they can enjoy access to a myriad of tools and resources, including our LSAT practice tests, which are designed solely to give our participants first-hand experience with the LSAT prior to test day.
At Manhattan Review, we take pride in our role of helping students to not only meet their LSAT testing goals, but more often than not exceed them. As a result, our participants are considered among the best and brightest in all of Columbus, earning spots in the top law schools such as the Moritz College of Law at Ohio State University and Capital University Law School. In addition, our participants have also gone on to work for some of the most prestigious companies in Columbus, including the Battelle Memorial Institute, OCLC, Chemical Abstracts, JP Morgan Chase, Huntington Bancshares, Owens Corning, Wendy's, White Castle, Siemens, Roxane Laboratories, Vaisala, ABB Group and Mettler Toledo. When a prospective law student comes to Manhattan Review they can rest assured that they will get unprecedented access to the best LSAT test prep around and no other test prep service will invest them like we can and will.

Hello, I just wanted to let you know that the current class that i am taking is really helping my studies. George has been a great help and I thank you for fitting the class into my busy schedule.
- Simone (This student prepared for the LSAT with us)
Columbus
Primary Course Venue:

Manhattan Review GMAT GRE LSAT Prep
Columbus Teaching Center at the Hyatt
350 North High Street
Columbus, OH 43215

Phone: (614) 340-9763

NOTE: We do NOT typically have staff at the venue, so email us before visiting the venue.
Meet a Columbus LSAT Tutor: Allison B.
Growing up in rural Ohio, Allison got the idea early on that she wanted to help out the family farm by learning the law. With a law degree, Allison knew that she would be able to help her family realize some of their long term goals of expansion, including hiring more help as well as providing legal guidance with respect to selling their vegetables. In order to accomplish this, Allison knew that she would have to work very hard in school so that she could one day go to law school. She did both. Thanks to her stellar academic background and score in the 99th percentile on both her SAT and LSAT, Allison was able to attend the prestigious Moritz College of Law at the Ohio State University in Columbus.
After graduating from Ohio State University with her degree in law, Allison returned to make good on her promise to help out her family farm with legal guidance and began working for one of the most successful and notable law firms in Columbus. Not long after, she wanted to fulfill a desire to help develop future lawyers, which undoubtedly led her to becoming a private tutor with Manhattan Review. Since joining our team of elite professional LSAT tutors, Allison has been instrumental in helping us to deliver the world-class LSAT test prep services that Columbus expects. Our participants love working with Allison because she is a constant source of inspiration for them and actually makes learning about the law fun, according to her past students.