LSAT Prep Courses in Cincinnati (Ohio)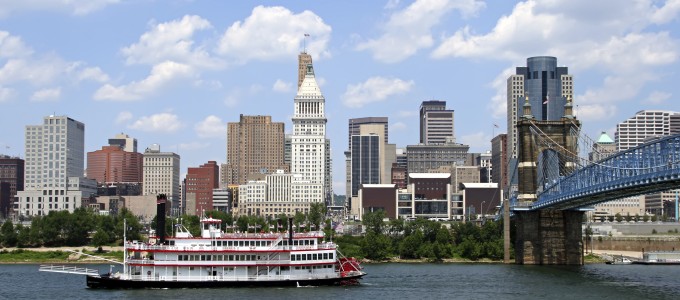 Manhattan Review created courses specific for the LSAT and students seeking high percentile scores on the exam. Would you like to have your foot in the door of one of our nation's top law schools? In order to differentiate your application from the enormous stack of applicants, let Manhattan Review help you receive a top score the LSAT. During our time creating the LSAT prep courses, we deconstructed the exam and came up with a thorough study guide. It is unparalleled in the industry, and we are bringing these tools and resources to the Queen City. Between private tutoring in Cincinnati, various LSAT group courses and Interactive Online Tutoring, we have the resources that every prospective law student needs.
We'd love for you to see the profiles of our impressive Cincinnati LSAT tutors. Students in the past have received diplomas from prestigious law schools, which have and still cultivate successful attorneys around the nation. Yale, NYU, Stanford, Northwestern and Harvard just to name a few. Perhaps you need to look no further than the University of Cincinnati's Law School just down the block. Either way, its pretty simple, after scoring in the top percentile on the LSAT, then you take your pick from the list of law schools that are lining up to accept you.
Our curriculum is personalized for your way of learning. If you are a self-taught learner, than our Interactive Online Courses will walk you step-be-step through sample questions and practice exams. Perhaps you learn better in a classroom setting where fellow students help you digest new material; then our Cincinnati exam prep courses were created with you in mind. Finally, if a personal tutor is more your style, then the our world class tutors will break down the LSAT exam meeting with you one-on-one right up until test day when you will walk in confident and prepared.
If being a successful attorney is a dream of yours, than you know the college you ultimately attend is key to your future. Do not take a chance on your future. Our history of over 15 years prepping those who have become this country's finest attorneys, will get you where you want to be. Manhattan Review's world-class curriculum and distinguished Cincinnati LSAT tutors consistently help students turn out high percentile scores.

Hello, I just wanted to let you know that the current class that i am taking is really helping my studies. George has been a great help and I thank you for fitting the class into my busy schedule.
- Simone (This student prepared for the LSAT with us)
Cincinnati
Primary Course Venue:

Manhattan Review GMAT GRE LSAT Prep
Cincinnati Teaching Center at the Marriott
151 Goodman Drive
Cincinnati, OH 45219

Phone: (513) 297-1580

NOTE: We do NOT typically have staff at the venue, so email us before visiting the venue.
Meet a Cincinnati LSAT Tutor: Claudia K.
Scoring an impressive 178 on her LSAT, Claudia graduated from the prestigious Georgetown University Law Center. However, her first try taking the LSAT she scored a 155. In just one summer, Claudia was able to improve her score 23 points. She has a passion for helping aspiring attorney's do the same.
Claudia has the experience and know-how if you want to boost your numbers on the LSAT or are taking the test for the first time. She boasts a history of teaching in large classrooms as well as one-on-one private tutoring experience in Cincinnati. After nearly six years of LSAT test prep teaching, Claudia surely has seen it all when it comes to what questions to expect on the exam. She works tirelessly to help students create the perfect study strategy for success on the LSAT. Knowing each student is different, Claudia is careful not to take a one size fits all approach. Her attention to detail is what has boosted so many of her students' scores over the years.
If you happen to enjoy some study time snacks, a fun fact about Claudia is it is not out of the ordinary for her to show up with a plate of freshly baked chocolate chip cookies to one of her LSAT tutoring sessions. She has been an amateur cook for nearly twenty years with her most popular recipes making appearances on the Food Network Channel and Baking Magazine. Her analytical and precise mind is perfect for concocting the perfect celebration cake upon getting your top tier LSAT test scores.