LSAT Prep Courses in Charlotte (North Carolina)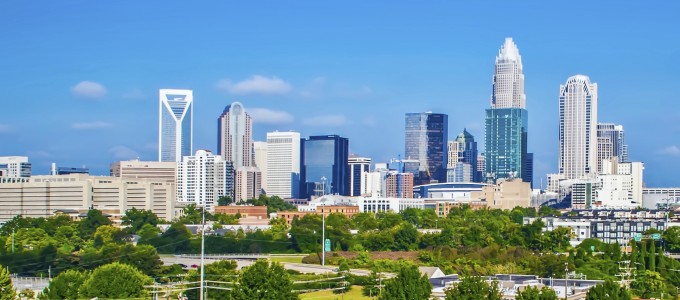 The Law School Admission Test, or LSAT, is administered to over a hundred thousand law school applicants every year in the U.S. and increasingly all over the world. Designed to test the aptitude of potential law students, particularly in the areas of verbal and analytical reasoning, the LSAT plays a critical role in determining whether or not law school hopefuls will actually get accepted into their choice law school. As such, prospective law students are encouraged to not only perform their best in order this standardized test, but also perform above their peers. Can they accomplish this without professional help? While some have been able to, over the years, others have sought out the experts at Manhattan Review for our world-class LSAT test prep services to help them achieve their desired test scores.
For over 15 years, Manhattan Review has been at the forefront, leading LSAT test prep services in Charlotte. With our premiere program, which features elite professional tutors who come to us from all over the world and across various industries as well as a number of helpful tools and resources, such as practice tests that look and feel just like the real LSAT. Additionally, our a la carte program gives prospective law students access to our state-of-the-art test prep courses, which not only affords the students the opportunity to custom design their own program to suit their needs, but also their learning styles as well. Such an approach is unprecedented, and while it has culminated in the success of many students, our primary goal, it has contributed to our success all as an LSAT test prep service all around the world, including Charlotte.
Over the years, our reputation in Charlotte has grown tremendously because of the success of the students that have come through our program, including going on to attend to the top area schools. Specifically, our past participants have gone on to get accepted into all of the top law schools such as the nationally ranked Charlotte School of Law. Prospective law students, like you, know how important it is to get into an impressive school that is nationally ranked. At Manhattan Review, we pride ourselves on being able to help our students reach such a goal. In addition, our past participants have also been among the top candidates to be hired by the biggest employers in all of Charlotte, including the top law firms. In fact, it is not uncommon for a past Manhattan Review to practice law by working for such giants as Bank of America or Family Dollar, to name a few.
With a high LSAT score, your academic and professional options are limitless. Contact Manhattan Review to get access to LSAT test prep that will help put you on a path with limitless options.

Hello, I just wanted to let you know that the current class that i am taking is really helping my studies. George has been a great help and I thank you for fitting the class into my busy schedule.
- Simone (This student prepared for the LSAT with us)
Charlotte
Primary Course Venue:

Manhattan Review GMAT GRE LSAT Prep
Charlotte Teaching Center at the Hilton
222 East Third Street
Charlotte, NC 28202

Phone: (704) 625-1326

NOTE: We do NOT typically have staff at the venue, so email us before visiting the venue.
Meet a Charlotte LSAT Tutor: Faith W.
Growing in Charlotte, the daughter of a prestigious lawyer who had strong ties with the NASCAR community, Faith always had an appreciation and love for both the law and the US motorsports industry in Charlotte. Luckily for her, academics came pretty easy for her, as she was able to progress towards her goals of becoming a lawyer with relative ease, by first getting into the college of her choice, Johnson C. Smith University thanks to acing the SATs. After graduating from Johnson C. Smith University, Faith went on to attend the Charlotte School of Law, thanks to her LSAT score in the 99th percentile. With her knowledge, since childhood of NASCAR, and her combined aptitude for the law, it didn't take long before the top law firms in Charlotte began recruiting Faith to come work for them, even before she finished her program at the Charlotte School of Law.
Nearly ten years into her noteworthy law career, Faith decided to seek out a challenge that would afford her the opportunity to work with up and coming law students. After hearing about Manhattan Review, she quickly joined our team of world-class professional tutors and has been helping us to deliver our premiere LSAT private tutoring to students in the Charlotte area ever since. As a private tutor, Faith brings a refreshing approach that her students love and appreciate. Every year since she's come aboard our highly regarded program, Faith has been touted by her students for being so flexible, both respect to her availability and instruction methods. While she is very much committed to delivering the knowledge and skills that we are known for providing our test prep students with, she is also committed to helping her students reach their professional goals as well. Since joining Manhattan Review several years ago, Faith has been known to personally work to help her past students find employment in local law firms, which has translated to both successes for them as well as Manhattan Review.