LSAT Prep Courses in Berlin (Germany)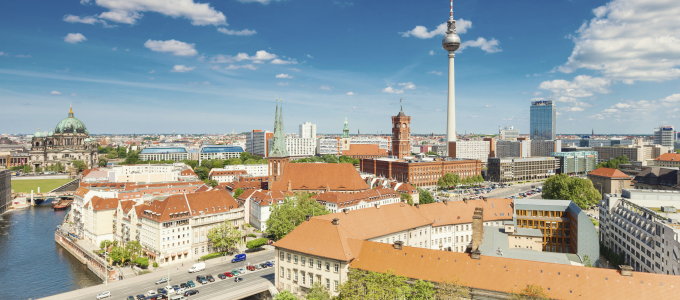 Berlin applicants to law schools in the United States (and to many law schools in Canada as well) must submit scores for the Law School Admission Test (LSAT). Informed educators generally agree that success on this exam is extremely unlikely without significant preparation. Manhattan Review in Berlin offers all of the necessary services for the LSAT, including on-site and online LSAT prep courses, LSAT private tutoring, and LSAT practice tests. Founded in 1999 in New York City, Manhattan Review has helped thousands of law school applicants in major European, North American, Asian, and Australian cities receive the LSAT scores needed for law school acceptance. Our Berlin LSAT prep services combine innovative instructional methodologies, highly qualified instructors, and practicality in scheduling and location to meet the LSAT prep requirements of all types of students. Get your law school career off to a great start with Manhattan Review's LSAT prep courses and private tutoring in Berlin.
Berlin students interested in attending law school in the United States or Canada should carefully consider where to apply. Employment outcomes vary greatly among North American law schools, but it is not difficult to find employment rates for graduates of a given institution. Broadly speaking, the more selective law schools generate more job opportunities for their graduates. In the most recent graduating class at the University of Chicago Law School, 192 of 196 alumni (98%) were employed within ten months of graduation (190 of whom got jobs that require bar passage, or about 97%). At the University of Detroit's Mercy School of Law, a much lower-ranked program, only 109 of 183 of the most recent graduates (about 60%) had gotten jobs that require bar passage within the same timeframe. Not surprisingly, the LSAT scores required for realistic chances at acceptance were much higher at Chicago than at Mercy (middle 50% scores of 166-172 for the former and 147-156 for the latter). Prospective law students are therefore advised to consider the law schools with strong employment numbers, and prepare for the LSAT according to the necessary score ranges of those institutions.
Manhattan Review's LSAT prep courses and private tutoring are legitimized by many years of success. Our LSAT students have been accepted to top American and Canadian law schools, including Harvard, Yale, the University of Pennsylvania, NYU, Columbia, Stanford, the University of Toronto, the University of British Columbia, and the University of Alberta. The employment outcomes of our LSAT students are enviable. They've been hired by Fortune 500 companies (such as United Technologies, Honeywell International, United Continental Holdings, and Time Warner), major law firms (including DLA Piper, Jones Day, and Hogan Lovells), and government agencies at the federal, state, and local levels. Some have even started their own law practices in a variety of legal specialties. Professional accomplishment awaits graduates of high-quality law schools. Manhattan Review's LSAT prep courses and private tutoring will help you clear the first hurdle.

Hello, I just wanted to let you know that the current class that i am taking is really helping my studies. George has been a great help and I thank you for fitting the class into my busy schedule.
- Simone (This student prepared for the LSAT with us)
Berlin
Phone: +49-30-9173-4902

Primary Course Venue:

Strausberger Platz 9
10243 Berlin
Germany

NOTE: We do NOT typically have staff at the venue, so email us before visiting the venue.
Meet a Berlin LSAT Tutor: Allan S.
Allan S. is a distinguished educator and lawyer who has been teaching LSAT prep since 2010. A graduate of Georgetown University and the University of Virginia School of Law, he has significant experience as a trial lawyer in private practice and as a teacher of various subjects relevant to the legal profession. In addition to LSAT prep, he has served on the faculties of three American law schools.
Allan has lived in Berlin since 2014, where he is part of an international team of attorneys working on a large case related to intellectual property. His LSAT tutoring keeps his mental skills sharp, and he enjoys contributing to the success of tomorrow's lawyers. His LSAT students have been accepted to Harvard, Yale, Princeton, and several other top law schools.