LSAT Prep Courses in Barcelona (Spain)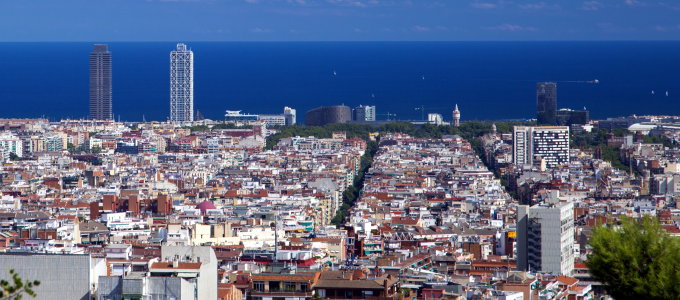 Every year, the Law School Admission Test, or LSAT, is administered to prospective law students as part of the law school application process in the U.S., Canada, and a growing number of countries. The LSAT is designed to measure two critical skills necessary for both law students and future practicing lawyers: verbal and analytical skills. LSAT scores play a significant role in the law application process, as they help law schools, particularly the top law programs around the world, to determine academic aptitude. For many applicants, proving academic aptitude under such circumstances can be quite a challenge, often preventing them from earning their best possible score on the LSAT the first time they take it. Luckily for applicants, the LSAT is administered four times a year and Manhattan Review has a world-class LSAT test prep course that is guaranteed to help prospective law students achieve their testing goals.
Since 1999, Manhattan Review has been the world leader in test prep services, helping prospective law students to reach their highest possible LSAT score on the first attempt. Our state-of-the-art program affords law school applicants the opportunity to custom design their own learning plans in consideration of everything that would help or enhance their learning experience and ultimately impact their performance on the LSAT. Learning plans can then consist of a mixture of interactive online courses or one-on-one sessions with one of our elite private tutors. Our private tutors are top professionals from their respective fields that we handpicked to lead our classroom instruction and work intimately with our students, helping them to achieve their goals. Additionally, all of our participants, no matter which type of learning plan they create, are given access to a host of supplemental online tools and resources including our LSAT practice tests. No other test prep service will invest in prospective law students like Manhattan Review, and it shows.
Over the years, the law community including the top law schools in Barcelona and the surrounding areas and local businesses have all supported Manhattan Review by choosing our past LSAT test prep students over their competition. Specifically, the University of Barcelona School of Law, Pompeu Fabra University School of Law, and ESADE Law School have all accepted our past students not only because they have they have the highest scores on the LSAT, but also because they demonstrate the academic aptitude necessary to perform well in their prestigious law programs. Similarly, the top law firms and companies including Borsa de Barcelona, World Trade Center Barcelona, Nissan, Derbi, American Express, Hewlett-Packard, Avis, Barcelona Metropolitan, Galactic Suite Design, Eurostars Hotels, Gas Naturals, Nueroelectrics, and Akamon Entertainment also endorse us by continuing to hire our past LSAT students as well. Are you looking to achieve success as a lawyer in Barcelona? Join the growing number of past participants of Manhattan Review's LSAT test prep program and achieve your testing goals and much more.

Hello, I just wanted to let you know that the current class that i am taking is really helping my studies. George has been a great help and I thank you for fitting the class into my busy schedule.
- Simone (This student prepared for the LSAT with us)
Barcelona
Phone: +34-932-201-721

Primary Course Venue:

Hotel 1898
La Rambla, 109
08002 Barcelona
Spain

NOTE: We do NOT typically have staff at the venue, so email us before visiting the venue.
Meet a Barcelona LSAT Tutor: Lacie
Growing up in the Midwest, Lacie never imagined that she would one day live in the bustling world-city of Barcelona. However, that changed soon after she met her husband and he received an opportunity-of-a-lifetime to work for a major international employer in Barcelona. After moving to her new home in Spain, Lacie was immediately able to take up a position at one of the most successful family law firms in the city. It didn't take long for Lacie to achieve many professional accomplishments at her firm as a result of her hard work. Not long after her seventh year on the job, Lacie decided to transition her career to a more academic one. In Manhattan Review, she found an opportunity to work towards achieving that goal.
Since becoming an LSAT private tutor at Manhattan Review in Barcelona, Lacie has been instrumental in helping us to provide the world-class LSAT test prep services, particularly in Barcelona. Our students love to work with Lacie not only because of her wealth of knowledge and experience as a successful practicing lawyer in Barcelona, but also because she has a knack for helping students to realize their strengths and weaknesses as they work to prepare to take the LSAT. At Manhattan Review, we pride ourselves in being able to tailor the test preparation process to each individual student that we work with in an effort to help them maximize their learning potential and ultimately achieve their LSAT testing goals. And with elite private tutors like Lacie, we are able to continue to develop the best and brightest that Barcelona has to offer.