LSAT Prep Courses in Baltimore (Maryland)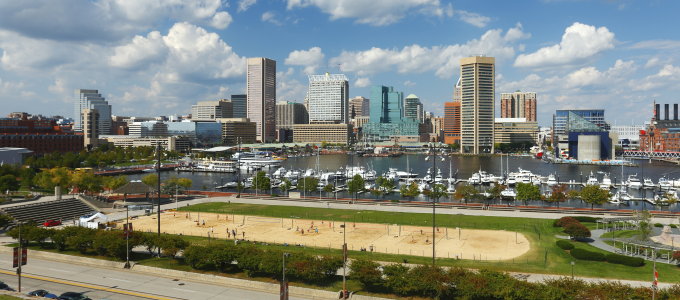 As one of the most widely accepted standardized tests around the world, including in Baltimore, the Law School Admission Test, or LSAT, plays a critical role in the admissions process for a growing number of law schools. Originally designed to measure verbal and analytical skills, the LSAT also serves as a gauge for law schools to determine academic preparedness and potentiality for success in their respective programs. And while some prospective law students will be able to adequately prepare for the LSAT on their own, with their tried-and-true standardized test-taking strategies, many have proven to be perhaps more successful with the help of professional test prep courses from Manhattan Review.
For over 15 years, Manhattan Review has been at the forefront of the test prep service industry, specializing in best-in-class LSAT test prep services unlike any other. We have been able to accomplish this goal by providing a fully customizable program that affords prospective law students the opportunity to create their own learning program based on their individual learning needs, such as availability constraints, and perhaps most important their learning style. Learning programs can either consist of any unique combination of interactive online courses, as selected by the participants, or one-on-one sessions lead by one of our elite private tutors. Each option then affords our participants the opportunity to get practice with the LSAT before test day by employing their newly acquired test-taking strategies as a result of taking our LSAT practice tests. As our students find out, no one prepares prospective law students for the LSAT like Manhattan Review.
Throughout the Greater Baltimore Area, Manhattan Review has garnered a reputation for working with the best and brightest as a result of the consistent high scores that our students earn and the subsequent academic aptitude that they demonstrate thereafter. Although we take pride in our LSAT test prep program and have professionals on staff that take the responsibility very seriously to impart the requisite foundation upon our participants so that they can reach their testing goal, it is ultimately the students that make Manhattan Review as well as the top law programs and law firms continue to thrive in Baltimore. Specifically, the University of Maryland Francis King Carey School of Law and the University of Baltimore School of Law are among the noted consistent recipients of our Manhattan Review and continue to support our students each and every year as does the most prestigious law firms and businesses in Baltimore as well. At Manhattan Review, we guarantee that you will have the foundation that success in Baltimore is built upon.

Hello, I just wanted to let you know that the current class that i am taking is really helping my studies. George has been a great help and I thank you for fitting the class into my busy schedule.
- Simone (This student prepared for the LSAT with us)
Baltimore
Primary Course Venue:

Manhattan Review GMAT GRE LSAT Prep
Baltimore Teaching Center at the Hilton
401 West Pratt Street
Baltimore, MD 21201

Phone: (410) 999-6300

NOTE: We do NOT typically have staff at the venue, so email us before visiting the venue.
Meet a Baltimore LSAT Tutor: Janelle G.
Growing up just outside of Baltimore, Janelle was raised in a household where the law was always a topic of conversation at the dinner table, being that both her parents were successful lawyers. Both her older brother and sister became successful lawyers and moved away from home, but Janelle was determined to make a difference in her hometown. That she did. After working hard in undergrad and acing the LSAT with a score in the 99th percentile, Janelle was in a position that few can say they have been in: she had her pick of law schools across the country. But with her mindset on staying in Baltimore, it was only fitting that she stay home and pursue her law education among the best that Baltimore has to offer.
Now, nearly ten years after she has graduated from the prestigious University of Maryland Francis King Carey School of Law, Janelle has found a way to give back to her hometown, by investing in the local talent. She has found that by becoming an instructor for Manhattan Review. Since becoming an elite tutor for our LSAT test prep service in Baltimore, Janelle has played an instrumental role in helping us to deliver the industry-leading LSAT test prep services that we are known for providing all over the world. Janelle's background in academic excellence and industry accomplishments not only gives her the credibility that she has rightfully earned to become an instructor, but also serves as the foundation upon which our students have built a great deal of respect for her and her contributions to our program. In continuation of her goal to give back to her community, when Janelle isn't working family law cases or helping students acquire the necessary knowledge and skills that will help them to earn their highest score on the LSAT, she and her husband Mark can be seen around the city participating in a variety of volunteer efforts aimed at helping to make Baltimore even better.