LSAT Prep Courses in Rome (Italy)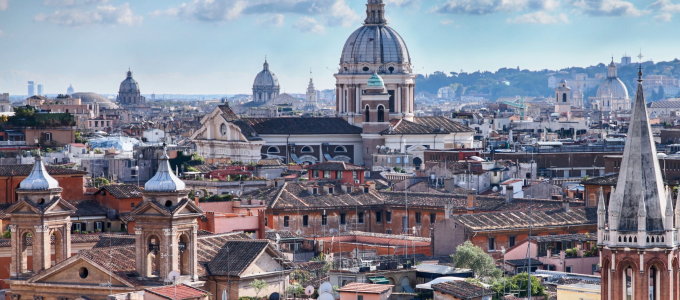 The Law School Admissions Test, or LSAT, is perhaps the biggest challenge that prospective law students must overcome during the application process for many law programs around the world, including right here in Rome. This is particularly true for those applicants that are either not used to taking standardized tests or are not confident in their ability to adequately prep for them. The LSAT is a critical part of the application process, designed to not only assess verbal and analytical skills. The LSAT is used as a gauge to determine potential for success in legal education programs as well as in assessing talent in future practicing lawyers. As a result, a great deal of weight is placed on the LSAT and prospective law students are urged to earn their highest possible score in order to gain acceptance into their school of choice. At Manhattan Review, we specialize in helping applicants to achieve their highest possible LSAT score.
Since 1999, Manhattan Review has been at the forefront of the test prep service industry, helping prospective law students to reach their highest possible score on the LSAT. Specifically, our state-of-the-art program gives law school applicants the opportunity to custom design their own learning plan in an effort to give them control over their learning experience and maximize their individual goals. Depending on the student, learning plans can consist of a mix of our interactive online courses or private tutoring sessions with an instructor, some of the top professionals across a variety of industries in Rome. Additionally, all of our participants are given access to our supplemental learning tools and resources, including our LSAT practice tests, a tool that has proven over the years to give our participants a considerable advantage over their competition on test day.
No other LSAT test prep service is more dedicated to helping prospective law students to both achieve their highest possible LSAT score as well as their academic and professional goals in Rome like Manhattan Review. That's why all of the top law schools at Pontifical Gregorian University, LUISS School of Government, and Temple University in Rome have come to rely heavily upon Manhattan Review for prospective talent. They do so because our students are the highest scorers on the LSAT, which is one of the biggest indicators that they possess the requisite academic aptitude law programs are seeking in potential law students. Similarly, the top law firms in Rome and major companies from across the various industries including government, services, high technology such as information technology, defense, and telecommunications, research, construction, tourism, and commercial activities such as banking and finance have also supported our past participants by opting to choose them over other applicants when given the opportunity. They do so because of Manhattan Review's reputation for developing top talent and they want nothing but the best for their companies.

Hello, I just wanted to let you know that the current class that i am taking is really helping my studies. George has been a great help and I thank you for fitting the class into my busy schedule.
- Simone (This student prepared for the LSAT with us)
Rome
Phone: +1-212-316-2000

Primary Course Venue:

Fortyseven Hotel Rome
Via Luigi Petroselli 47
00186 Rome
Italy

NOTE: We do NOT typically have staff at the venue, so email us before visiting the venue.
Meet a Rome LSAT Tutor: Ashleigh
Growing up in California, Ashleigh always had two goals: to pursue a career in law as well as travel abroad. However, it wasn't until she received an opportunity to travel abroad to Rome shortly after completing law school, and decided to stay, that Ashleigh was able to realize both of her goals. And while she admits to her students at Manhattan Review that her career was a slow starter, primarily because practicing law in another country was a new prospect for her, she ultimately came into her own, overcoming any and all adversity that stood in her way on the road to achieving her success. With nearly ten years of practicing corporate law in Rome to her credit, Ashleigh felt she had a lot to offer up and coming talent, by way of the benefit of her experience. Naturally, Manhattan Review was the perfect professional venture for her.
Since becoming a member of our elite private team of professional tutors, Ashleigh has been instrumental in helping us to continue to deliver the number one rated LSAT test prep service to prospective law students that we are known for all around the world, including in Rome. Ashleigh not only serves as a role model for her students, but also has a great deal of experience to impart on them as well. Her non-traditional approach to instruction helps her students to both feel comfortable in her hands and also trust that she is indeed doing everything that she can to help them achieve their goals, starting with obtaining their highest possible LSAT score. At Manhattan Review, having private tutors, like Ashleigh, to lead our LSAT test prep program is what makes our program to stand apart from other test prep programs in Rome.