ACT Prep Courses in New Haven (Connecticut)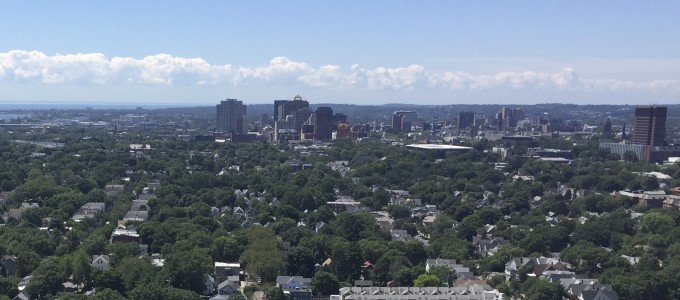 Manhattan Review is an international test prep firm that offers the best ACT services available in New Haven. Local students can significantly improve their ACT skills and scores through our on-site ACT prep courses, virtual ACT instruction in online interactive format, customized private tutoring for the ACT, and ACT practice tests. Manhattan Review students develop all of the content abilities relevant to each section of the ACT by learning how to create the most effective study plans and how to use the most proven test-taking strategies. Our engaging ACT course options are taught by the most highly credentialed test prep educators in New Haven, all of whom are singularly dedicated to the success and accomplishments of their students. Founded in 1999, Manhattan Review is one of the world's most experienced and respected test prep firms, and our instruction has been responsible for thousands of favorable learning outcomes with many different types of ACT learners. For details on Manhattan Review's ACT prep courses and ACT private tutoring, contact our New Haven office today by email, online, or by phone.
Manhattan Review students are accepted to highly selective universities on a regular and frequent basis. Our ACT clients have become students at and graduates of world-class postsecondary institutions such as Stanford, Princeton, Yale, Harvard, the University of Pennsylvania, Carnegie Mellon, Johns Hopkins, the California Institute of Technology, Georgetown, the University of Virginia, the University of California-Los Angeles, the University of California-Berkeley, the University of Michigan, Duke, Emory, Georgia Tech, and the University of Chicago. A number of New Haven firms have hired our former students after graduation, such as Yale New Haven Hospital, Premier Education Group, Amphenol Corporation, and Peter Paul Candy Manufacturing Company. Manhattan Review is also well represented in the Fortune 500, with former clients now working for businesses such as Berkshire Hathaway, Bank of America, State Farm Insurance, JP Morgan Chase, and Express Scripts Holding. Join a lengthy tradition of academic and professional accomplishment by becoming a Manhattan Review student today.
Most selective universities refuse to report their acceptance rates in terms of test scores, probably because they wish to avoid being criticized for too much emphasis on standardized testing. There are rare exceptions to this, and UCLA is a school that is laudably transparent with its testing data. The total admit rate at UCLA is about 19%, with rates of 28%, 18%, and 17% for out-of-state American applicants, international students, and California residents respectively (non-California students have more favorable odds because this group pays higher tuition). UCLA applicants with ACT composite scores of 30 or higher are more than 36% likely to be admitted, which is nearly twice as high as the general admit rate and almost three times better than the odds of acceptance for applicants with ACT composite scores between 26 and 29 (13%). ACT scores matter for selective university admission, whether schools admit it or not.
New Haven
Primary Course Venue:

Manhattan Review GMAT GRE LSAT Prep
Yale Teaching Center at the Study
1157 Chapel Street
New Haven, CT 06511

Phone: (203) 672-0680

NOTE: We do NOT typically have staff at the venue, so email us before visiting the venue.
Meet a New Haven ACT Tutor: Sofia B.
Sofia B. has been an ACT tutor and instructor for group ACT courses for eight years. She has been teaching for Manhattan Review in New Haven since 2017, and she was previously a test prep educator in her native Atlanta, Georgia. Sofia's students credit her teaching with improving their skills in all areas of the ACT, and she is particularly praised for her ability to vary her methods of instruction.
Sofia's academic credentials include a bachelor of science in biology from Emory University and a master of arts in education from the University of Georgia. When she's not teaching ACT prep, she is a high school science teacher in the New Haven area. Her hobbies include playing the piano, studying the Russian language, and playing goalie for a local amateur soccer team.